Donald Trump indictment: Will there be cameras inside the courthouse?
NEW YORK - Former President Donald Trump returned to New York this week to face his historic booking and arraignment on hush money charges related to allegations of sexual encounters. The nation's largest city bolstered security and warned potential protesters it was "not a playground for your misplaced anger."
For any New York defendant, poor or powerful, answering criminal charges means being fingerprinted and photographed, fielding basic questions such as name and birthday, and getting arraigned. All told, defendants are typically detained for at least several hours.
There can be differences in where the different steps happen, how long they take, whether handcuffs come out and other particulars. A lot depends on the severity of the case and whether defendants arrange to turn themselves in. 
But there is no playbook for booking an ex-president with U.S. Secret Service protection.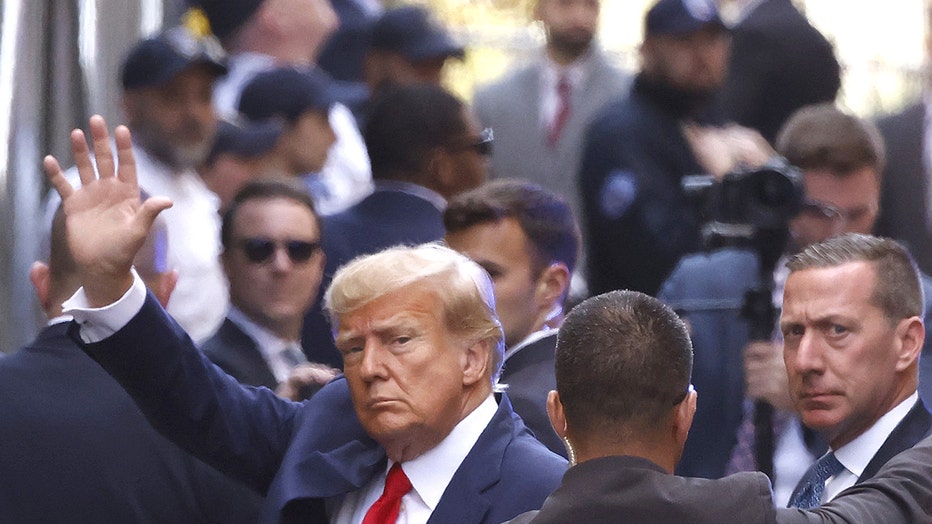 NEW YORK, NEW YORK - APRIL 04: Former U.S. President Donald Trump waves as he arrives at the Manhattan Criminal Court on April 04, 2023 in New York, New York. Trump will be arraigned during his first court appearance today following an indictment by
Will there be cameras inside the courtroom? 
 Judge Juan Merchan has ruled that TV cameras won't be allowed in the courtroom. There will, however, be a five still photographers allowed in before the start of the proceedings.
The booking and appearance before the judge should be relatively brief — though hardly routine — as Trump learns for the first time the charges against him. 
Trump will plead not guilty, according to his lawyers, and is expected to enter the plea himself, as is standard in the court.
Will there be protesters? 
Meanwhile, officials haven't seen an influx of people coming into the city, as was the case in Washington in the days before a mob of Trump supporters overran the U.S. Capitol in January 2021. Still, they warned that possessing a weapon in certain areas of the city, including near courthouses, is a crime.
One of Trump's staunchest defenders in Congress, Republican Rep. Marjorie Taylor Greene of Georgia, helped organize a Tuesday morning rally at a park across from the courthouse where Trump will appear, and Mayor Adams took the unusual step of calling her out by name.
"Although we have no specific threats, people like Marjorie Taylor Greene, who is known to spread misinformation and hate speech, she's stated she's coming to town," Adams said. "While you're in town, be on your best behavior."
RELATED: Trump indicted: Charged in New York over hush money paid during 2016 campaign
Trump is facing multiple charges of falsifying business records, including at least one felony offense, in the indictment handed down by a Manhattan grand jury last week. The investigation is scrutinizing six-figure payments made to porn actor Stormy Daniels and former Playboy model Karen McDougal.
Both say they had sexual encounters with the married Trump years before he got into politics. Trump denies having sexual liaisons with either woman and has denied any wrongdoing involving payments.
The Associated Press contributed to this story.