DA, ethics panel back judge: No evidence of bias in Trump hush-money case
NEW YORK - Donald Trump's tempestuous views aside, Manhattan prosecutors say neither the former president nor his lawyers have shown any evidence to support their claims that the judge in his hush-money criminal case has an anti-Trump bias. They urged him to reject defense demands that he step aside from the case.
In court papers made public Tuesday, the Manhattan district attorney's office defended Judge Juan Manuel Merchan against Trump's claims that he's a "Trump-hating judge," amplifying a court ethics panel's recent opinion that a judge in his situation wouldn't have to recuse himself.
The opinion, issued May 4 by the state's Advisory Committee on Judicial Ethics, suggests Merchan may have sought the panel's input as he wrestled with the gravity of his role in the case and nagging concerns that he could be seen as having a bias or conflict of interest. The opinion doesn't list names, but the details match, with "the inquiring judge" described as presiding in a criminal case involving "a former public official."
RELATED: Trump makes video appearance in New York criminal case; trial date set for March
Trump's lawyers contend Merchan, a state court judge in Manhattan, is biased because his daughter is a political consultant whose firm has worked for some of Trump's Democratic rivals, and that some of his rulings in two prior Trump-related cases have shown a pro-prosecution bent.
The Advisory Committee on Judicial Ethics, in its opinion, concluded that a judge in that precise situation "may continue to preside in the matter provided the judge believes he/she can be fair and impartial."
Matthew Colangelo, a senior counsel to District Attorney Alvin Bragg, agreed that neither issue was grounds for Merchan to step aside. He painted Trump's recusal motion as the latest in his "prolific history of baselessly accusing state and federal judges around the country of bias."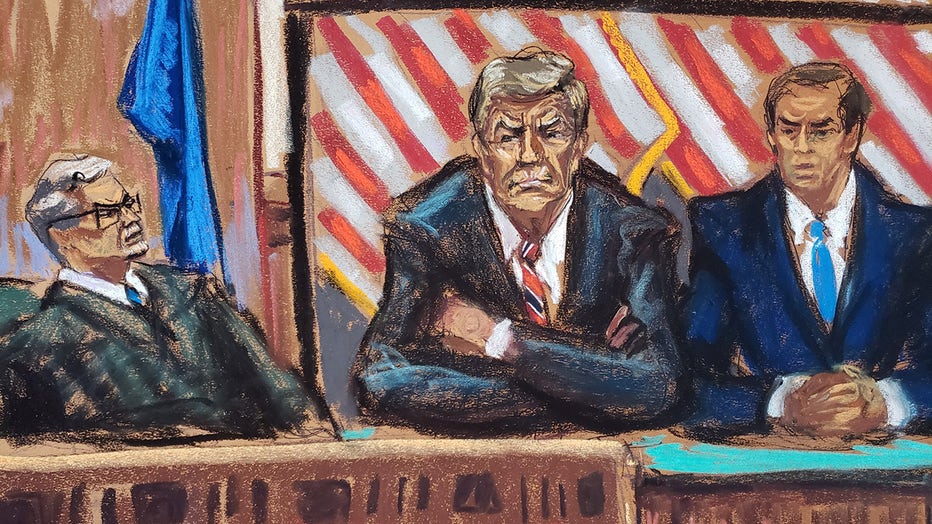 Judge Merchan addresses Donald Trump and attorney Todd Blanche during a virtual court appearance, May 23, 2023 (Jane Rosenberg sketch).
The decision on recusal is up to Merchan himself. He previously rejected a similar request when Trump's company, the Trump Organization, was on trial.
Separately, Trump's lawyers are seeking to move the case to federal court, which would also eliminate Merchan from the judicial equation. A federal judge has scheduled a June 27 hearing on that request.
A message seeking comment was left with Merchan. Court spokesperson Lucian Chalfen said: "As this case remains a pending matter before Judge Merchan, we have no further comment."
Trump pleaded not guilty in April to 34 felony counts of falsifying business records. The charges relate to hush-money payments made during the 2016 campaign to bury allegations that Trump had extramarital sexual encounters. He has denied wrongdoing.
The New York case is one of two criminal cases against Trump. Last week in federal court in Miami, he pleaded not guilty to 37 felony counts of mishandling classified material and taking steps to hide records and impede investigators. He is the first president to be charged with a federal crime.
In defending Merchan, Colangelo wrote that recusal is only required by state law when there's "a direct, personal, substantial or pecuniary interest in reaching a particular conclusion," Colangelo wrote. That provision doesn't extend to Merchan's daughter working for Trump's political foes, he argued.
Merchan's daughter, Loren, is a political consultant whose firm has worked on campaigns for prominent Democrats including Biden, Vice President Kamala Harris, House Minority Leader Hakeem Jeffries and California Gov. Gavin Newsom.
In an affirmation included with Tuesday's filing, Bragg's political consultant disclosed that he had discussions with Loren Merchan's firm last fall regarding potential campaign work. The firm wasn't hired and Bragg's consultant said he wasn't informed of Loren Merchan's connection to the judge until around the time of Trump's arraignment.
Trump, the leading contender for the Republican nomination in 2024, could face Biden again as he seeks a return to the White House. He and his allies have seized on Merchan's political ties in portraying his prosecution as part of a Democrat-led "witch hunt."
Colangelo also took issue with the central point of Trump's argument for recusal: that Merchan acted inappropriately by involving himself in plea negotiations last year for Trump's longtime finance chief.
Merchan signed off on a deal that required ex-CFO Allen Weisselberg testify against Trump's company in exchange for a five-month jail sentence. That testimony ultimately helped prosecutors convict the Trump Organization of tax fraud, but the way Trump's lawyers described Merchan's involvement in the negotiations was "factually incorrect."
"At no point did the Court seek to 'induce' Mr. Weisselberg to cooperate against defendant, or condition any provision of the sentence on such cooperation," Colangelo wrote, citing a sworn statement from a prosecutor involved in the plea negotiations.
RELATED: 'Stand with Trump' becomes rallying cry as Republicans amplify attacks on US justice system
Trump's lawyers, Susan Necheles and Todd Blanche, had also asked Merchan to explain three political donations totaling $35 that were made to Democratic causes in his name during the 2020 election cycle.
Merchan has yet to respond to that request, nor has he responded to inquiries from The Associated Press asking him to confirm or deny if he's the person who made the donations, which include $15 for President Joe Biden's campaign against Trump, according to federal campaign finance records.
The Advisory Committee on Judicial Ethics' opinion suggested that, if a judge like Merchan made such small-dollar contributions — even to a defendant's political opponent — he'd still be able to stay on the case.
"These modest political contributions made more than two years ago cannot reasonably create an impression of bias or favoritism in the case before the judge," the panel wrote.
Trump's case ended up in Merchan's courtroom because of a rotation in which judges assigned to oversee grand juries handle any cases that arise from them, according to the court system.
Merchan also often handles financial cases and runs Manhattan's mental health court, where some defendants get a chance to resolve their cases with treatment and supervision.