Who is Juan Merchan, the judge taking on Trump's hush-money case
NEW YORK - His caseload has featured charges against former President Donald Trump's company and some of Trump's closest associates in business and politics.
Now Judge Juan Manuel Merchan is poised to take the historic hush-money prosecution of Trump himself.
Merchan, a former prosecutor with 16 years on the bench, is expected to preside Tuesday over the unprecedented arraignment of a former U.S. commander in chief. Trump will appear to answer charges arising from a grand jury investigation into payments made during his 2016 campaign to bury allegations that he had extramarital sexual encounters.
Trump, who is running for the White House again, says he's "completely innocent" and has called the case a "political persecution." He has also seized on Merchan's involvement.
The judge "HATES ME," Trump railed on his social media platform.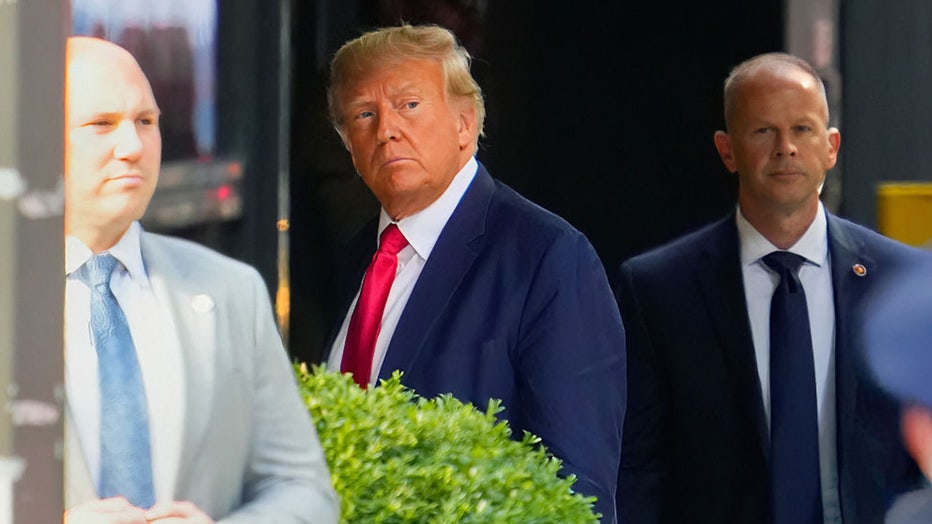 FILE - Former U.S. President Donald Trump arrives at Trump Tower on April 03, 2023 in New York City.  (Gotham/GC Images)
For any jurist, it would be a legacy-shaping case. And a crucible.
"There's a lot of pressure here because this is a novelty," said Patricia Brown Holmes, a former state court judge in Illinois, who is now in private practice in Chicago.
As a judge, "you have to do it right. It has to be fair, the public has to know it's fair, and then the outcome is the outcome," she said. "You want to make sure that you are staying away from all the politics, because it is only about the law."
If politics make for one headache, another is balancing the need for openness against courtroom security for the former president and others, said Geoffrey Puryear, a former state court judge in Texas.
RELATED: Donald Trump faces setbacks in other investigations as NY case proceeds
"It's a logistical nightmare, from a judge's perspective," said Puryear, now a defense lawyer in Lubbock.
Merchan did not respond to a message seeking comment sent through court officials.
He got Trump's case because of a rotation in which judges are assigned to oversee grand juries and any cases that arise from them, according to the court system. Merchan also often handles financial cases.
The Colombian-born Merchan, 60, emigrated as a 6-year-old and grew up in New York City. The first member of his family to go to college, he worked his way through school and went on to earn a law degree from Hofstra University in 1994.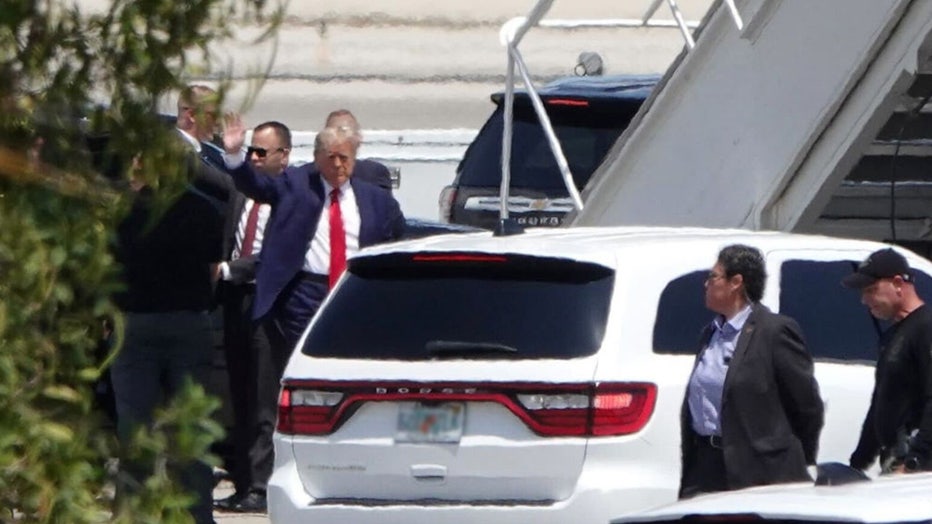 FILE - Former President Donald Trump arrives at Palm Beach International Airport to depart for New York on Monday, April 3, 2023.  (Joe Cavaretta/South Florida Sun Sentinel/Tribune News Service via Getty Images)
He was a Manhattan prosecutor and worked in the state attorney general's office before then-Mayor Michael Bloomberg appointed him as a family court judge in 2006.
Three years later, Merchan was assigned to a trial court called the Supreme Court in New York. His particular duties now include overseeing a Manhattan mental health court where some defendants get a chance to resolve their cases with treatment and supervision, a program he views as a success story.
Like a lot of New York judges, he's had experience with headline-making stories.
After skydivers were convicted of misdemeanors for leaping from the World Trade Center's now-signature tower while it was under construction in 2013, Merchan sentenced them to community service, saying they had " sullied the memories of those who jumped on 9/11 not for sport but because they had to."
Merchan also oversaw the real-life case underlying the 2021 Lifetime movie "Soccer Mom Madam," about a suburban mother with a secret sideline running a high-end Manhattan escort service. The woman, Anna Gristina, now wants to unwind her 2012 guilty plea.
If those cases put Merchan in the public eye, the last two years trained a Trump-orbiting telescope on his courtroom.
First came the tax fraud case against Trump's company and its longtime finance chief, Allen Weisselberg.
Merchan was heavily involved in negotiations that led to Weisselberg's 2022 guilty plea for skirting taxes on big-dollar job perks, including Manhattan apartments and school tuition. Under the deal, Weisselberg got a five-month jail sentence in exchange for agreeing to testify against the company.
RELATED: Trump arrives in New York ahead of booking, arraignment
After hearing Weisselberg's testimony at trial, Merchan said he wished he could impose a tougher penalty. He was especially appalled that Weisselberg's wife got a one-time $6,000 payment for a no-show job to qualify for Social Security benefits, even as her husband made big money.
"So many Americans work so hard with the hopes that they may someday benefit from their contributions to Social Security," the judge observed. Nonetheless, he kept his sentencing promise.
Nicholas Gravante, who represented Weisselberg in the plea negotiations, said Merchan was "a real listener, well-prepared, always accessible, and a man who kept his word."
"He was mindful of the role my colleagues and I played as advocates, treating us with the utmost respect both in open court and behind closed doors," Gravante recalled.
The Trump Organization went to trial, saying that the company didn't benefit from Weisselberg's scheme and that Trump and his family knew nothing about it. A jury convicted the company, and Merchan imposed a $1.6 million fine — the legal maximum.
Trump himself was not charged in that case. But when it came time for closing arguments, Merchan let prosecutors claim that Trump knew about the tax-cheating maneuvers. The judge said it was "only fair" because the defense summation had mentioned Trump repeatedly. The defense sought a mistrial over the issue; Merchan said no.
Merchan said he wanted to keep politics out of the trial, which he conducted with a largely even-tempered and kindly tone.
He got annoyed when the Trump Organization's lawyers sought to introduce new evidence late in the trial, ultimately allowing them to do so in a limited fashion. After the verdict, it emerged that Merchan had secretly held the company in contempt of court for "willfully disobeying" four grand jury subpoenas and three court orders.
Separately, former Trump White House strategist Steve Bannon is on Merchan's docket. Charged with duping donors who gave money to build a southern U.S. border wall, Bannon has called the case "nonsense." A presidential pardon from Trump truncated a similar federal prosecution.
Trump has a history of questioning judges' legitimacy or impartiality in cases involving his business or administration. While he was a candidate trumpeting his planned border wall, he pointed to an Indiana-born federal judge's "Mexican heritage" to suggest he couldn't fairly handle a lawsuit against the now-defunct Trump University.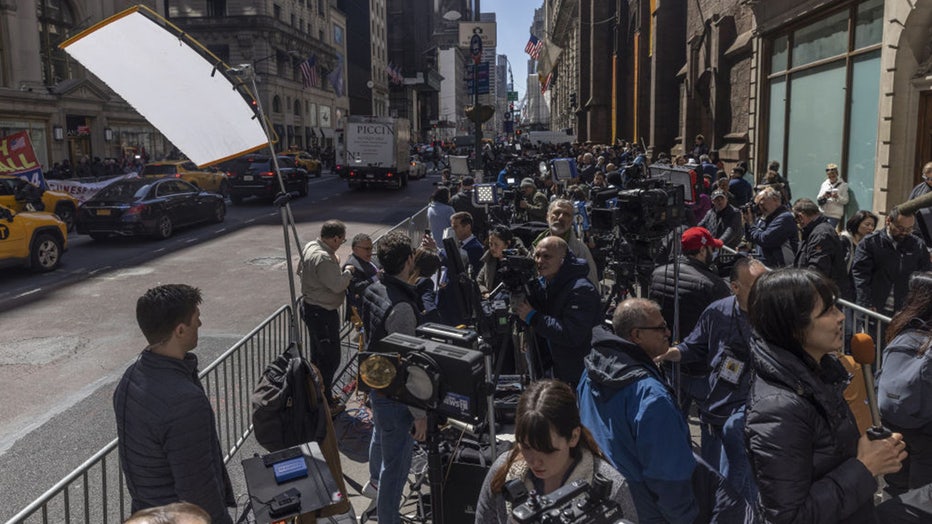 FILE - Members of the media on 5th Avenue outside of Trump Tower in New York, US, on Monday, April 3, 2023. (Victor J. Blue/Bloomberg via Getty Images)
As president, Trump referred to another federal jurist as a "so-called judge" after he ruled against Trump's initial travel ban affecting seven predominantly Muslim countries.
Trump has already gone on the offensive against Merchan, claiming he "railroaded" Weisselberg into a plea and acted "viciously" in the Trump Organization case.
For any judge, criticism can come with the job. But jurists need to focus on their courtrooms, not the court of public opinion, Holmes noted.
"You're not the center of attention. The evidence is the center of attention," she said.