'Stand with Trump' becomes rallying cry as Republicans amplify attacks on US justice system
WASHINGTON - Moments after Donald Trump pleaded not guilty to federal charges that he hoarded classified documents and then conspired to obstruct an investigation about it, the Republicans in Congress had his back.
Speaker Kevin McCarthy dashed off a fundraising email decrying the "witch hunt" against the former president and urging donors to sign up and "stand with Trump."
Senate Republican leader Mitch McConnell steered clear of criticizing the former president, refusing to engage in questions about the unprecedented indictment.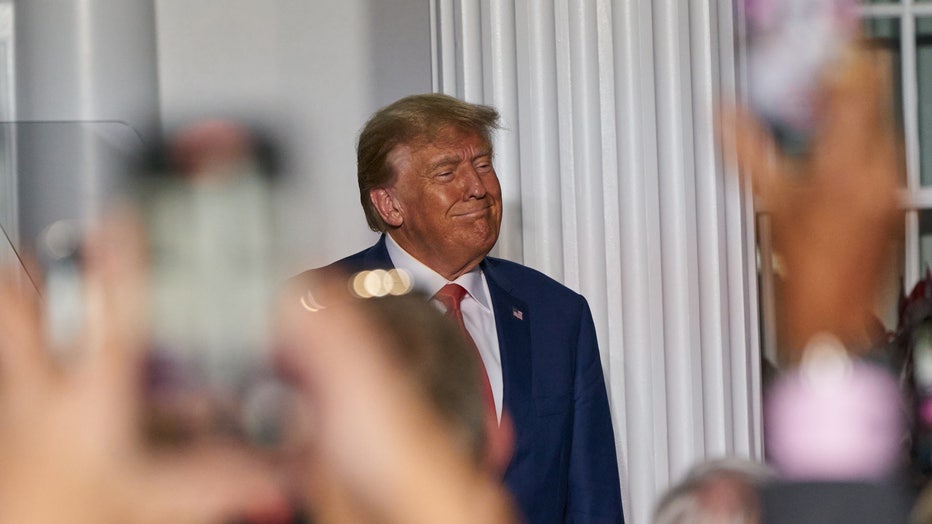 Former US President Donald Trump during an event at Trump National Golf Club in Bedminster, New Jersey, US, on Tuesday, June 13, 2023. Trump today pleaded not guilty in a Miami courtroom to federal charges he mishandled state secrets and immediately
And at a public meeting in the Capitol basement, Rep. Marjorie Taylor Greene compared the case against Trump to the federal prosecution of people at the Jan. 6, 2021 insurrection, suggesting in both instances it was the Justice Department, not the defendants, under scrutiny.
The mounting legal jeopardy Trump finds himself in has quickly become a political rallying cry for the Republicans, many of whom acknowledged they had not fully read the 49-page federal indictment but stood by the indicted former president, adopting his grievances against the federal justice system as their own.
READ MORE: Key takeaways from Trump's court appearance in Miami
It's an unparalleled example of how Trump has transformed the Republican Party that once embraced "law and order" but is now defending, justifying and explaining away the grave charges he faces with multiple counts of violating the Espionage Act by hoarding classified documents containing some of the country's most sensitive national security secrets.
At the same time, Trump is rewriting the job description of what it means to lead a major American political party. Making another run for the White House, Trump is attacking the U.S. justice system that is foundational to democracy and emboldening Republican lawmakers to follow along.
"Stand with Trump," tweeted Rep. Elise Stefanik of New York, the fourth-ranking House GOP leader.
"I will be standing right next to President Trump tonight in total support," tweeted Sen. Tommy Tuberville of Alabama before he dashed to join the former president at his private Bedminster golf club for a campaign event after the federal court hearing.
"I stand by him right now," said Rep. Byron Donalds, R-Fla., outside the Capitol. "Ten toes down."
Despite two impeachment trials, New York state charges of hush money payments to porn star, a pair of probes into Trump's efforts to undo the 2020 election and now the federal case over his classified documents, Trump has shown an ability to not just withstand legal scrutiny but to thrive off it.
As Trump's defenders in Congress see it, he will rise politically, precisely because of all the investigations against him. Republicans in Congress are reframing the historic indictment of a former president as an unfair political persecution.
READ MORE: Walt Nauta indictment: Former valet is latest Trump loyalist to face potential jail time
"I've been pretty clear on this all the way through: I think the country is very frustrated, when you don't feel like there's equal justice." McCarthy told reporters at the Capitol.
"This president hasn't even been out of office for four years, but you're holding him to a standard you've never held anybody else to."
Republican Rep. Kat Cammack of Florida said the case smacks of a "two-tier" justice system, adding that constituents tell her they "never in a million years would have voted for Trump, but this is insane."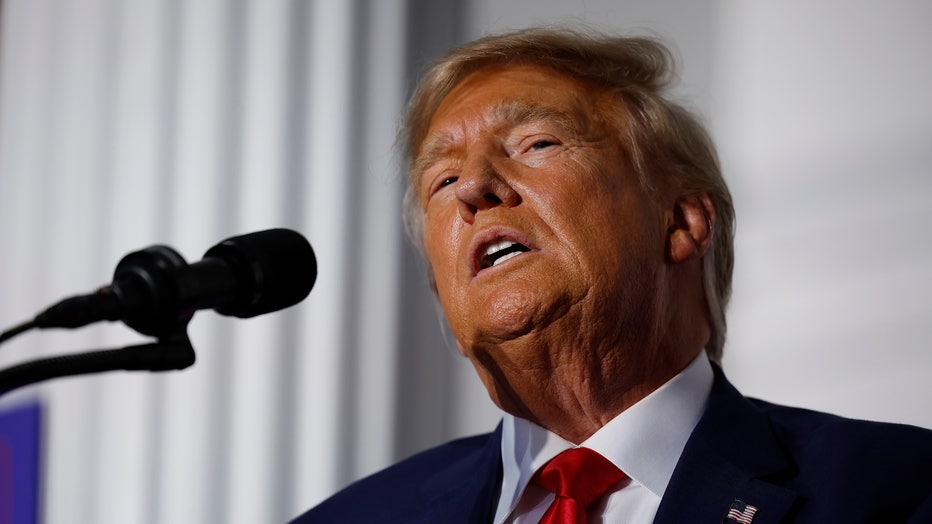 Former U.S. President Donald Trump delivers remarks outside the clubhouse at the Trump National Golf Club on June 13, 2023 in Bedminster, New Jersey. Earlier in the day, Trump was arraigned in federal court in Miami on 37 felony charges, including il
"A bogus investigation," said Donalds.
"Political hit job," said Sen. Eric Schmitt of Missouri, who said he did read the whole indictment.
Republican Sen. JD Vance of Ohio said Trump is merely the "latest victim" of the Justice Department. He announced he would be blocking all DOJ nominees unless the attorney general changes course.
"If Merrick Garland wants to use these officials to harass Joe Biden's political opponents, we will grind his department to a halt," Vance said in a statement.
Republicans also see the federal case against Trump as a winning political strategy to motivate aggrieved voters to the polls in 2024 elections, when the House and one-third of the Senate will be up for another term alongside the presidential nominees.
House Republicans are fundraising off the indictment, and the chairman of the National Republican Congressional Committee, Rep. Richard Hudson, joined Trump on the plane from a campaign rally in Georgia to one in North Carolina where the congressman introduced the former president on stage.
"A lot of people are going to vote," Trump told the Bedminster crowd. "They know what we've gone through."
In a 37-count indictment, prosecutors alleged Trump knowingly stored highly sensitive national security documents at his Mar-a-Lago home in Florida and then schemed to provide false information to investigators who tried to retrieve the government papers. He could face a potentially lengthy prison sentence, if convicted.
Some Republicans acknowledge that Trump's hoarding of the documents — in dozens of boxes in the bathroom, on a ballroom stage and spilled in a storage room – was problematic. Prosecutors said the papers included material about nuclear programs, defense and weapons capabilities, among others, some of the most secret information the U.S. government owns.
Sen. Marco Rubio, the top Republican on the Senate Intelligence Committee, said Trump should have never stored the documents at his home, but suggested there was no real harm done since Trump didn't appear to give away the documents to China, Saudi Arabia or other countries. Rubio was more worried the indictment of Trump will "release a fury" across a politically divided nation.
Only a few GOP voices in Congress dared to publicly raise serious questions about Trump's behavior.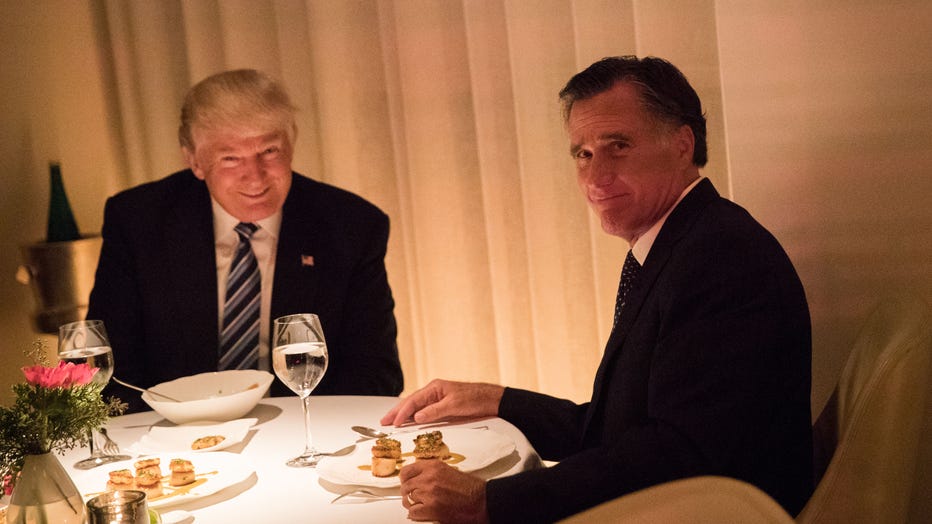 President-elect Donald Trump and Mitt Romney dine at Jean Georges restaurant, November 29, 2016 in New York City. (Photo by Drew Angerer/Getty Images)
"The real question is, why did he do it?" said Sen. Mitt Romney, R-Utah, the only Republican senator who voted twice to convict Trump in the impeachment trials. "Why should the country go through all this angst and turmoil when all he had to do is turn in the documents when asked?"
Sen. Lisa Murkowski, R-Alaska, said of what she's seen in the indictment, "it looks pretty damning to me."
About the same time Trump was pleading not guilty to the charges, Rep. Matt Gaetz of Florida was leading a panel discussion with Greene and others about the Jan. 6, 2021 attack on the Capitol by a mob of pro-Trump supporters trying to challenge and overturn Biden's election.
Greene opened her remarks saying it was "heavy on my heart that we're doing this today."
She compared the two historic moments in U.S. history — "when President Trump was being arraigned all because of the weaponized government that has been weaponized against each of you."
Trump had encouraged the mob to go to the Capitol on Jan. 6, 2021 and fight for his presidency as Congress was certifying the election won by Biden. Some 1,000 people have been charged by the Justice Department in the Capitol riot, including members of extremist groups convicted of sedition.
Many of those defendants were backing Trump's false claims of a stolen election. Five people died in the siege of the Capitol, including Trump supporter Ashli Babbitt who was shot and killed by Capitol Police.
Greene and the others claim the prosecutions of Jan. 6 rioters and Trump are evidence of a "weaponization" of the justice system.
"It all started on the day, on Jan. 6, when we were just doing our constitutional duty to object" to Biden's election, she said.
Asked afterward if they were trying to rewrite Jan. 6 history, Gaetz, a Trump ally, said: "We're trying to correct history."
Across the Capitol at his weekly press conference, McConnell, the Republican leader of the Senate, declined to use his position to take sides.
Questioned about Trump's indictment he said: "I'm not going to start commenting on the various candidates we have for president."