The latest developments on the coronavirus pandemic for March 31, 2020
NEW YORK - LIVE BLOG - FOX 5 NY is updating this blog with the latest developments on the coronavirus outbreak so you can get the information in one spot.
8:45 PM: New York City's official death toll from COVID-19 causes exceeds 1,000; Health Department's afternoon count lists 1,096 deaths and 41,771 cases.
6:47 PM: The NYPD reports that more than 1,000 uniformed service members have now tested positive for the coronavirus; 145 civilian members have tested positive; 15.6% of the department's uniformed workforce was out sick on Tuesday.
5:20 PM: Toronto Mayor John Tory cancels all public events in his city for the next three months; all festivals, conferences and cultural events scheduled until June 30 are suspended.
5:15 PM: U.S. Rep. Max Rose, D-N.Y., says he will deploy with the National Guard on Wednesday to help with the coronavirus response on Staten Island, which he represents in Congress; Rose, a combat veteran, is a captain in the Army National Guard.
5:00 PM: The owners of the New Jersey Devils hockey franchise make a six-figure donation to RWJBarnabas Health for medical equipment.
4:40 PM: Authorities in 4 neighboring municipalities—Newark, East Orange, Orange, and Irvington in Essex County, N.J.—are working together to enforce a lockdown by stepping up enforcement of rules for congregating in public and social-distancing as well as stopping travel between the communities.
3:55 PM: Some veteran Major League Baseball players will get $4,775 per day in advance pay for the first 60 days of the coronavirus-delayed season, according to an exclusive AP report; players with less service will be paid smaller amounts, depending on the contract.
3:50 PM: Ontario, Canada's most-populous province, will keep schools closed through at least May 4. 
3:35 PM: Tennessee Gov. Bill Lee says "legal challenges" are stopping health officials from releasing location information on coronavirus deaths in the state.
3:20 PM: Spokesperson for the mayor says the following playgrounds will be closed: Mauro Playground in Queens; Clove Lakes Park (2 playgrounds) on Staten Island; Middleton Playground, Fort Greene Park (2 playgrounds), Brighton Playground in Brooklyn; Watson Gleason Playground in the Bronx; Fort Tryon-Jacob Javits Playground, Raoul Wallenberg Playground in Manhattan.
3:16 PM: Mayor de Blasio says it was "very troubling to me" when he learned more about the Evangelical organization Samaritan's Purse, which set up a mobile hospital in Central Park, and the beliefs of its president, Rev. Franklin Graham; says CEO of Mount Sinai assured him that the operation will follow all laws and rules governing non-descrimination.
3:14 PM: National Tennis Center COO Danny Zausner: USTA continues to plan for U.S. Open tennis tournament (which begins late August) but too early to say if it will happen or not.
3:01 PM: Dr. Eric Wei, VP/NYC Health and Hospitals Crop., says Elmhurst's emergency department is seeing far nigher numbers of ICU/intubated patients than is usual; cases at Queens Hospital are surging but it is smaller than Elmhurst so patients will need to be tranferred.
2:54 PM: Mayor de Blasio orders 10 playgrounds to be closed tonight because of repeated non-compliance with social-distancing rules; people at an overwhelming number of parks and playgrounds have been complying.
2:53 PM: Mayor de Blasio: Alternate-side parking rules are suspended through Tuesday, April 14 (2 more weeks).
2:52 PM: Mayor de Blasio postpones tax lien sales from May to August.
2:51 PM: Mayor de Blasio: All non-essential and non-emergency construction must stop now.
2:50 PM: Mayor de Blasio: 900 inmates have been released as of Monday night.
2:49 PM: Mayor de Blasio asks anyone who can doate PPE (masks, gloves, etc.) to please go to nyc.gov/helpnow.
2:47 PM: Mayor de Blasio asks any medical practice that has unused ventilators to please lend them to the NYC; go to nyc.gov/helpnow.
2:45 PM: Mayor de Blasio thanks federal government for sending 2,500 ventilators already; says NYC needs thousands more and promises to send them on after city doesn't need them anymore.
2:43 PM: Mayor de Blasio says he asked the military to send doctors, nurses, respiratory therapists but is waiting for an answer from the White House.
2:42 PM: Mayor de Blasio says FEMA is bringing in ambulances and medical personnel; 135 ambulances have already arrived.
2:39 PM: Mayor de Blasio thanks the different parties who are teaming up to make the mobile hospital happen: NYC Emergency Dept., Health and Hospitals Corp., New York State, FEMA, Army Corps of Engineers, NYC Design and Construction Dept.
2:37 PM: Mayor de Blasio says the mobile hospital at USTA Center will help take burden off Elmhurst Hospital; will be for non-ICU patients; construction will take 3 weeks but will begin taking patients next week.
2:35 PM: Mayor de Blasio says hospitals in New York have about 20,000 permanent beds in all; says NYC needs to triple that number in the coming weeks.
2:34 PM: Mayor de Blasio says some employees of Correction Department have died of COVID-19 causes; 
2:32 PM: Mayor de Blasio visits USTA Billie Jean King National Tennis Center in Flushing Meadows-Corona Park; says a mobile hospital of 350 beds will be built on the grounds. 
2:31 PM: New York City Mayor Bill de Blasio holds an update on the city's response to the coronavirus crisis | WATCH LIVE: https://fox5ny.com/live
2:24 PM: Persichilli asked if more younger people in NJ than other states getting infected: We are trending what we see across the country.
2:21 PM: Murphy: Compliance across the state is at about 31 percent.
2:15 PM: Murphy when asked about construction restrictions: We look at that regularly. We're still holding where we are.
When asked about state pensions: The pension payment will be made... on time.
2:12 PM: Murphy when asked about his changed tone about the Trump administration: I don't get to pick who is in charge of the country. If we're going to get through this crisis with fewer casualties and sickenss alot of it will be what we do in this state and a lot will be related to how much common ground we can find with this administration.
2:10 PM: NJ State Police Superintendent:  A small percentage of State Troopers have been out due to coronavirus.
1:57 PM: Persichilli asked to name long-term care facilites where deaths have occurred: We don't want to scare anyone. These are their homes. We are going to have conversations with the owners of those facilities. 
1:56 PM: Murphy takes questions from reporters. Have you been tested: I have not been tested and I am not symptomatic.
1:52 PM: Cases by county in New Jersey:
Atlantic: 31 • Bergen: 2,909 • Burlington: 202 • Camden: 228 • Cape May: 12 • Cumberland: 18 • Essex: 1,900 • Gloucester: 114 • Hudson: 1,606 • Hunterdon: 97
Mercer: 268 • Middlesex: 1,277 • Monmouth: 1,140 • Morris: 841 • Ocean: 1,022 • Passaic: 1,294 • Salem: 12 • Somerset: 413 • Sussex: 132 • Union: 1,418 • Warren: 76 • Under Investigation: 3,686
1:50 PM: McCabe: Trout season will open days 10 early tomorrow for catch and release only. The state-raised trout were released early so that you can disperse, too, as you move out to catch them. 
1:48 PM: McCabe: Be aware, the park facilities including the restrooms are closed. Visit the parks nearest to you. Visitors must practice social distancing. Go solo or go with your immediate family only. If you see a crowded parking lot, go to another area of the park or go another time. Remain six feet away from each other at all times. Do not go into roped off areas.
1:45 PM: Katherine McCabe, NJ Dept. of Environmental Protection: The Department of Parks has come up with almost 10,000 N95 masks are on their way to our frontline workers.
1:44 PM: Murphy: I don't want anhyone coming in from other parts of the country where they had lax policies undoing the good we've done.
1:42 PM: Murphy: We are going to have a 'skunk works' team to see what it will look like when it's time to turn the lights on when it comes. How we begin. When we begin. What it will look like. 
1:37 PM: Persichilli: Anne Klein Forensics Center has one resident who has tested positive.
1:35 PM: Cases by county: Atlantic: 31 • Bergen: 2,909 • Burlington: 202 • Camden: 228 • Cape May: 12 • Cumberland: 18 • Essex: 1,900 • Gloucester: 114 • Hudson: 1,606 • Hunterdon: 97
1:34 PM Persichilli: Of those dead:
55 percent are male, 45 percent are female.
1 percent were less than 30 years of age.
12 percent were between 30 and 49.
30 percent were 65-79 years old.
47 percent are over the age of 80.
42 percent had underlying conditions: diabetes, hypertension, pulmonary disease.
19 percent were associated with long-term care facilities.
1:32 PM: Persichilli: They have to limit the number of people working in any wing.
1:31 PM: Judith Persichilli: 81 longterm care facilites have reported at least one positive COVID-19 resident. All our mandated universal masking of anyone who enters the facility. Any resident showing respiratory symptoms should be masked.
1:29 PM: Murphy: Leave the worrying to me. Our job is to lessen the anxiety. We are doing everything we can to ensure the safety of our nine million New Jersey family. I'd like to say it's going to be tomorrow. We already lost 267b prescious lives. The number of cases will rise, so will the fatalities. But at some point we will break the back of this god dam curve.
1:27 PM: Murphy thanks residents following social distancing protocol and teachers for their work conducting remote learning. 
1:24 PM: Murphy: Employers are eligible for a federal payroll tax credit.  Please keep your workers on payroll. An additional $600 per week is available though July 31 for thos who have filed for unemployment insurance. For more information, visit COVID19.NJ.GOV
1:23 PM: Murphy: All water companies have complied with not shutting off service to any resident.
1:20 PM: Murphy: 300 ventilators from the strategic stockpile have arrived and they are being tested.
1:19 PM: Murphy: If you have PPE donations please do so at COVID19.NJ.Gov/PPEDonations
1:17 PM: Murphy: We received 260,000 pieces of PPE from FEMA. We thank FEMA. It by no means alleviates our need for PPE.
1:15 PM: Murphy: Visit COVID19.NJ.Gov to do a self assessment test for coronavirus.
1:12 PM: Murphy: PNC Bank testing site opens tomorrow at 8 am for symptomatic people only. Bergen County Community site will be closed tomorrow. Three more county sponsored sites have or are preparing to open. There are 26 testing sites across the state.
Middlesex County:
Drive thru at MVC at Kilmer Vehicle Inspection, 3 days a week, 10 a-2 pm , M,W,F.  Must be a Middlesex resident. Visit: MiddlesexCountyNj.gov/COVID19Testing or call 732-745-3100
Ocean County:
Ocean County College opened yesterday. M-F, appointment only, Ocean County residents
Visit OCHD.org to make and appointment
Camden County:
Cooper's Point Park Noon- 4pm , weekdays, through April 15, by appointment only
Contact your medical provider.
1:08 PM: Murphy: I can't repeat this enough, stay at home.
1:05 PM: Murphy: Passaic Firefighter Israel Tolentino Jr., 33, and Ben Luderer, baseball coach at Cliffside Park High School, are among those killed by the virus.
1:04 PM: Murphy: There are 2,196 new cases in New Jersey bringing the total to 18,696. 
There are 69 deaths reported bringing the total to 267 deaths.
1:02 PM: NJ Gov Phil Muprhy updates the public on the coronavirus response in New Jersey. Watch LIVE: fox5ny.com/live
12:50 PM: COBA official says they are asking the city for a testing site at Rikers jail.
12:48 PM: Correction Officers' Benevolent Association says there are more than 160 inmates with coronavirus in NYC jails.
12:37 PM:  Cuomo was asked for the age of the child who died from coronavirus in New York City. Health care privacy laws mean if the doctor wants to keep his job he's being careful about what he says.
12:36 PM: Cuomo: You cannot be evicted for non-payment of rent-residential or commercial- for 90 days.
12:34 PM State official: We usually get 50,000 calls a week. Yesterday, we got 1.2 million calls. Last week, we got 7 million.
12:29 PM: Cuomo asked what he would do if the state runs out of ventilators. I don't even want to think of that. We are looking at all of our options. We're looking at ventilators all across the state. We're looking at ventilator splitting. We have ordered 7,000 bipap machines. We are creative and figuring it out.
12:24 PM: Cuomo asked if he is worried about staffing of police in New York City. In a word, yes. You're going to see it with all healthcare workers, first responders. We will do whatever we need to do to back them.
12:22 PM: Cuomo: Shouldn't you have planned a comprehensive system? The political barriers to that if you didn't have the coronavirus it would not be happening.
12:19 PM: Cuomo: It's like being on Ebay with 50 other states bidding on ventilators. You get a call saying California outbid you. How inefficient. Then FEMA gets involved and FEMA starts bidding. FEMA starts driving up the price. FEMA should have been the purchasing agent. Buy everything and then allocate it to the 50 states.
12:18 PM: Cuomo: We have ordered 17,000 ventilators from China at $125,000 each. When they say you don't need that many ventilators, you know how I know that's not true? We're broke and we're buying $125,000 ventilators. Of the 17,000, we only have a firm expectation on 2,500. They're supposed to come on in the next two weeks. 
12:17 PM: Cuomo when asked who is going to pay for the services. We will figure out later who will pay the bills.
12:16 PM: Cuomo: One of the requests we are going to make today is to upstate hospitals to send their doctors and staff to downstate hospitals.
12:14 PM: Cuomo asked if he could force hospitals to take patients. Yes. This is something we never did before. They've never had a situation like this. They want the patients. Patients are revenue.
12:12 PM: Cuomo: If you look at the hospitals that were already stressed, they can't take the stress now. I said to the private hospitals, you have to help them. When Elmhurst got to capacity, there were other hospitals with empty beds. We have to get better at transferring patients.
12:11 PM: Cuomo asked if he would appoint a receivor if the hospitals don't reach 50 percent capacity increase. They have all reached the requirement. 
12:10 PM: Cuomo: We are up to 75,000 beds. 
12:09 PM: Cuomo asked about the apex and when it will hit. We literally have five models that we look at. The range on the apex is somewhere between 7-21 days from now. 
12:06 PM: Cuomo: We have about 78,000 people who have volunteered their services to the health care system. Some of the volunteers could be working by Thursday.
12:05 PM: Cuomo takes questions from reporters.
12:03 PM: Cuomo: This takes individual discipline. You say you're bored. I'm bored, too. Individual discipline.
12:00 PM: Cuomo: Two weeks ago, if my brother still had my mother at his house, it would have seemed great and harmless but we'd have a much different situation. If he was exposed, chances are she would have been exposed. And we'd be looking at a much different situation. Keep in mind Matlida's Law and how it affects-- the most vulnerable. 
11:55 AM: Cuomo: My brother, Chris, has coronavirus. I found out this morning. He will be fine. He is young. He is fit. He is an essential worker, a member of the press. He's going to be quarantined in his basement at home. He's just worried about his daughter and kids. He's my best friend. 
11:55 AM: Cuomo: We still see people coming out who don't need to be coming out. Even for essential workers, we need to be careful.
11:50 AM: Cuomo: Testing at the hospitals ends when we get a fast track test. When people can test at home. We're working on the antibody testing and the plasma testing.
11:49 AM: Cuomo: Any link breaks, the chain breaks. The healthcare system is a chain. It breaks anywhere, it breaks everywhere.
11:48 AM: Cuomo talks about the oranizational efforts of dealing with separate hospital systems. "The hospitals in a weaker position are the ones that are going to suffer when they carry that burden. That is Elmhurst Hospital... it happened to get overwhelemd... then you saw the burden on the staff, you saw the emotion, you saw the strees. That can't happen."
11:44 AM: Cuomo: Once you reach the apex, you have the other side of the mountain to come back down.
11:42 AM: Cuomo: We underestimated this virus. We don't know when this will end. You can hypothesize, but we just don't know.
11:38 AM: Cuomo: There are 9,298 new cases in NYS bringing the total to 75,795. There are 1,550 deaths reported in NYS.
In New York City there are 5,686 new cases bringing the total to 43,139.
MORE: https://www.fox5ny.com/news/ny-coronavirus-deaths-jump-to-1550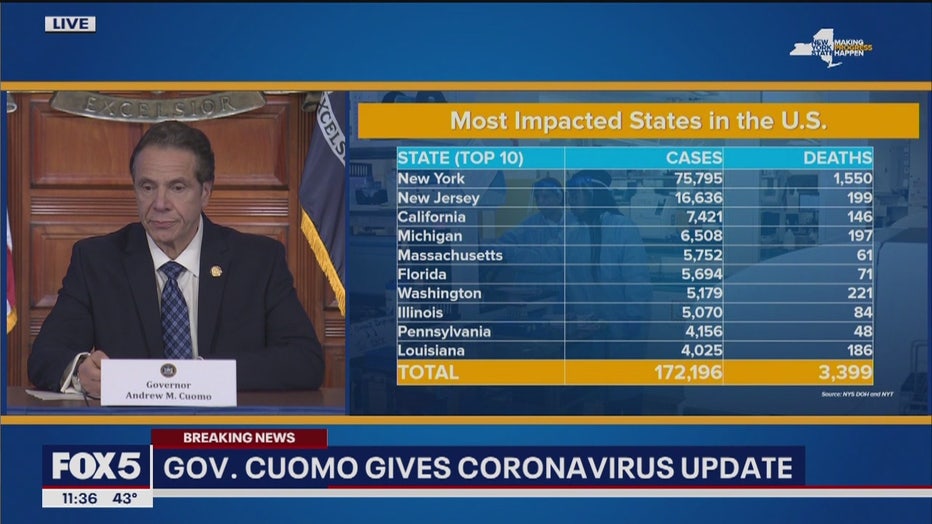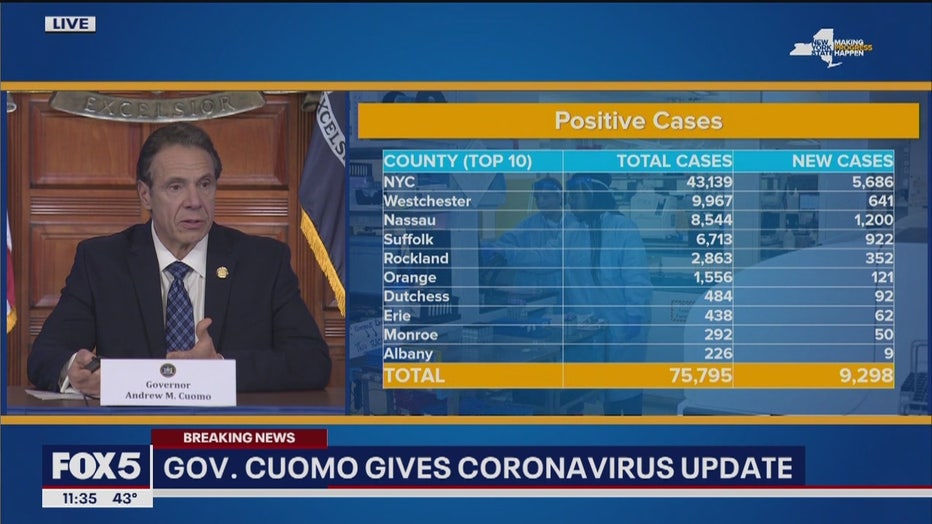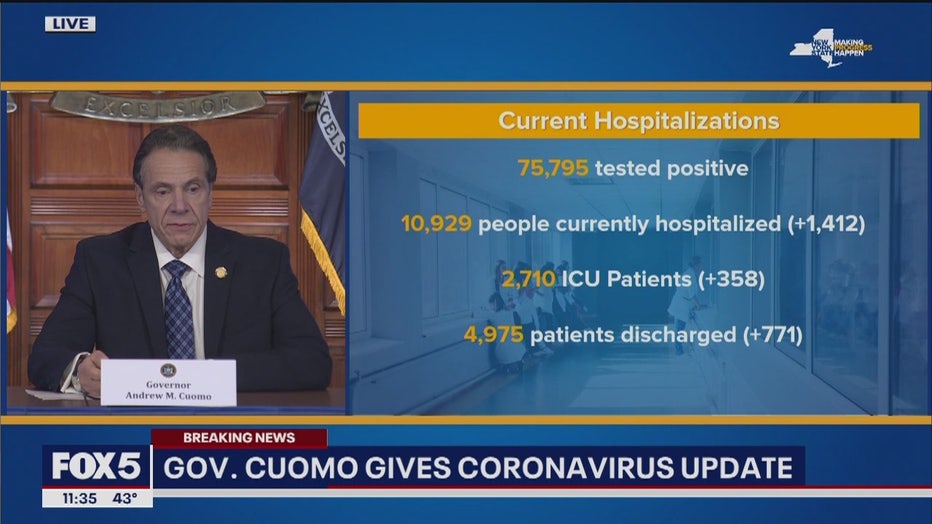 11:37 AM: NY Gov. Andrew Cuomo updates public on the coronavirus in New York State. Watch LIVE: FOX5NY.COM/LIVE
11:28 AM: The NYPD announces the deaths of two more members of the department.
@NYPDNews "We offer our condolences to the family of two of our very own who passed due to the Covid-19 pandemic. School Safety Officer Sabrina Jefferson served for 26 years, & Senior Police Administrative Aide Gwendolyn King served for 25 years, all to make our city a better place."
11:26 AM:  The New York CIty Police Foundation has purchased 150,000 masks, 150,000 gloves and 150,000 packets of hand sanitizer that willl be given to the NYPD. 
MORE: https://www.fox5ny.com/news/nypd-to-receive-influx-of-personal-protective-equipment
9:30 AM: Personal finance expert Suze Orman says if you are concerned about making payments like mortgage, rent, student loans, etc., call all of the companies you owe money to and ask them to put your account on 'forebearance' which means you don't have to make the payment this month. There are companies allowing yuou to postpone your payments.
It's time to conserve-conserve-conserve. Don't spend your stimulus check in one shot.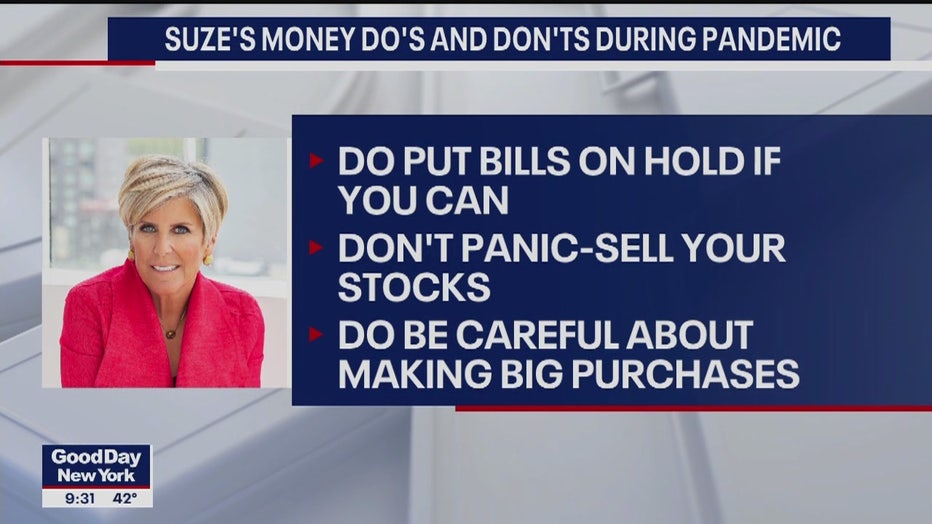 Personal finance tips from Suze Orman.
8:34 AM: Queens DA Melinda Katz tells Good Day New York she was tested for coronavirus but didn't get her results for one week. She was sick with a fever and a cough. She and her children were quarantined together in their home.
8:20 AM:  A child has died of coronavirus in New York City.
7:33 AM: OEM Commissioner Deanne Criswell reiterates an announcment from Mayor Bill de Blasio that the city is actively looking into converting hotels into temporary hospitals.
7:00 AM: Watch 'Good Day New York' LIVE now at this link: https://www.fox5ny.com/live
6:53 AM: Here are snapshots of the number of cases in NY, NJ and CT: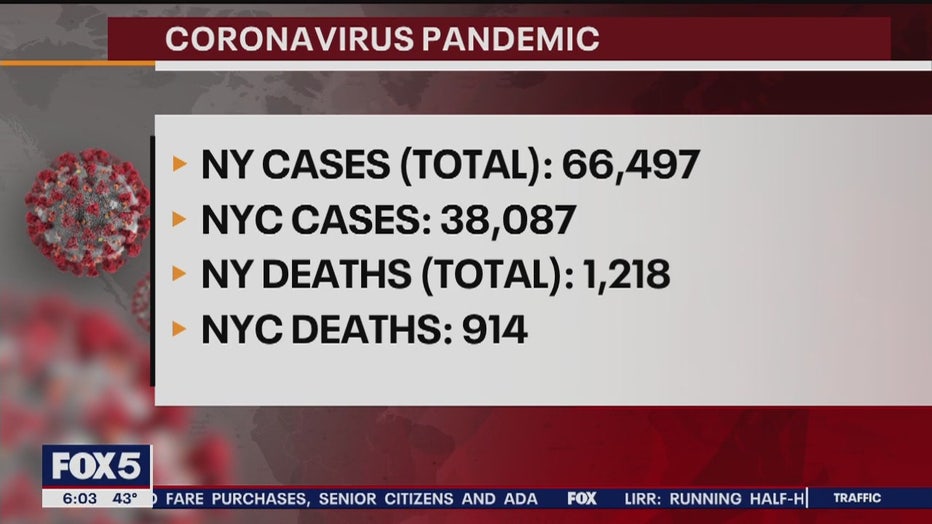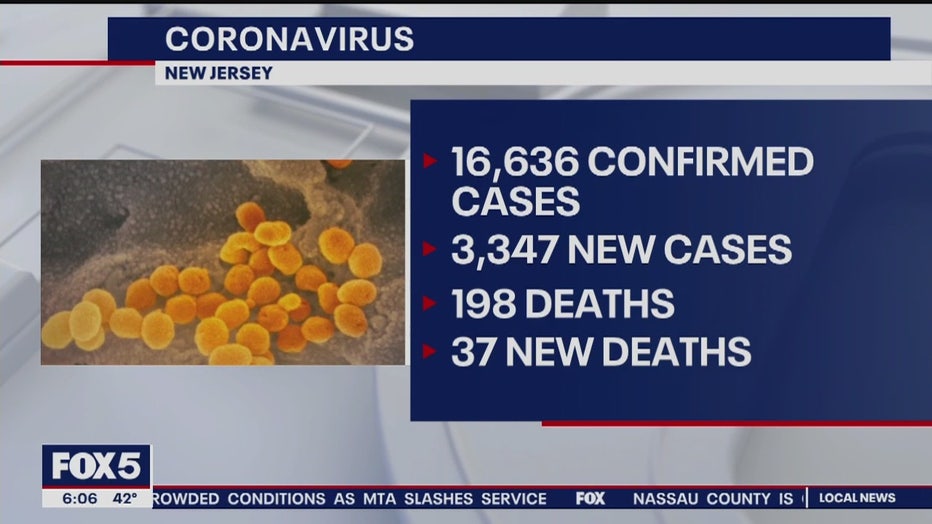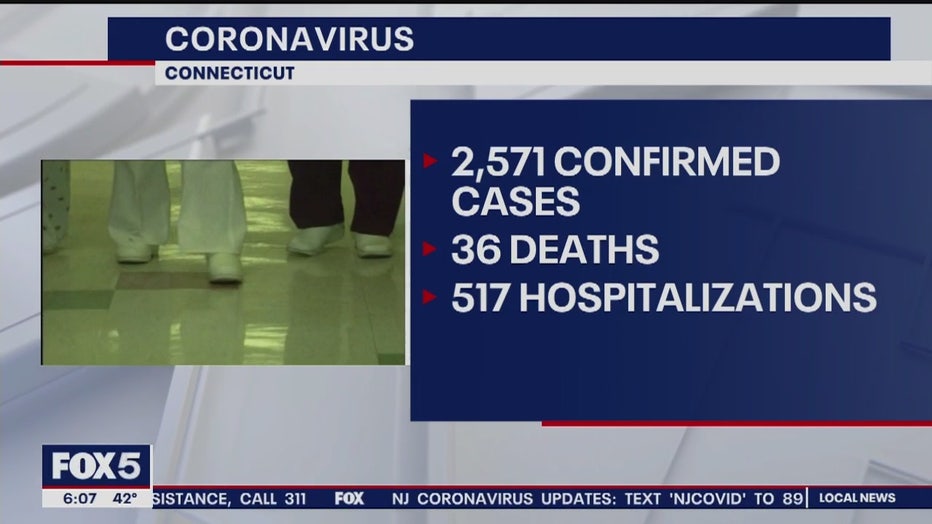 6:10 AM: Students haven't been on the campus of St. Thomas Academy in Minnesota for three weeks, but one teacher is working hard to help stop the spread of COVID-19. Since the students have been doing distance learning for the last couple of weeks or so, Westlake decided to use the 3D printers in the school's innovation center to make face shields. The shields are then donated to local healthcare workers and first responders who say personal protection equipment is in short supply.
MORE: https://www.fox5ny.com/news/minnesota-teacher-forms-shield-squad-of-3d-printer-owners-to-make-face-shields-for-health-care-workers
5:39 AM: Using virtual reality, a video released by the George Washington University Hospital showed the lungs of a 59-year-old male patient with COVID-19, and the damage depicted is not something to be taken lightly. 
In a podcast for GW University, Dr. Keith Mortman walked listeners through the moment the infected patient first began to develop symptoms to the horrifying devastation the novel coronavirus caused to the patient's lungs. 
MORE: https://www.fox5ny.com/news/it-is-affecting-every-age-group-3d-video-shows-extensive-damage-to-lungs-caused-by-covid-19