The latest developments on the coronavirus pandemic for April 10, 2020
NEW YORK - LIVE BLOG - FOX 5 NY is updating this blog with the latest developments on the coronavirus outbreak so you can get the information in one spot.
11:03 PM: A college student on Long Island has launched a new grocery delivery service to help people stay fed and avoid the grocery store during the coronavirus pandemic.
10:47 PM: The ongoing coronavirus pandemic has canceled just about everything from Easter, sporting events, live entertainment to movies and now: Burning Man.
In a blog post on Friday called The Burning Man Journal, the annual event born out of the Bay Area in the mid-eighties and now held on 'La Playa', is going for a more virtual experience.
10:11 PM: More than half of a group of severely ill coronavirus patients improved after receiving an experimental antiviral drug, although there's no way to know the odds of that happening without the drug because there was no comparison group, doctors reported Friday.
9:40 PM: While you're self-isolating during COVID-19 lockdown, broken appliances or internet outages are bound to occur, which may present the problem of how to ensure the safety of your household while an essential worker visits your home.
Many internet and cable providers are encouraging use of their online resources as a tool to fix or troubleshoot any issues you may be having. But if the need for a house call arises in order to fix whatever appliance has broken, Consumer Reports has listed a few tips to follow to keep you and the service provider safe during the outbreak.
8:52 PM: New Jersey Governor Phil Murphy says that another 682 residents who were hospitalized due to coronavirus have been discharged.
8:30 PM: Mayor Bill de Blasio joined FDNY Commissioner Daniel Nigro joined firefighters and police officers in showing their gratitude to the healthcare workers at Bellevue Hospital for their heroic efforts during the coronavirus crisis.
8:04 PM: As New York City staggered through its deadliest week of the pandemic, its emergency response system and army of operators, dispatchers and ambulance crews is being pushed to the brink.
7:34 PM: As the coronavirus spreads in Japan, the chief executive of the Tokyo Games said Friday he can't guarantee the postponed Olympics will be staged next year — even with the long delay.
7:07 PM: A New Jersey company falsely claimed it was an authorized distributor of 3M products when it tried to charge New York City five to six times the regular price for personal protective equipment, 3M said in a lawsuit filed Friday.
6:18 PM: The Trump administration and congressional leaders appear poised to launch new bipartisan talks on a fresh coronavirus aid package with hopes for action as soon as next week.
5:50 PM: As hospitals scour the country for scarce ventilators to treat critically ill patients stricken by the new coronavirus, pharmacists are beginning to sound an alarm that could become just as urgent: Drugs that go hand in hand with ventilators are running low even as demand is surging.
5:22 PM: According to the World Health Organization, there is no evidence that mosquitoes can transmit the COVID-19 virus.
4:20 PM: Pope Francis is presiding over a torch-lit Good Friday procession in an otherwise empty St. Peter's Square, with nurses and doctors among those holding a cross as the COVID-19 pandemic upends the traditional ceremony at Rome's Colosseum.
3:54 PM: Effective April 12, Nassau County Executive Laura Curran has extended the county's State of Emergency for a further 30 days.
3:40 PM: The federal government's budget deficit for the first half of this budget year totaled $743.6 billion, up 7.6% from last year, and well on its way to topping $1 trillion even before the impacts of the coronavirus were felt.
3:22 PM: Apple and Google have launched a major joint effort to use Bluetooth wireless technology to track down people for who may have been infected by coronavirus carriers. The idea is to help national governments roll out apps for so-called "contact tracing" that will run on iPhones and Android phones alike. But the idea has concerned some privacy and civil liberties activists.
2:56 PM: De Blasio says no-one has an answer to how far away we are from widespread testing for coronavirus.
2:53 PM: De Blasio says the city needs to be able to do tens, or even hundreds of thousands of coronavirus cases every day.
2:43 PM: Mayor de Blasio says that New York City was not using the same models as the White House, which had been underestimating the size of the coronavirus crisis. He reiterates that his administration was planning for the worst-case scenario.
2:37 PM: Mayor de Blasio says that April has turned out to be less bad than they were expecting, but that it is still bad. He hopes that in May, the city can start to make some changes, while guarding against a resurgence of the virus. He warns anyone from expecting a magic date in May or June when things would return to "normal."
2:35 PM: Mayor De Blasio says his administration was constantly planning for the worst-case scenario from coronavirus.
2:33 PM: Mayor de Blasio says any kind of person who passes away from any cause, including coronavirus, without anyone to claim the body is being buried on Hart Island. If at any point a family member comes to claim the body, they will be disinterred and given to the family for another burial.
2:20 PM: Mayor de Blasio expects NYC's official coronavirus cases to exceed 100,000 today but likely many, many more cases are unconfirmed; says he is thankful that the "vast majority" of cases are mild.
2:19 PM: Mayor de Blasio calls on NYC Rent Guidelines Board to issue a rent freeze for rent-stabilized apartments; "I want the Rent Guidelines Board to act quickly."
2:14 PM: Mayor de Blasio thanks Carmel, Indiana, Mayor James Brainard for sending NYC testing components; 50,000 test kits should arrive next week.
2:13 PM: Mayor de Blasio calls on the federal government to oversee widespread coronavirus testing.
2:12 PM: New York City Mayor Bill de Blasio holds an update on the city's response to the coronavirus crisis | WATCH LIVE: https://fox5ny.com/live
2:10 PM: President Trump predicts that U.S. economy and stock markets will come back.
2:08 PM: President Trump says says other counties have asked U.S. about coronavirus tests; says companies are making masks, PPE, ventilators.
2:00 PM: The federal budget deficit totals $743.6 billion budget over 6 months before coronavirus impact.
1:46 PM: Johns Hopkins Coronavirus Resource Center says more than 100,000 people have died worldwide due to COVID-19 worldwide.
12:26 PM: From the NYC Office of Emergency Management: Help your city. Volunteer, donate or partner with the City of New York. Visit NYC.gov/helpnow to learn how to get involved.
12:20 PM: Cuomo: What the statisticians didn't know is how New Yorkers would react. They got that wrong.
12:19 PM: Video tribute compiling clips tagged from New Yorkers about surviving pandemic plays.
12:15 PM: Cuomo asked about Hart Island and how many have been buried there: I know nothing about burials at Hart Island.
12:12 PM: Cuomo asked about ventilators and PPE We have enough ventilators. Hospitals always need PPE. Compared to how we have been operating, we are relatively comfortable IF the hospitalization rate stays down.
Melisssa DeRosa, Cuomo aide: As we're hearing reports about hospitals still requiring that workers reuse ppe, we are reaching out to them for what they need and we're getting them what you need.
12:06 AM: Cuomo asked about losing credibility in light of projection numbers being much lower. I think my credibility would be affected if I didn't ask experts for their opinion and then do everything you can to meet those numbers. My job is to prepare for the worst and hope for the best. If none of those policies had been put in place would we have hit those numbers? No one will ever know.
12:00 PM: Cuomo asked about how long temporary hospitals will stay open: We raised it to 90,000 beds and then created overflow facilities, Javits, several, 200-bed facilities, we won't have to use them if the hospitalization rate stays low. The Comfort has been used to some extent. If the hospitalization rate stays the same, that's an overflow capacity we don't use.
11:54 AM Cuomo: Next, we want to know, how did this happen? If you don't know the answer then how do you know you can stop it from happening again. In January, you see questions and you see warnings. Where were the international experts saying, if this is happening there, this is what is going to happen in the United States. In January, February you still had sources in this country saying you had nothing to worry about. Did we really need to be in this situation? How did we end up with more cases? What can we learn from the countries that have gone through this reopening process? We should have the questions answered before we take a step forward.
11:52 AM: Cuomo: To reopen, we need a federal stimulus bill. Look at where the damage has been done. You know where it's been done. And help those places come back and come back quickly. That's what the stimulus bill is supposed to be doing.
11:50 AM: Cuomo: The federal government has the Defense Production Act. We need these tests in the millions. Private sector companies have the tests but they can't go to scale. We're going to need federal aid.  NY, NJ and CT could partner with the federal government to get the tests to scale.
11:46 AM: Cuomo: We are going to see the numbers start to change. Let's learn from what we've been seeing these past few months. The key to reopening is going to be testing. It's not going to be like flipping a light switch. It's going to be reliant on testing. Testing for antibodies and testing for diagnostic results and testing on a scale we have not done before. 
11:45 AM: Cuomo: We lit up our landmarks in NYC and Niagara Falls in blue to thank our healthcare workers. We think the federal government should set up a Heroes Compensation Fund to thank them for what they did here.
11:44 AM: Cuomo: We are going to add $200M for food funding for low income residents.
11:39 AM: Cuomo: Overall, New York is flattening the curve. We had no capacity to meet the higher case load based on a projection by Columbia University. McKinsie projected 100,000 hospital beds. Moderate scenario was 55,000 beds statewide. IHME said 73,000 beds. The actual curve is much, much lower than any of them projected. Why? Nobody has been here before. There is no model to track against. Second, what policies do you put in place and does anybody listen to the policies you put in place? So the big variable was what policies and the bigger variable was does any body care? The statisticians had to come up with a premise with how many would comply and we actually exceeded that, but we have to keep doing that. Stay with it even if it is a grind. 
11:37 AM: Cuomo: 777 lives lost. What is happening when we had those high hospitalization rates 2-3 weeks ago, you either got treated and released or you went on a ventilator. Those lives lost are those who came in during the height. The number is lower than yesterday. 7844 total lives lost.
11:36 AM: Cuomo: we are cautiously optimistic that we are lowering the hospitalization rate. There are fewer people in the ICU statewide than they were. The three day average is down.
11:35 AM: NY Gov. Andrew Cuomo updates the public on coronavirus response.
11:32 AM: Murphy: We are not close to the end zone.
11:27 AM: Of the 1,932 fatalities in NJ, 923 had known underlying conditions. We are bringing up some hotels for those who need to quarantine but do not have a home. We are working in north Jersey. We have  a number of dorms available. Those are for healthcare workers. They can also stay at the hotels. We believe the hospitals can handle the peak. We have to make sure they have the workforce and ppe.
11:25 AM: Nassau County Executive Laura Curran announced that beginning today, county-owned and operated golf courses and driving ranges will be closed through at least April 29 to slow the spread of COVID-19.
11:21 AM: Persichilli: We are going through all 375 of the homes to see if they can cohort the residents and the employees. It's becoming a daunting task but we keep at it. We are looking at the volunteer corp to see if they are extremely stressed. The medicare ratings-- we do inspect those organizations. We go out in 24 hours for those that are in immediate jeopardy. We are getting PPE for our staff to go onsite to determine what is going on.  It's not one, we have a lot of nursing homes. We don't have the staff, they are being deployed into hospitals as well. 
11:17 AM: Murphy asked about transferring patients at nursing homes and the medicare ratings of many of the nursing homes being low and below average. How are they allowed to operate? Long term care facilities have been a particular care of focus. We are not alone on this front. When we do the national post-mortem, longterm care facilities are going to be at or near the top of the list. 
11:16 AM: Murphy says he will hold an update tomorrow at 1 p.m. No update on Easter. 1 p.m. on Monday but that may change.
11:13 AM: NSJP Pat Callahan: Stolen goods turned over to Springfield Police. In Roselle, police called to a supermarket because man with mask yelled he had coronavirus. Subject was stopped and found to be in possession of narcotics. 51 violations in Newark issued. In Union, open billiards hall found. 3 people summonsed. There have been 124 incidents risen to indictable crime since the executive order was signed.
11:01 AM: State Correctional Official: 129 staff members impacted with coronavirus. 20 inmates have tested positive. There has been one inmate fatality. Any individuals who have come in contact with the impacted have been quarantined. 1,000 employees are in quarantine. Communal dining has been eliminated. We suspended intake to county jails. We placed a 15 day hold on inmates in our assignment facilities. Work release suspended.  Inmates released are given a health assessment. We are prioritizing homeless individuals before they leave our custody. Those being considered for release are over the age of 60, recently considered for parole. We do not have an exact count on how many inmates this will impact. We will generate those lists.
10:58 AM: Murphy: 17.1 percent of fatalities are Latino. That looks early stage to be above-consistent. This is the first day we've had that type of insight. The African American fatalities are running over 50 percent of the population.
10:56 AM: Perscichilli: Across the state, there 1679 patients considered critical care.
3627 new cases reported
54,588 total cases 
233 new deaths 
1,932 deaths total
48 percent had underlying health conditions. 
10:52 AM: Judith Persichilli, NJ Health Commissioner: Of NJ's three veteran homes, today, there are 845 veterans living there. 16 residents and five staff members in Menlo Park have tested positive. There have been four deaths in Menlo Park. 12 of their residents are hospitalized. The Paramus Home has 17 staff positive. There have been 13 deaths. There are 8 residents hospitalized. The Vineland location has no confirmed cases.  
10:51 AM: Murphy: We are beginning to see signs of hope. Look at the flattening of the curve. But we will still loose people, sadly. They may have been infected weeks ago.
10:50 AM: Murphy highlights Wyckoff Girl Scout Troop 24 which produced headbands that can be worn under the straps of face make to make them more comfortable.
10:49 AM: Murphy: Thank you to Stevens University for opening a dorm to first responders to rest.
10:48 AM: Murphy: A big shout out to Uniqlo. The Japanes company donated 100,000 medical-grade masks for our frontline responders
10:47 AM: Murphy: Tomorrow at 8 am, Bergen Community College will reopen to testing as will the PNC Bank Arts Center for healthcare workers. Both closed on Easter Sunday. 18 other sites publicly available across the state. Search COVID19.NJ.gov/testing
10:45 AM: Murphy: I am signing an executive order, certain low risk individuals who have been denied parole in last year or sentences set to expire in next three months can be placed on temporary home confinement or granted parole. No one who has committed a serious crime will be released.
10:42 AM: Murphy: About the prisons. I spoke with the widow of Nelson Perdomo. He was only 44 years old. Perdomo was a correctional officer. 
MORE: 
10:41 AM: Murphy: We have to leave the gatherings this Easter to laptops and live streams. Please take this to heart, we all must work together. The nine million of us have to flatten that curve.
10:38 AM: Murphy says among the new deaths reported is Evelyn Sanchez, 62, originally of Vineland. Mayor Sam McGhee, former mayor of Hillside and Dr. Francis Molinari who worked for many years in Hudson County.
10:37 AM: Murphy: 233 new deaths bringing death total in the state to 1,932.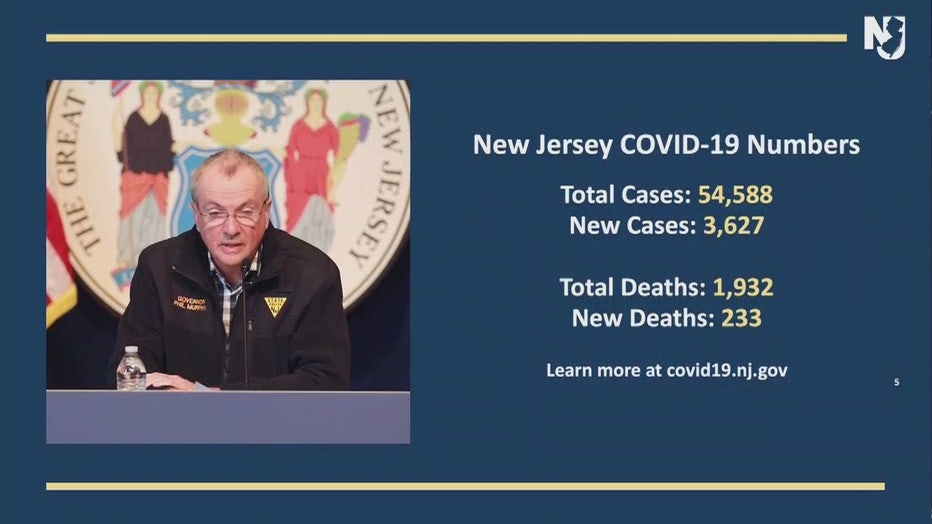 10:36 AM: Murphy: This is the first day that the heat map shows a different shade in two counties: Salem county is doubling in the last seven days; that's good news. And, Bergen County has just under 9,000 cases and 390 fatalities. 
10:37 AM: Gov. Phil Murphy updates public on coronavirus response.
10:25 AM: Lamont asked about reopening the state and partisan comments on social media: This has been a non-partisan pandemic. The leaders in this building have been working arm-in-arm. I think people feel we are on the right track, the right balance of getting this economy going and public safety.
10:17 AM: Lamont asked about social gathering limit of 5 people or less for holidays: Yes, that's the recommendation.
10:11 AM: Lamont asked about a tweet he received offering 3 million N95 masks: As you saw, we had well over 1,000 offers, but we have to vet these. We have millions of dollars of orders. They're beginning to come in now. 
10:08 AM: Lamont says he loves hearing stories about people doing good deeds towards others during the pandemic.
10:05 AM: Lamont: I've got urge you now is no time to get your foot off the accelerator. Now is not the time to relax your social distancing.
10:03 AM: Connecticut Gov. Ned Lamont updates the public on the coronavirus response in the state. Watch LIVE: https://fox5ny.com/live
9:56 AM: NASA satellite data has shown a 30 percent reduction in atmospheric nitrogen dioxide pollution in the northeastern U.S. during the coronavirus lockdown.
MORE: https://www.fox5ny.com/news/coronavirus-lockdown-results-in-30-percent-air-pollution-drop-in-northeastern-us-nasa-says
9:00 AM: From the NYC Office of Emergency Management: During the holidays, we remind New Yorkers that ferries should only be used by essential workers.
8:48 AM: The NY State Dept. of Labor has debuted an updated website for filing unemployment benefits. Visit: labor.ny.gov
8:44 AM: 
8:42 AM: Dr. Mehmet Oz tells Good Day New York that in France, the majority of the 1,061 patients who were administered hydroxychloroquine with azithromycin did well. 
8:32 AM: Stock markets in the United States are closed for Good Friday. They will resume normal trading hours on Monday.
MORE: https://www.fox5ny.com/news/u-s-stock-markets-closed-for-good-friday
8:20 AM: Free meals for all New Yorkers are available at meal hubs across the city. For details, click HERE.
8:18 AM: New York City & New York State Stats:   
New York State: 161,807 cases; 7,067 deaths        
New York City: 87,028 cases; 5,150 deaths        
Nassau County: 20,140 cases; 633 deaths     
Suffolk County: 18,803 cases; 362 deaths        
Westchester County: 17,004 cases; 359 deaths
8:12 AM: The Centers for Disease Control and Prevention says that people should stay 6 feet (2 meters) apart. But even though ridership has plummeted in the city, making jam-packed trains and buses the exception rather than the rule, passengers aren't always guaranteed even 6 inches (15 centimeters).
MORE: https://www.fox5ny.com/news/subway-riders-travel-in-fear-amid-pandemic
7:00 AM: Watch Good Day New York at this link: https://www.fox5ny.com/live
6:53 AM: The New Jersey State Policemen's Benevolent Association announced Friday another veteran of the NJ Dept. of Corrections had succumbed to the coronavirus.
MORE: https://www.fox5ny.com/news/another-nj-corrections-officer-dies-from-coronavirus
5:40 AM: Los Angeles County health officials made the somber announcement that a staffer at a homeless shelter had died of the coronavirus. "I am really sad to report that one of the staff members from one of the shelters has passed away, deep condolences to this person's family, so very sorry for your loss," said Dr. Barbara Ferrer, head of L.A. county's Department of Public Health. Gerald Shiroma, 57, was a driver at the Union Rescue Mission on Skid Row. He is the first positive COVID-19 case on Skid Row.
MORE: https://www.fox5ny.com/news/homeless-shelter-staffer-dies-of-covid-19-first-known-case-on-skid-row