Sparks fly when truck is struck by lightning in North Carolina, video shows
MOORESVILLE, North Carolina - A truck was hit by lightning Wednesday, causing sparks to fly — and the moment was caught on camera. 
A dramatic video captured by JR Motorsports on Jan. 4 shows the moment when the bolt hits the truck in the Mooresville shop's parking lot, causing the vehicle's headlights to turn on. 
The American professional stock car racing team shared the video, joking that they were "starting the year off with a bang."
According to JR Motorsports, the lightning struck a truck and then ran along a fence around the building. They said that though the truck had no "visual damage, it will not start!"
They also noted that everyone from their team was inside and safe. 
The National Weather Service warned of "widespread showers and thunderstorms" crossing the region Wednesday and reported 2.74 inches of rainfall in the area. 
RELATED: Video captures moment Airbus Beluga is struck by lightning
This broke a 117-year-old record during the thunderstorm, according to the agency.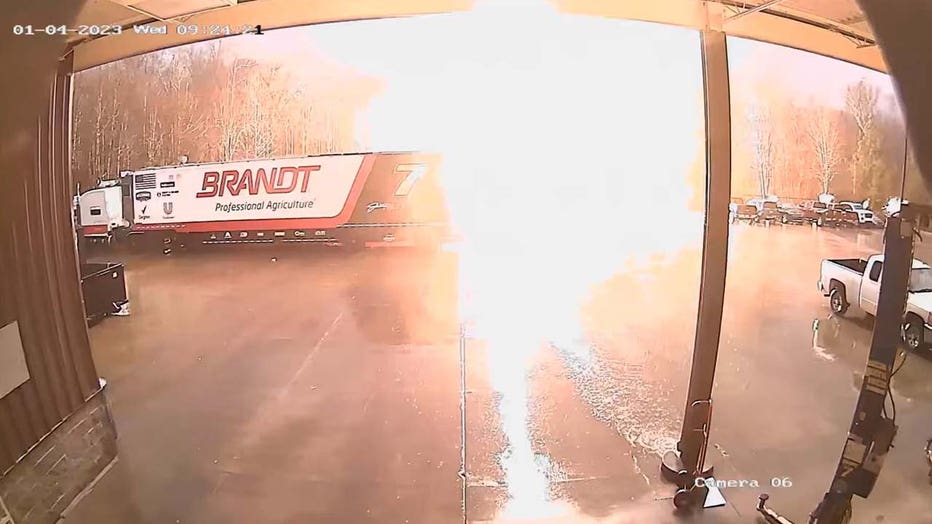 New lightning data released earlier this week showed that 2022 was a "year of extremes" with more than 198 million lightning events in the United States — the highest total count since 2019.
RELATED: Lightning report: 2022 was a 'year of extremes,' with most US strikes in Texas
According to the Vaisala U.S. National Lightning Detection Network (NLDN), 2022 saw the most extreme concentration of lightning ever detected. Meanwhile, the state of Texas saw a significant decrease in lightning activity, a major snowstorm in Buffalo, New York triggered over 1,100 lightning strikes, and an unusual lack of thunderstorms led to drought across the Mississippi River basin.
This story was reported from Los Angeles. Storyful contributed.