George Santos cosponsors bill to make the AR-15 the National Gun of the U.S.
NEW YORK - In one of his first pieces of legislation, freshman NY Congressman George Santos is cosponsoring a bill to declare the AR-15 rifle as the National Gun of the United States.
H.R. 1095, also known as the AR-15 National Gun Act, was sponsored by Alabama Republican Barry Moore.  Georgia Republican Andrew Clyde and Colorado Republican Lauren Boebert have also signed on as co-sponsors.
The resolution has been referred to the House Committee on Oversight and Accountability. The text of the bill was not immediately available.
Moore unveiled it on Tuesday inside a gun store in Troy, Alabama.  He said it was part of a fight to protect the Second Amendment from "radicals" in the Biden administration.
"The anti-Second Amendment group won't stop until they take away all your firearms," said Moore. "One rule to remember: any government that would take away one right would take away them all.
Get breaking news alerts in the free FOX5NY News app!  |  Sign up for FOX 5 email newsletters
Santos has not issued any statements on his support of the legislation.
However, New York Governor Kathy Hochul is slamming Santos as "outrageous and appalling" for attaching his name to the legislation.
"This weapon of war has been used in mass shootings across the United States - from my hometown of Buffalo, where the shooter used a modified AR-15 to murder ten people in a despicable act of white supremacist terrorism, to Parkland, Florida, where the shooter killed seventeen innocent people with an AR-15-style weapon," Hochul said in a statement on Thursday.  "This bill, which attempts to glorify the weapons that have been part of such horrific tragedies, adds unforgivable insult to injury for those families. It should never become law, and Congressman Santos should immediately remove his name from it, if he has any respect for New Yorkers."
MORE:  Santos admits to being a 'terrible liar'
Santos has previously raised eyebrows for wearing an AR-15 lapel pin on Capitol Hill.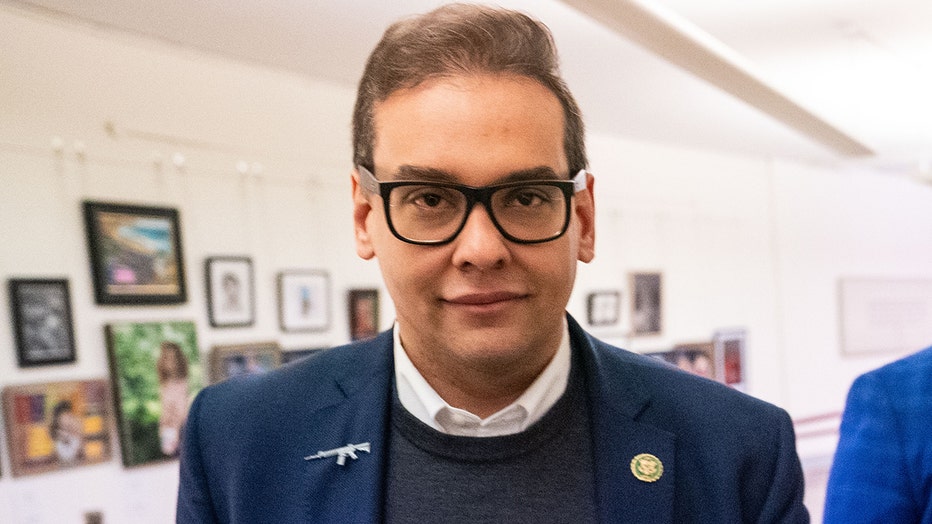 Rep. George Santos (R-NY) heads to the House Chamber for a vote, at the U.S. Capitol on Tuesday, Jan. 31, 2023.(Kent Nishimura / Los Angeles Times via Getty Images)
In an interview with FOX 5 News last week, Santos said he was preparing to introduce bills the people he represents in Queens and Long Island would be excited about.
MORE:  Santos accused of puppy theft in 2017
"I have many allies in Congress and we've done fantastic work together.  I've very excited," Santos said. "From the moment we come back from being in recess I'm going to be introducing some original bills and I think the district is going to appreciate them because they are really district-focused bills."