Rare 400-pound stingray found in Long Island Sound off Connecticut coast
LONG ISLAND SOUND - Scientists conducting a survey in Long Island Sound made a rare catch last week when they reeled in a massive roughtail stingray not normally seen in the waters off the Connecticut coast.
According to a Facebook post from Connecticut Fish and Wildlife, the Long Island Sound Trawl Survey team was out on the water on Wednesday when it trawled the string ray, which was estimated to be about 6 feet long, 5 feet wide and weighing about 400 pounds.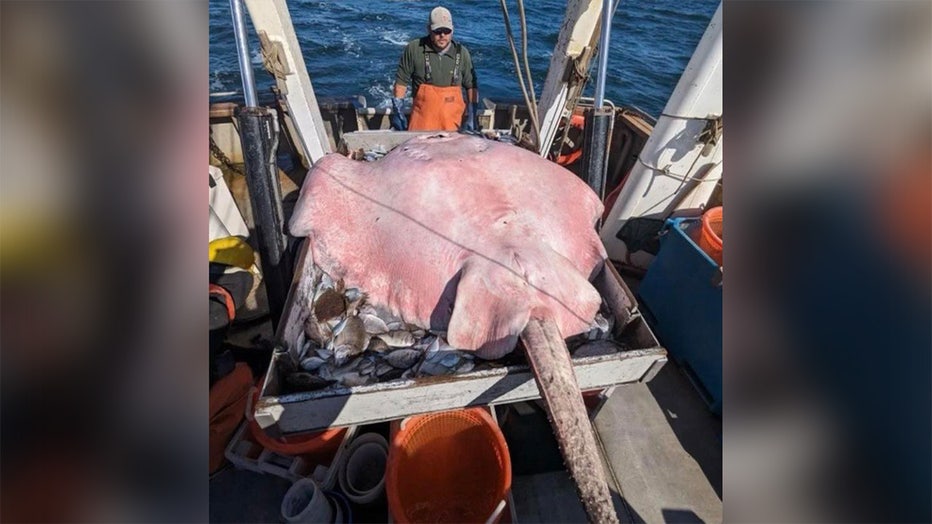 A 400-pound stingray was captured off the coast of Connecticut in Long Island Sound. (CTFishAndWildlife/Facebook)
"These gentle giants are found along the Atlantic coast from New England to Florida, but are relatively rare in Long Island Sound," Connecticut Fish and Wildlife said in the Facebook post.
The roughtail stingray does have a venomous spine in its tail, like all stingrays, but it isn't aggressive and doesn't normally get into the shallow waters near the coast where people swim and relax.
A photo of the massive stingray showed it on its back, so the crew quickly took measurements and got it back into the water rather than trying to roll it over.
Connecticut Fish and Wildlife said the stingray was able to swim away and was alive and well when it slipped below the surface of the water.
LINK: FOR UPDATES ON THIS STORY, VISIT FOXWEATHER.COM