Oscar Mayer to allow couples to elope inside iconic Wienermobile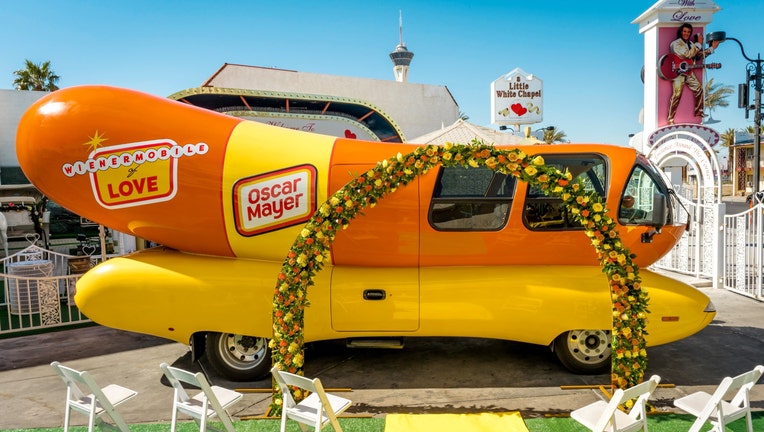 article
LAS VEGAS - Oscar Mayer's iconic Wienermobile will allow couples to say their "I do's" inside the unique vehicle that will transform into a wedding chapel. 
The meat company is allowing future spouses to sign up for the first-ever "Wienermobile of Love" outside the iconic Little White Wedding Chapel in Las Vegas. 
The weddings will take place between April 15 and 16. Couples will be treated to an all-expenses-paid ceremony. Those interested can sign up on OscarMayer.com on a first-come first-serve basis. 
"From proposals and surprise meat-ups down the aisle to playing matchmaker to some of our own Hotdoggers, the Oscar Mayer Wienermobile has held a special place in fans' hearts – so much so, we receive thousands of requests each and every year to be part of couples' big days,"  Ed Roland, Sr. Manager Brand Communications, said in a news release. "Now, as more people seek stress-free ceremonies with their partners, our Hotdoggers are thrilled to reignite the joy of this special day and give them a once-in-a-lifetime experience: a wedding through a pair of meat-colored glasses."
RELATED: Krispy Kreme will give students free doughnuts for A's on report card
The average cost of a wedding ceremony and reception in 2021 was $28,000, according to The Knot 2021 Real Weddings Study. This is in line with pre-pandemic spending in 2019, although the average cost per guest has been rising steadily in the past few years due to smaller ceremonies. 
Additionally, newlyweds spend an average of $5,000 on a honeymoon and $6,000 on an engagement ring, driving up the total cost to $39,000. And while some couples may be able to lean on family members for financial help, that's not always the case. 
FOX Business contributed to this report. This story was reported from Los Angeles.