Protests, clashes with police as tensions high ahead of Election Day
NEW YORK - Stores have boarded up their windows in parts of New York City following protests and clashes with police as tension run high ahead of Election Day.
On Sunday, police officers armed with batons and dressed in riot gear confronted anti-Trump demonstrators in Manhattan who spilled into the streets and disrupted traffic.
With just hours to go before the presidential election, some business owners are concerned the violence will interfere with day-to-day operations.
"Just in case something happens that day, we have indoor seating," said Rebeca Mosqueda, manager of Tacuba in Hell's Kitchen.  "We'll take our customers, neighbors inside and just take care of them."
Mosqueda says she'll even consider putting a halt to outdoor dining which could cost the restaurant up to twenty tables and around fifty customers.
Other businesses across the city including Macy's in Herald Square boarded up their windows amid fears of violence.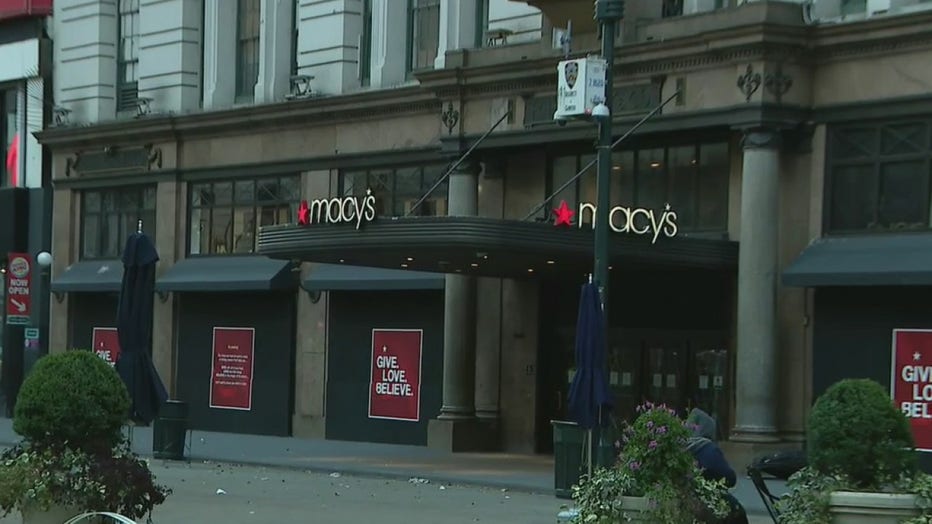 The windows at Macy's Herald Square were covered with boards in anticipation of unrest following the results of the 2020 Election. (FOX 5 NY)
New York City Police Commissioner Dermot Shea says there will be zero tolerance. Footage posted to social media shows police officers scuffling with people in Manhattan's Chelsea neighborhood. The footage also shows protesters marching earlier in the day and a heavy police presence.
The New York City Police Department said 11 arrests were made during Sunday's protest. 
In an interview on Good Day New York Friday, Shea reminded businesses to remain vigilant and said police will be out in full force.
"We've gotten some questions regarding outdoor furniture and things and we actually, especially in Midtown, did make some requests to some BIDS in areas to clear the sidewalks and the reason for that was is that it's impeding pedestrian traffic if we expect large protests," he added.