NYPD officers resigning in record numbers in 2023: Report
NEW YORK - A new report finds a record number of New York City police officers resigned this year, with more than 200 officers already tapping out in the past two months of 2023.
"Safe streets," said Mayor Eric Adams on Sunday, "public safety is a prerequisite to our prosperity."
Yet according to the report from the New York Post, public safety's first line of defense in the city – its police officers, are resigning at a record level in 2023.
RELATED: NYPD pilots protect city, inspire youth
The report says 239 officers quit in January and February, compared to 176 during the same period in 2022, and 110 in 2021, a 117 percent increase, and the highest number of resignations since 2007, when 250 officers left the force during a contentious contract dispute.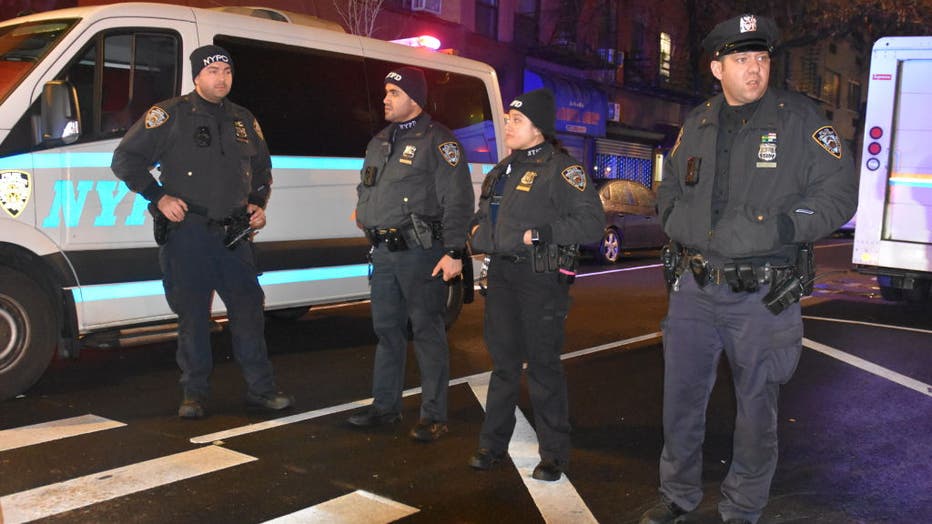 Police officers stand guard on a road after a 19-year-old assailant attacked three NYPD officers with a machete near Times Square during the new year celebrations in New York, United States on December 31, 2022. (Photo by Kyle Mazza/Anadolu Agency vi
Last year, the report says, NYPD saw just over 3,700 officers retire, the most since the 9/11 attacks. 
"We have a law enforcement crisis in this city, in this country and it's serious," Adams said.  
RELATED: Manhattan stores are turning to K-9s to fight shoplifting
Nationwide since 2020, more officers have left their departments. Police advocates point to the politics of the city, and the $42,500 a year starting pay. Because of it, suburban departments like Suffolk and Nassau counties, are able to easily poach from within the NYPD. 
"Specifically, the laws written by Albany the New York City Council have made policing very difficult in New York City," said Joseph Giacalone, retired NYPD sergeant and adjunct professor at John Jay College of Criminal Justice. "And that's what I think a lot of cops are just throwing their hands up and saying I can't do this job anymore." 
RELATED: Activists, victims' parents demand NYC take action on gun violence in city schools
"A lot of people don't respect them," said one New York city resident speaking to FOX 5 NY. "And I think police officers and firemen have to be respected and cherished a lot because without them, I don't know where the city would be."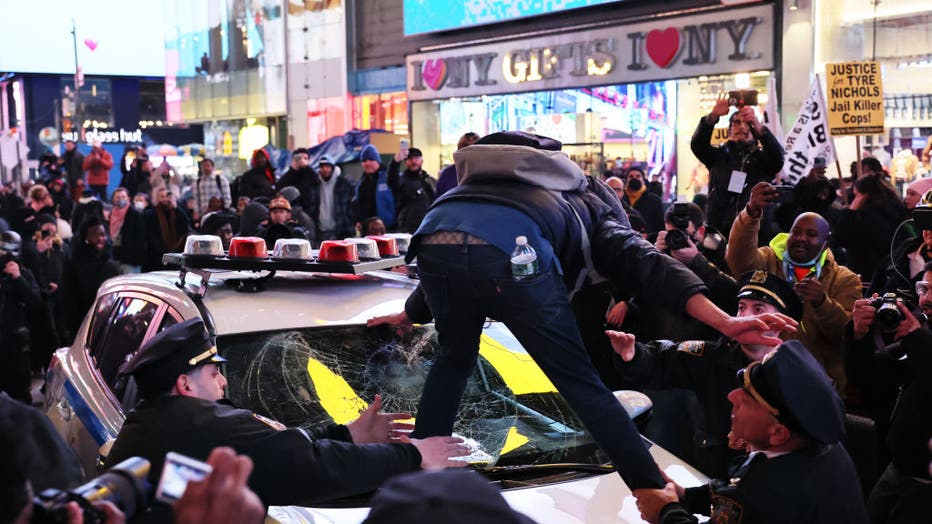 NYPD officers drag a demonstrator off an NYPD car as people protest the death of Tyre Nichols on January 27, 2023 in New York City. The release of a video depicting the fatal beating of Nichols, a 29-year-old Black man, sparked protests in NYC and ot
According to the Post, nearly every precinct in the city is understaffed, and response times in 2023 are taking longer compared to last year. The NYPD did not respond to FOX 5's request for comment.  
A former cop himself, the mayor knows the realities of a police force with low retention and low recruitment, which is why he admitted record-setting resignations have to be righted— and quickly.
"What I think we failed at is that we were going out and recruiting at the capacity that we should have and we're changing that," Adams said.