Manhattan stores are turning to K-9s to fight shoplifting
NEW YORK - The rise in shoplifting is forcing store owners to hire their own private security — hoping the presence of a K-9 unit will intimate thieves before they strike.
Shoplifters know that if you can grab the goods and get out of the store— no one will chase them.
"Since we've been here," said Mike Pappas, Stapleton Security's Lead k-9 handler, "there's been customers that walk in they see the dog and they walk out."
Since the pandemic, the CVS on 34th Street and 8th Avenue in the heart of the Penn District has been gutted by thieves.
RELATED:  NYC STORES BEG FOR HELP AGAINST SERIAL SHOPLIFTERS
"The precinct is down 40% in staffing, you know, and crime is up 35% this year, 100% over the last two years," said Kevin Ward, 34th Street Partnership vice president. "There's a correlation between those two. And then you add in the bail reform laws that basically shoplifters will get a summons and they'll be released."
The 34th Partnership, made up of a group of businesses in the area, says it's not only losing money on the shrinkage, but locking up deodorants and dish soaps behind plastic casing means hiring more staff. So they decided to pay the monthly five-figure fee for teams like Mike and Del, who stand watch from 7 a.m. to 11 p.m. 7 days a week.
RELATED:  NYC DRUGSTORES EXPERIENCING SHOPLIFTING CRISIS
"That's all it takes just the presence alone of him, Pappas said. "It's already stopped numerous, numerous people."
It's hard to measure how many thieves think twice when they see a 100-plus pound German Shepard or Malamute.
But store managers have told the 34th Street Partnership multiple stories of serial shoplifters leaving before stealing, or notifying the K-9 unit of theft in progress. When the guard confronts the thief, they drop the items and leave.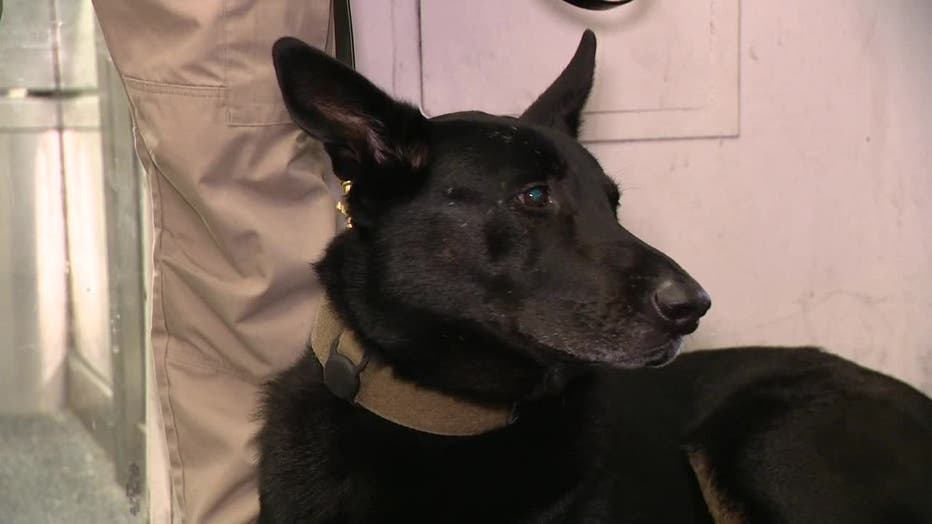 K9s are being used to fight shoplifters in Manhattan
The presence of a canine unit only started at the beginning of February, and while it's working the 34th St. partnership is hoping the city will address what's really needed — police on foot.
Right now Times Square has 75 dedicated police officers on foot. The Penn District has zero.
"There's a lot of opportunity here for the city, and it's becoming a tech center, but it has to be safe, Ward said. "So what we need in the Penn District is a dedicated foot patrol of police officers. And that's, you know, what we're hoping will occur."
This is no easy job, for the dog or the guard. Not only does the guard have to be vigilant, but they stand here with their dog for 12 hours in the cold. And paying for them is expensive. But it shows the lengths store owners are willing to go to stay in business in this climate of high crime.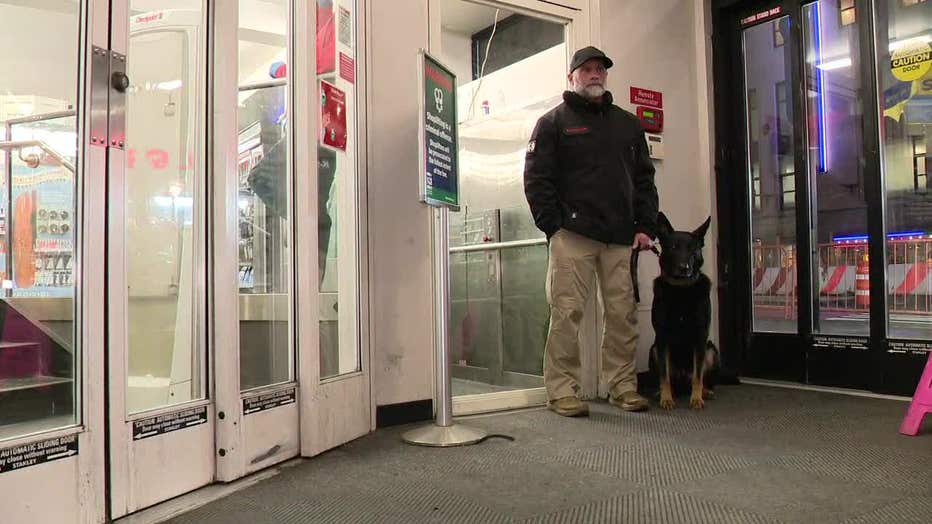 K9s are being used to fight shoplifters in Manhattan