NYC subway shooting: Suspected gunman in NYPD custody
NEW YORK - The NYPD arrested a suspect in connection with the fatal shooting of a passenger on a subway train crossing the Manhattan Bridge on Sunday. 
Andrew Abdullah, 25, of Brooklyn, is accused of shooting and killing Daniel Enriquez, 48, while they were riding a Q train from Brooklyn to Manhattan on Sunday morning. 
Detectives escorted Abdullah into the 5th Precinct station house on Tuesday afternoon just a few hours after Commissioner Keechant Sewell tweeted his photo and asked for "the help of every New Yorker." Authorities later charged him with murder and criminal possession of a weapon.
The Legal Aid Society said in a statement that Abdullah, its client, had intended to surrender to police at the precinct but never had the chance. 
"Before Andrew Abdullah could voluntarily surrender himself to the local precinct, he was needlessly ambushed out front of our Manhattan Trial Office by law enforcement, denied of his opportunity to first consult with counsel," the Legal Aid Society said in the statement. "Since last night, we have been actively speaking with the New York Police Department and the New York County District Attorney's Office to negotiate his surrender, and what transpired today was completely inappropriate and unwarranted given those conversations."
RELATED: NYC subway shooting victim sister's plea: Albany needs to protect its city
Witness told police that Abdullah was pacing back and forth in the subway car muttering to himself, Chief of Detectives James Essig said at a news conference on Tuesday. The only words witnesses could make out: "No phones." Then Abdullah "targeted this poor individual for reasons we don't know" and shot Enriquez once in the chest.
When the train arrived at the Canal Street station, the shooter took off and handed the handgun to a stranger on the station stairs, Essig said. 
About a block and a half away, police officers stopped Abdullah, Essig said. But he wasn't wearing the black hoodie mentioned in the initial suspect description and he had a backpack, which also wasn't in the description. So the officers checked his ID, wrote down his name, and let him go. Later, when police were viewing surveillance video they realized that the gunman took off his sweatshirt after the shooting, Essig said.
Enriquez, who lived in Park Slope and worked for Goldman Sachs, was headed to Manhattan to have brunch. 
"I am relieved that they apprehended the suspect — this is the first step in getting justice for my brother," said Griselda Vile, Enriquez's sister. Earlier, she told Fox News she hopes this doesn't happen to any more New Yorkers.
"I don't want my brother just to be a passing name in the media, a passing name in our normalcy post-pandemic," she said. 
Goldman Sachs CEO David Solomon said in a statement that Enriquez was a "dedicated and beloved member" of the company.
"He worked diligently to support our Macro Research team in New York and epitomized our culture of collaboration and excellence," Solomon said. "We are devastated by this senseless tragedy and our deepest sympathies are with Dan's family at this difficult time."
On Monday, MTA CEO Janno Lieber said commuters deserve to feel safe.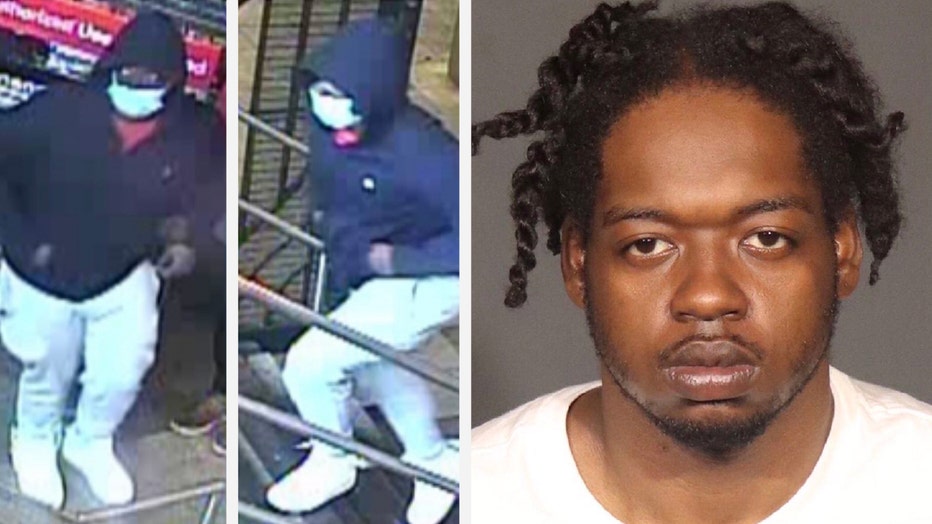 Police have charged Andrew Abdullah in connection with a fatal shooting in a subway car. (Images via NYPD)
"For so many New Yorkers, the transit system is the only way to get around and live their normal lives," Lieber said. "You can't do that if you're scared to get up and go to brunch that most New York of activities."
The Associated Press reported that Abdullah was on parole until June 2021 after serving 2 1/2 years behind bars on a conviction on conspiracy and attempted weapon possession charges in a gang case, according to parole records and police. Court records show he has open criminal cases stemming from an April 24 vehicle theft and an alleged assault in 2020. He hasn't entered a plea in either of those cases.
"This horrific crime should never have happened," Police Commissioner Keechant Sewell said at a news briefing Tuesday, calling Abdullah "a repeat offender who was given every leeway by the criminal justice system."
The Legal Aid Society said Abdullah deserves "vigorous representation."
"He is presumed innocent and entitled to counsel and a robust defense," the Legal Aid Society said. "At this preliminary moment in the case, we caution New Yorkers from rushing to judgment, as we are just beginning our investigation and reviewing evidence."
Abdullah told relatives he does not remember anything, according to Bishop Lamor Whitehead, Abdullah's family pastor.
"I spoke to the family and he suffered from mental illness, mental health challenges," Whitehead told reporters outside the police station. "As far as I understand from the family, he doesn't recollect any of it at all."
In response to a 75% spike in subway crime in January, the NYPD deployed more officers into subway hot spots but they can't be everywhere. Adams said he will meet with the police commissioner this week to see if there are more effective deployment strategies.
With The Associated Press.