NYC plans mega-concert in Central Park to celebrate comeback
NEW YORK - New York City plans to hold a large concert on the Great Lawn in Central Park on August 21 to celebrate recovery from the coronavirus pandemic.
"We decided to do something classic, iconic, a massive concert in Central Park to celebrate the rebirth of New York City," Mayor Bill de Blasio said at a press briefing on Monday morning. "It will celebrate the summer of New York City, the comeback, and it will emphatically make the point there is no stopping New York."
De Blasio said he has asked Brooklyn native Clive Davis to put together an all-star group of artists.
"I turned to Clive, I said, 'I need the biggest, most extraordinary all-star lineup you can put together, heavy on New York artists.' He said, 'I'm on it. I'm going to make it happen,'" the mayor said. "So, in August, get ready for an unforgettable week, a once-in-a-lifetime concert and a moment that really says New York City's back."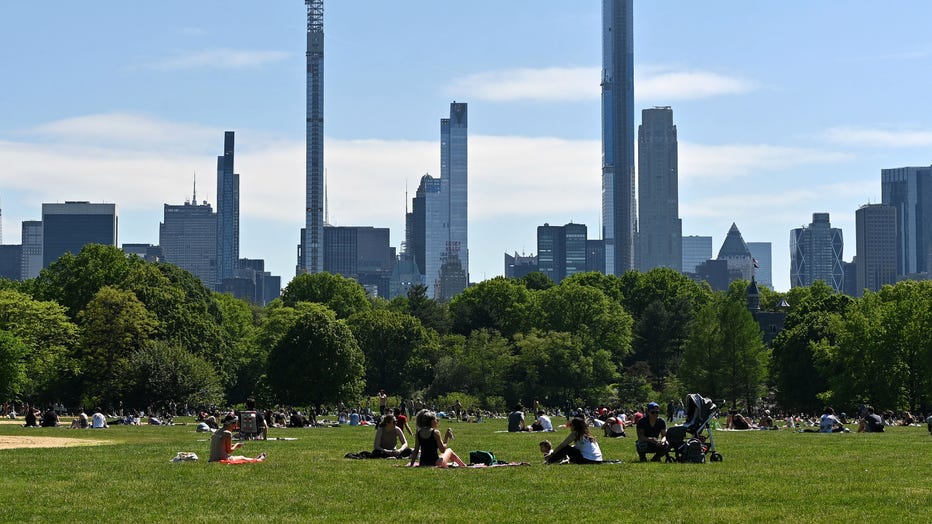 NEW YORK, NEW YORK - MAY 25: People sit on The Great Lawn in Central Park on Memorial Day during the coronavirus pandemic on May 25, 2020 in New York City. (Photo by Dia Dipasupil/Getty Images)
"The mayor said there's got to be some major kind of official reopening of New York City," said Davis during FOX 5 morning program 'Good Day New York.' "We are coming out and we are ready to reopen. There's got to be an important signal to the rest o the world that New York is officially reopening."
There is no firm line-up of artists in place yet. Davis announced the date of August 21 during Good Day NY.  LIVE Nation will be involved in the production.
"There will be a maximum of 60,000 people of the majority of which will have to have free tickets which, of course, is so important. We are now contemplating eight major artists with a concert beginning in the late afternoon at around 6 o'clock with a curfew at about 9:30, 9:45," said Davis.
The concert is just one of a series of events that will be planned to take place across New York City to welcome people back to the city.
Sign up for FOX 5 email newsletters
The mayor says the concert will attract a "huge crowd" but it will be held safely.
"We are now looking for worldwide television forecast with major interest in making this a worldwide television event," said Davis.
Several iconic concerts have been held in the park over the years, including Simon and Garfunkel in 1981, Garth Brooks in 1997, Dave Matthews Band in 2003, and Bon Jovi in 2008.