NYC migrant crisis: Hochul explores state-level work permits for migrants
NEW YORK - Governor Kathy Hochul announced on Tuesday that the state is considering granting migrants state-level work permits, circumventing federal law.
Right now, migrants have to wait at least 180 days after applying for asylum before they can receive a work permit.
"This would be unprecedented," Hochul said.
How this would work is unclear right now and would almost definitely be challenged in court, but Hochul says she is discussing a proposal with her attorneys.
More than 110,000 migrants have passed through New York City since last spring with nearly 60,000 migrants currently in the city's care.
"I spoke about this at the White House," Hochul explained. "I said, I may do something at the state level, I may be having to do this. So we're working on language right now."
This week multiple state lawmakers introduced bills that would grant migrants state and city work authorization permits.
One bill introduced by Senator Luis Sepulveda and Assemblywoman Catalina Cruz, would allow the state to grant free work permits to migrants within 45 days of their applying for asylum.
Although it would almost assuredly be challenged in court, Senator Sepulveda says this would at least get the ball rolling.  
"In one breath you can't complain that these individuals are here and they're going to drain our tax coffers, but then resist any effort for them to pay taxes and get work," Senator Sepulveda insisted.
Hochul met with legislative leaders later in the day to discuss work authorization proposals and when this could get done - making no guarantees of a special session.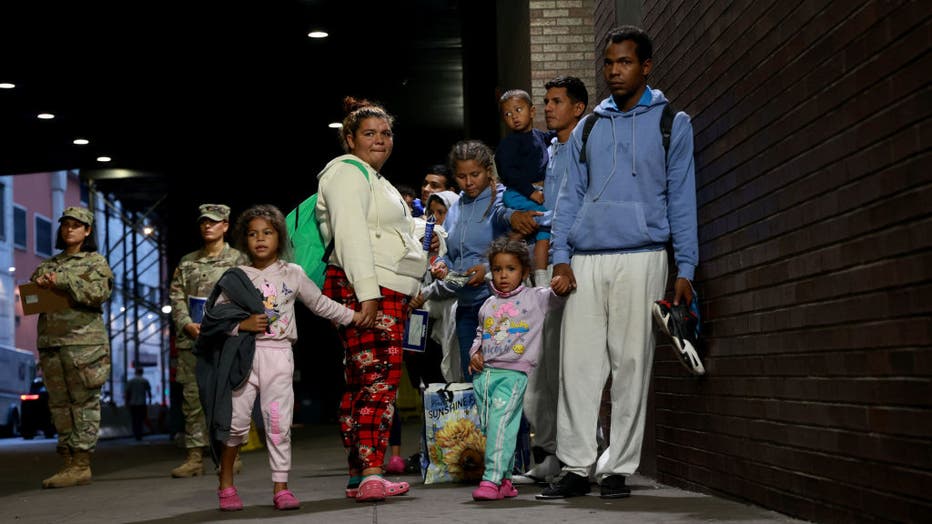 UNITED STATES -September 6: Dozens of migrants/immigrants families are seen arriving from Texas at the Port Authority Bus Terminal early Wednesday September 6, 2023. Accordingly to activist Power Malu from the organization Artists, Athletes and Activ
"I have language, I want to talk to the leaders about what that would look like and the timing, whether it's now or in session," Hochul said.
Assembly Speaker Carl Heastie arrived at Hochul's midtown office first.
We asked if he plans to discuss this state work authorization proposal with the governor.
"I don't know the agenda," Heastie said.
We asked if he would consider bringing lawmakers back to Albany before January to vote on it.
"I don't know," Heastie said.
Senate Majority Leader Andrea Stewart-Cousins arrived next and said right now a special session is not on the table.
"No at this point this is a conversation we are having with the governor about multiple issues," Stewart- Cousins said.
White House officials Tuesday confirmed that they are days away from signing the lease that will give the State and city authorization to use the Floyd Bennett field to house migrants.
On top of that, the Department of Homeland Security is sending at least 50 people to assist the city with outreach to migrants in order to help them apply for work authorization.
But Federal officials also say that work authorization can only come from the federal government saying, "It is not something that we would encourage states to pursue."
Hochul had this response:
"The federal government believes that we need to have their authority to move forward with state work permits," Hochul admitted. "But as I said, we have to let them work."
To date, the federal government has allocated just under $150 million for New York City to deal with the migrant crisis.