NYC migrant crisis: Adams calls for policy changes as asylum seekers continue to arrive
At least 6 new buses with migrants arrived in New York City on Wednesday, as the city plans to open yet another large-scale humanitarian relief center this time in Long Island City.
As a result, the Adams administration is once again calling for changes to a policy that requires the city to provide shelter to migrants.
"There's a wide-open front door right now," Deputy Mayor Anne Williams-Isom said at a press briefing.
For more than a year, the city has scrambled to feed, clothe, and even educate more than 110,000 migrants who have passed through New York City since the spring of 2022. Nearly 60,000 migrants are currently in the city's care and around 19,000 migrant children are headed to city schools this week.
The Adams administration argues that the right to shelter policy which requires the city to provide housing to anyone who needs it is putting the city in an impossible situation.
This policy is currently being debated in court with Legal Aid and the state.
"You're going to get a hotel room, you're going to get school, open arms and while we love that, and we are so proud of that, I think in a way it's being used against us," Williams-Isom said. "If we didn't have the right to shelter, I think we would still get people but I think that it would be a little less."
The city is now opening its 16th large-scale humanitarian relief center at Austell Place in Long Island City.
The city is still working on getting this building up to code, but more than 300 migrants will be moved in on Wednesday while construction will continue on the lower floors.
"At full capacity, Austell Place will be able to serve nearly 1000 people, offering not only a safe place to sleep, but also food medical care, and help from social service workers," HPD Commissioner Adolfo Carrión, Jr. said.
Governor Kathy Hochul is still resisting calls from city officials to force upstate counties to house migrants.
Certain communities like Staten Island are also protesting migrants moving into their area.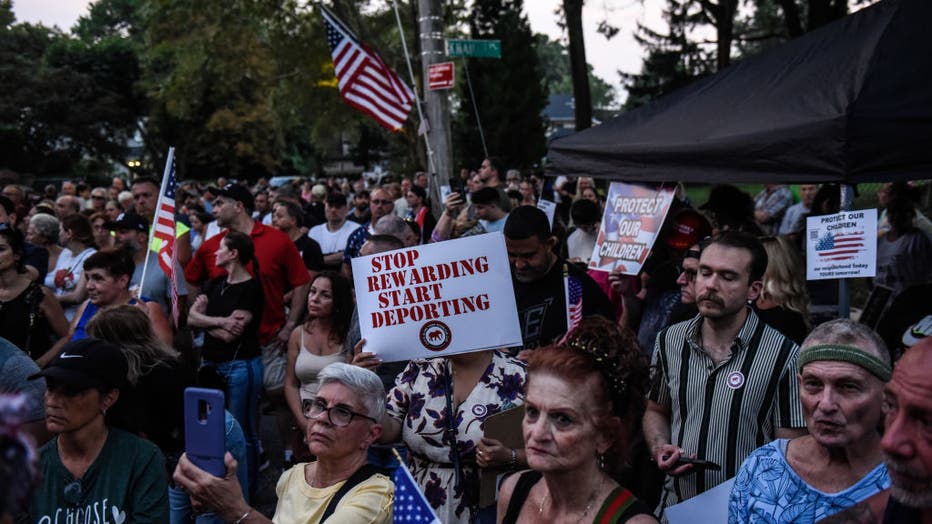 Demonstrators at a rally protesting the opening of a temporary shelter for asylum seekers in the Staten Island borough of New York, US, on Tuesday, Sept. 5, 2023. New York City recently opened a temporary shelter to house 300 migrants at St. John Vil
Republicans like House Speaker Kevin McCarthy and former Vice President Mike Pence have jumped on the situation, saying that Mayor Eric Adams is right in protesting the federal government's response to the migrant crisis.
"I'm hearing those who are coming out saying Eric is right, Eric is right, but don't pick half of what you say on right on, pick the other half," Adams responded. "That Trump Republicans created this mess, and we need to fix this mess with real immigration reform."
The Adams administration is now also calling on state lawmakers to return to Albany before January to come up with more solutions to the migrant crisis.
Lawmakers set aside more than 1.5 billion dollars to aid the city this last legislative session and right now have no plans to come back.