NYC air quality concerns: Experts weigh in on plan to protect New Yorkers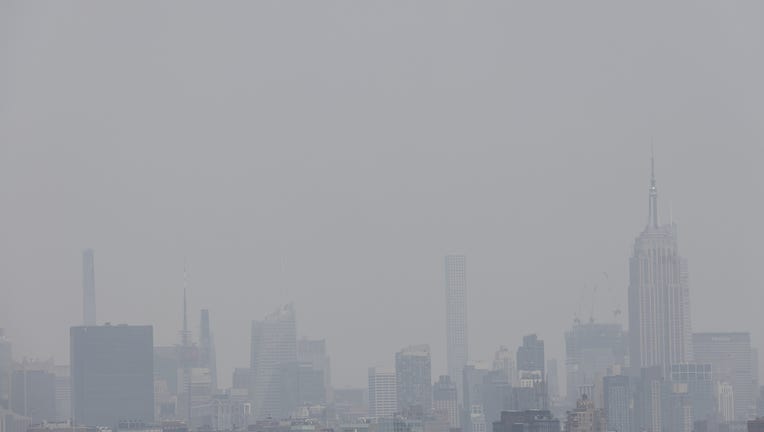 article
NEW YORK - Thick smoke remains above the Big Apple for the third straight day.
"Very Unhealthy" to "Hazardous" air quality level alerts have been issued for much of New York and New Jersey.
More people can be seen wearing masks, and even less are walking around outside.
City officials and health experts are weighing in on how to stay safe outdoors due to rising concerns.
Mayor Adams cautioned those with preexisting health conditions to stay inside and to wear masks when outside.
The mayor also noted the city's lack of a plan for combating hazardous air quality. Thus, leaving people with even more questions.
"We have to pivot and shift based on the issue that's in front of us," Mayor Adams said. 
A lot remains unknown.
Emergency Management Commissioner Zach Iscol, joined Good Day NY on Thursday to discuss the kinds of precautions that the city plans to use.
"We don't have a specific plan for wildfire fires, but what we do have is we have what are called all-hazard plans that apply to a variety of different types of emergencies based on the impacts and what the effects are of New Yorkers," Iscol said."
Officials are urging people to wear N-95 masks when possible and some are taking heed, while others are finding ways around it.
"It's confusing, it feels like we're going backwards," a woman walking with her mask on said.
How much longer?
It could be days or even weeks before the air quality improves, creating a real concern for those with underlying conditions.
Dr. Niederman said the real concern is that some people could end up getting viral infections from the smoke.
Although those with chronic diseases are more at risk, healthy individuals can be sensitive to the smoke outside.
It could be days or even weeks until the air quality returns to normal. 
According to Fox Weather, by Friday morning, the worst of the smoke will push off Long Island and into the Atlantic Ocean.