Negotiations drag on as NYC hospitals brace for nurses strike
NEW YORK - The number of hospitals that have failed to reach an agreement with the union representing a group of nurses in New York City is down to three, but thousands of nurses could still walk off the job Monday morning if a deal is not reached. 
The New York State Nurses Association and BronxCare Health System said Saturday that a tentative agreement had been reached; the union said it included pay raises every year of its three-year term as well as staffing increases.
RELATED: NYC hospitals prepare for nurses strike as deadline looms
Another hospital, Flushing Hospital Medical Center, got to a tentative agreement with nurses on Friday evening.
However, there is still no deal between the nurses union and Mount Sinai hospital system, and Montefiore Medical Center in the Bronx, which both have more than 1,000 beds.
However, the New York State Nurses Association blasted Mount Sinai hospital on Saturday, claiming the hospital is the lone holdout who have now stopped negotiations.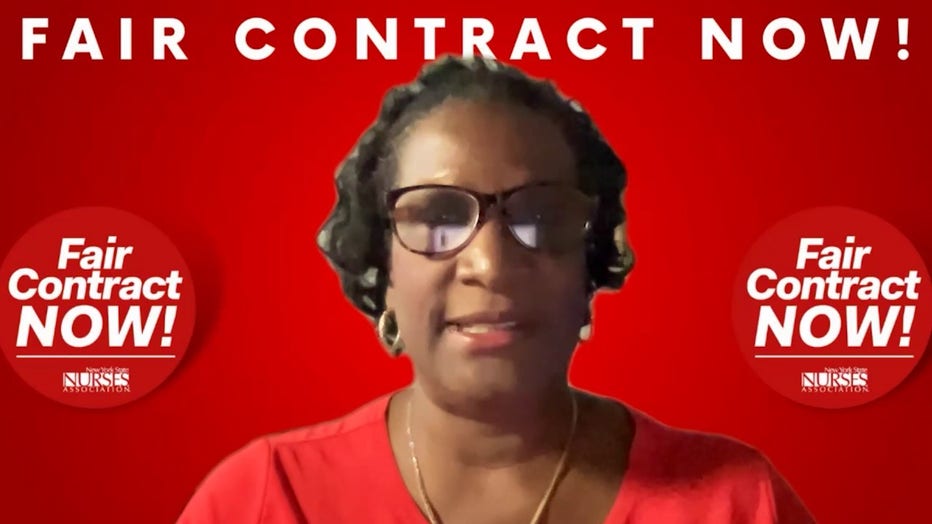 Nancy Hagans, the President of the New York State Nurses Association, blasted several NYC-area hospitals Saturday as negotiations to avert a possible nurses' strike continue. 
"These employers have engaged in unfair and unlawful behavior trying to silence registered nurses," said Nancy Hagans, the President of the New York State Nurses Association. "It's time for these huge NYC hospitals, who pay their executives seven figures a year, to put patients over profits."
Mount Sinai, however, disputes the claim, saying in a statement: "Mount Sinai is dismayed by NYSNA's reckless actions. The union is jeopardizing patients' care, and it's forcing valued Mount Sinai nurses to sacrifice their dedication to patient care and their own livelihood."
Hospital officials also added that their proposed pay raise was in line with other city hospital offers. 
A total of five city hospitals have reached agreements with the nurses union already, including New York Presbyterian, Maimonides Medical Center, Richmond University Medical Center, Flushing Hospital Medical Center, and BronxCare. 
The deal includes an increase to nurse staffing over the next three years, along with preserving healthcare and other benefits, including retiree health and pension benefits and a salary increase over 3 years of the contract. 
As of Saturday night, Mount Sinai Morningside and Mount Sinai West are back at the bargaining table with the nurses union, hoping to strike a deal. If none is found, negotiations will continue until 11:59 p.m. on Sunday night. 
The hospitals have taken steps to prepare for a strike through patient transfers and directing ambulances elsewhere.