Mudslide in Westchester County causes Metro-North, Amtrak service suspensions
A mudslide in Westchester County caused by heavy rainfall suspended MTA and Amtrak services Saturday morning.
MTA service on the Hudson Line between Croton-Harmon and Tarrytown has been fully canceled. 
According to Amtrak Northeast, service between Albany (ALB) and New York (NYP) have also been canceled for the rest of the day due to 'debris on the tracks.'
The Metro-North Railroad had previously alerted reports of slippery rails due to inclement weather before announcing that there had been a 'significant mudslide.' 
"Hudson Line service remains suspended between Croton-Harmon and Tarrytown because of a significant mudslide onto our tracks due to today's weather," read a tweet from Metro-North.
MTA service
Hudson Line service between Grand Central and Tarrytown has also been severely impacted.
MTA alternate routes
In response, the MTA is urging customers to take the Harlem Line instead, which is running a full schedule.  
They warned travelers to also build in extra travel time to use the Bee-Line--see schedule here.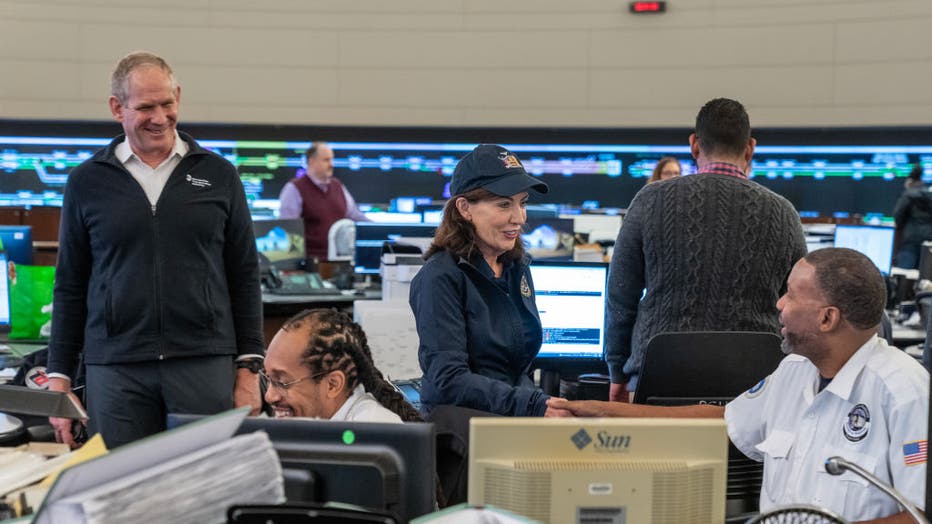 Septermber 30: Governor Kathy Hochul and (Metropolitan Transit Authority) MTA CEO Janno Lieber visit Rail Control Center to thank transit workers for their work during a historic storm as rain dumped more than 6 inches of rain flooding many streets a
Gov. Hochul said in a statement Saturday: 
"Thankfully, there have been no injuries reported, and no individuals are stranded in impacted areas. The MTA has suspended Metro North service between Tarrytown and Croton Harmon, and is working to arrange bus service as replacement transportation for impacted passengers. At this point, our top priority is to restore service as quickly as possible and we are deeply grateful to the hard-working MTA personnel and emergency responders who are working to keep commuters, motorists and all New Yorkers safe." 
Amtrak says they do not have any estimates for when service will resume. 
The tri-state area has seen a significant amount of rain in the last few weeks, causing major flooding and delays. For the latest weather check out the FOX 5 NY Weather Center.
This is a developing story. Check back for updates.