NYPD seeking moped bandits responsible for dozens of robberies across the city
NEW YORK - The NYPD is looking for the suspects in more than two dozen moped crimes throughout the city. 
In the incidents police say the suspects ride up on mopeds grabbing purses, necklaces, phones and other belongings from pedestrians. 
Police say there have been at least two dozen incidents since the start of October, with the latest robbery happening this past weekend. 
The string of robberies span across Manhattan, Brooklyn and Queens. 
RELATED: NYC crackdown on illegal scooters calls attention to migrant struggles for work
In Midtown the NYPD reported three incidents within an hour, where three male suspects wearing dark-colored clothing on dark-colored mopeds snatched headphones from people from behind. 
No injuries were reported in any of the incidents, however, the suspects took off with headphones valued at $600. 
RELATED: Reddit video shows NYPD vehicle repeatedly swerve towards moped on Van Wyck Expressway
Manhattan moped purse snatchings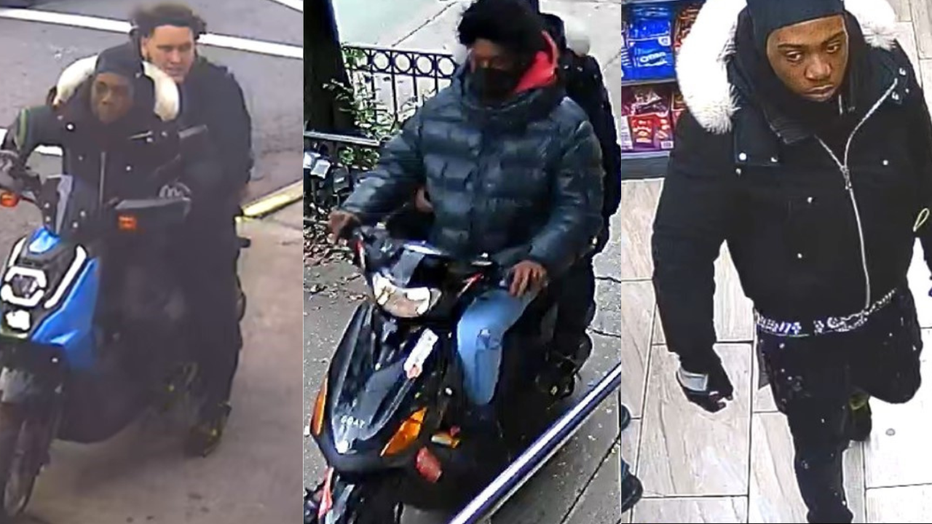 NYPD Crime Stoppers 1-800-577-TIPS (8477)
In the last three weeks the NYPD had 22 reports of male suspects on mopeds approaching women and snatching their purses in Midtown. 
In all the incidents the suspects approached the women on mopeds and fled on mopeds. 
In a single day, the suspects approached six different women in a given hour, according to NYPD reports. 
"I've lived in this neighborhood 52 years and I've never seen anything like it," Joan Tancer, an Upper East Side resident, said. "I'm 74 and I'm terrified. My husband said to me, 'You can't wear a pocketbook anymore.' He made me buy a fanny pack."
It's worth noting that the reports account for multiple incidents in one day, often times two to three days a part. 
RELATED: NYPD searches for Bronx purse snatcher, as fourth victim comes forward
Brooklyn moped chain robberies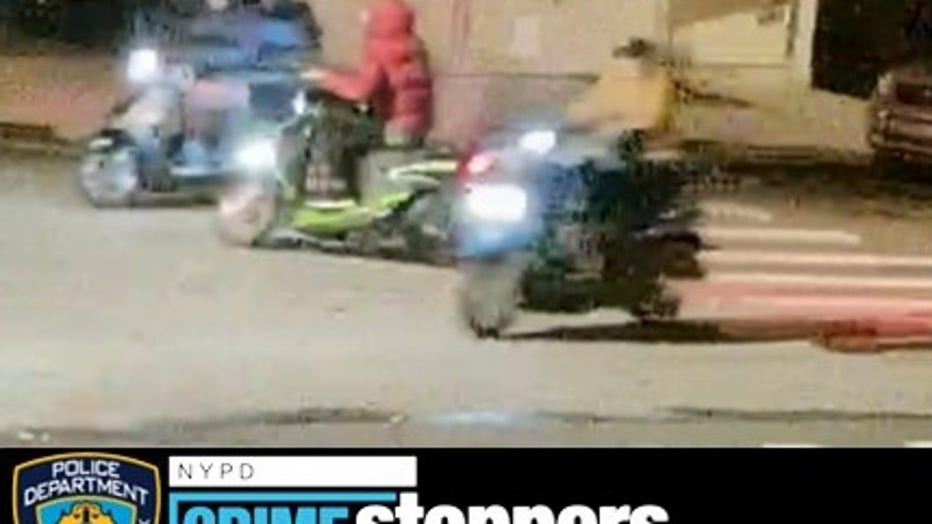 NYPD described the mopeds as, black with two wheels, green and black with two wheels and blue with two wheels. 
In one day, the NYPD reported three separate incidents within about an hour, where women were approached by three men on mopeds.
The first incident was a 39-year-old woman in East New York, the second a 15-year-old girl in East New York, and the last was a 36-year-old woman in Bushwick.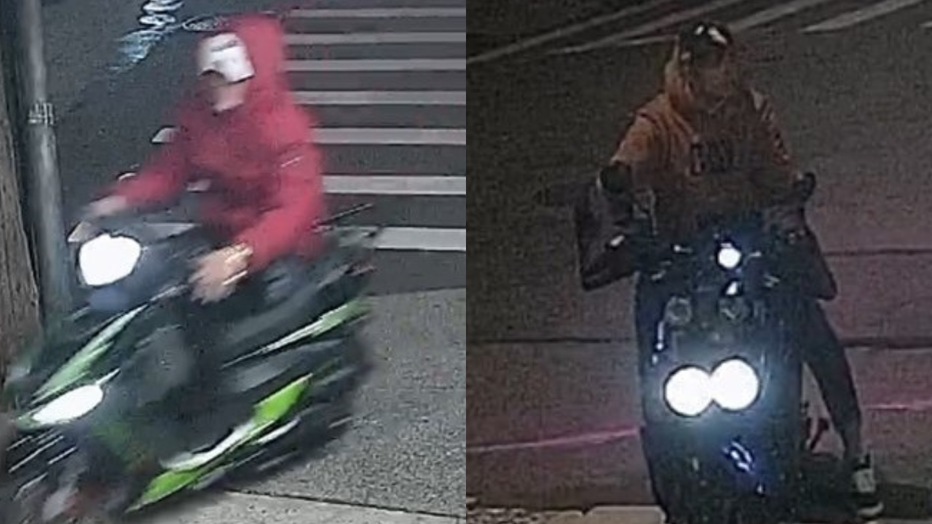 NYPD Crime Stoppers 1-800-577-TIPS (8477)
According to the NYPD the men approached these women while on their mopeds, snatch necklaces and then flee the scene. 
The mopeds are described as, black with two wheels, green and black with two wheels and blue with two wheels. 
No injuries were reported in these incidents. 
RELATED: Thieves on mopeds swipe Apple headphones off victims' heads in NYC spree
Queens moped necklace snatchings
In Queens the NYPD had two reports of two unknown men approaching women from behind on a black moped, ripping their necklaces off.  
In the first incident a woman walking on the opposite side of Central Avenue in Glendale, was cornered from behind by two people on a black moped. They took her necklace worth $200. The victim refused medical attention but was bruised around the neck. 
Later that same day in Richmond Hill, the two suspects approached a 20-year-old woman sitting in a car. According to police they snatcher her necklace worth about $520 before fleeing on a black moped. 
Police believe the suspects are both males between 20 and 25 years old in all black clothing.  
Anyone with information for any of these incidents is asked to call the NYPD's Crime Stoppers Hotline at 1-800-577-TIPS (8477) or for Spanish, 1-888-57-PISTA (74782). The public can also submit their tips by logging onto the Crime Stoppers website at https://crimestoppers.nypdonline.org/, on Twitter @NYPDTips.