NYC crackdown on illegal scooters calls attention to migrant struggles for work
NEW YORK - Police cracked down on illegal scooters this week, impounding a number of vehicles on the Upper West Side. But these motorized bikes are being used by migrants, struggling to find work without permits.  
Police impounded illegal mopeds on West 71st on Broadway on Thursday, as their owners-- many who are delivery drivers— looked on. 
They confiscated 4 mopeds, 9 bicycles, 1 motorcycle and arrested a woman who slapped a police officer while her bike was being taken away.  
The incident happening just feet away from the Stratford Arms Hotel, now a migrant shelter.  
But NYPD has their work cut out for them.
RELATED: Vaccines among migrant children spark controversy in NY public schools
 A long line of unregistered motorized bikes is parked out front of the Roosevelt Hotel, the migrant shelter in Midtown.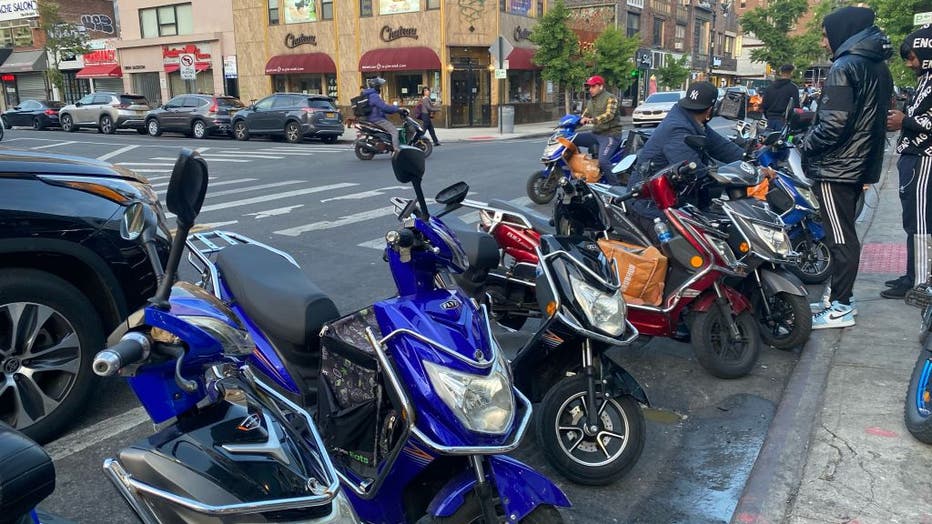 Large group of delivery people waiting on street with motorcycles, Queens, New York. (Photo by: Lindsey Nicholson/UCG/Universal Images Group via Getty Images)
"Because we're immigrants, we don't have many options," one migrant to FOX 5. "One of the easiest options is to grab a motorcycle an apply on Uber." 
A newly arrived Venezuelan staying inside the hotel told FOX 5, that without papers or permits to work, many migrants rely on food delivery work to help their families, in his case, a wife and three kids under 6. Food delivery work doesn't require a license, but it does require the worker to get around town quick.  
"At the Starbucks and McDonald's corner it's like a big issue," said one Upper West Side resident. 
"They had to put a flood like there because they just congregate. My husband and I joke. We call it the Skid Row of the neighborhood. It's a canker sore."  
RELATED: NYC migrant crisis: Heated protests held outside new Staten Island shelter
While some west side residents are pleased the cops responded to their complaints and impounded the bikes, telling FOX 5, "They're here, there, everywhere, and I am so terrified that one day I'm going to get hurt."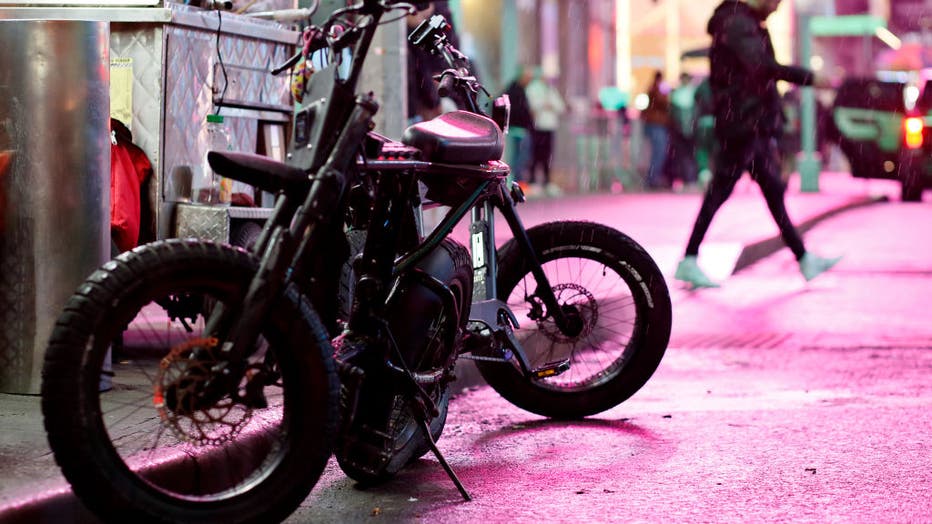 NEW YORK, NEW YORK - FEBRUARY 21: An e-bike sits at Times Square on February 21, 2023 in New York City. New York City Fire Commissioner Laura Kavanagh has called upon the Consumer Product Safety Commission to take action and help prevent what it call
The migrants say it's the only hope of getting on their feet.  "They need it for their family," a migrant said. "No one is going to have a motorcycle just sitting there." 
A migrant said FOX 5, he worked as a delivery driver for a month, but found it very dangerous and was happy to leave it behind for a job in a barbershop.
RELATED: Staten Island residents, lawmakers sue city over migrant shelter
The City Council, Mayor Eric Adams and Governor Hochul have all come out recently, saying that they are pushing the federal government to expedite work authorization permits. The mayor says there are thousands of jobs in the city, waiting to be filled. The Biden administration responded, saying it's working with the city and state this month, to streamline the process for eligible migrants to get jobs.  
But in the meantime, hundreds of migrants pour into New York City every day, which could mean the number of illegal bikes they rely on to bring in money – goes up. 
"There's not enough resources for all the people that are coming in," a UWS resident said. "And there needs to be infrastructure in place to receive them and help them find work."