'Miracle on the Hudson' marks 14th anniversary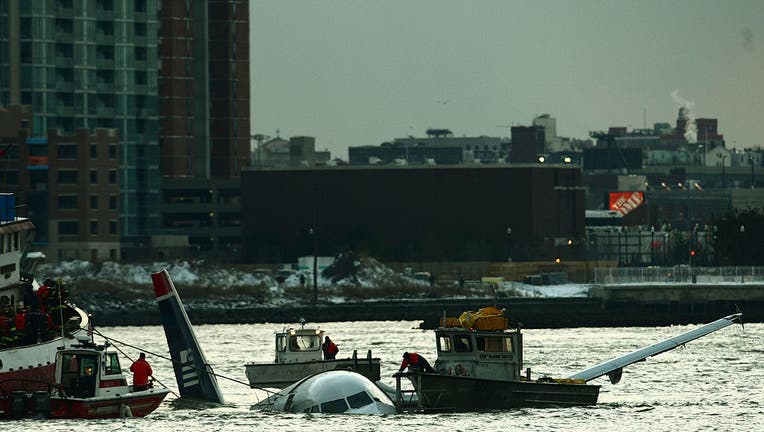 article
NEW YORK - Sunday marks the 14th anniversary of the "Miracle on the Hudson," when, on January 15, 2009, Captain Chesley "Sully" Sullenberger managed to land U.S. Airways Flight 1549 on the Hudson River near 42nd Street after losing engine power when the plane hit a flock of geese. 
Sullenberger's actions, along with those of the Coast Guard, the FDNY, and over a dozen ferries saved the lives of all 155 people onboard.
NEW YORK - FEBRUARY 9:  Pilot Chesley B. Sullenberger (L) of US Airways Flight 1549 holds up a key to city at City Hall, where Mayor Michael Bloomberg (R) presented him and his fellow crew members keys to the city, on February 9, 2008 in New York City.  Sullenberger executed an emergency landing on the Hudson River on January 15, saving all the passengers on board. (Photo by Michael Nagle/Getty Images)
The incredible event turned Sullenberger into a national hero, and inspired the 2016 biographical drama film "Sully," starring Tom Hanks as Sullenberger.
Sullenberger, who turns 72 this year, now lives in Northern California and is no longer a pilot, but works as a public speaker and air safety expert. 
The Airbus A320 Sullenberger managed to land that fateful day is now on display at the Sullenberger Aviation Museum in North Carolina. The museum, formerly known as the Carolinas Aviation Museum was renamed in Sullenberger's honor in 2022. 
The museum will have a permanent exhibit dedicated to the "Miracle on the Hudson," expected to open this year.