Migrants rounded up outside Hell's Kitchen hotel
NEW YORK - A group of migrant men who had been staying in tents outside the Watson Hotel in Hell's Kitchen, refusing to move to the Brooklyn Cruise Terminal, were forced to move Wednesday evening. 
The NYPD, along with the Sanitation Department, showed up around 8 p.m. and told everyone to get on a bus – or get moving.
RELATED: NYC to use Brooklyn Cruise Terminal to shelter asylum-seekers
There were roughly 30 to 40 migrants present at the time. No reason was given for the sweep, but migrant advocates believe it has to do with the cold weather expected over the next few days.
It's unclear where most of the men went.
Officials want to move the single migrant men to the Brooklyn Cruise Terminal as part of an effort to free up hotel rooms for families seeking asylum. But many of the men refuse to go, criticizing the conditions at the terminal's shelter.
Migrants who visited the shelter said the conditions there are inhumane, with no heat, beds too close together, no place to put their belongings, limited food and only four bathrooms. They said they don't want or need luxury, but a dignified place to live in. 
Video obtained by FOX 5 New York shows rows and rows of cots in the 1,000-bed shelter.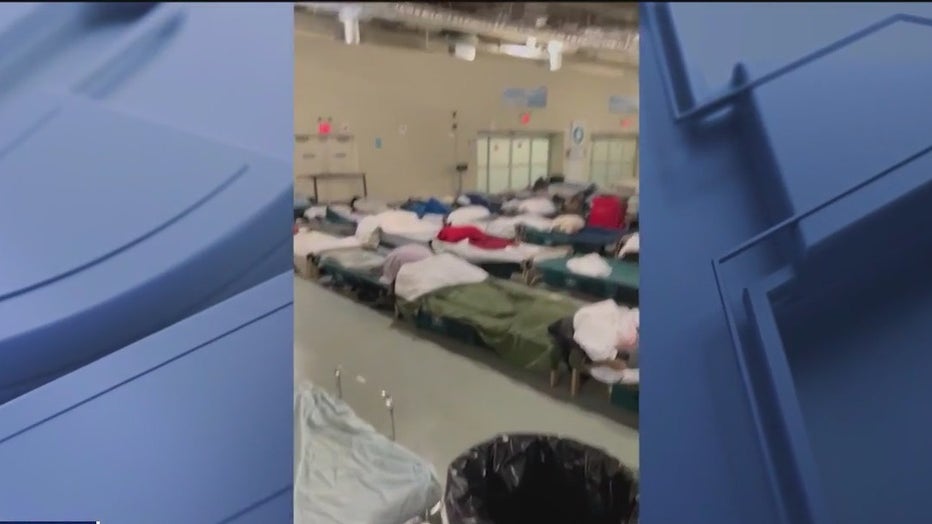 A screenshot from a video showing conditions for migrants at the Brooklyn Cruise Terminal. 
Mayor Eric Adams also tweeted out his own visit to the facility earlier this week, showing there is fresh food, heat and even ping pong.
The men say they were comfortable at the hotel with its amenities, and its central location in Manhattan allowing them to be around other things.
RELATED: Illegal U.S.-Mexico border crossings surge to highest levels since Biden took office
The Watson Hotel is a mens-only shelter. In a plan announced by Mayor Adams last week, the migrants are supposed to be relocated to the Brooklyn Cruise Terminal. The Brooklyn Cruise Terminal, which is a 45-minute drive from the hotel, has been set up to house 1,000 men.
On Tuesday, city officials and immigration advocates tried to persuade the men to board the bus to Brooklyn. Some did go, but returned three hours later, opting to camp out in the cold instead. 
FOX 5 New York spoke to the Mayor's Office, which said in part that the Brooklyn Cruise Terminal provides the same services as every other shelter in the city.
In a statement, Mayor Adams' office stated, "This weekend, we began the process of moving single adults males form the Watson Hotel to Brooklyn Cruise Terminal, as we transition the hotel to meet the large number of asylum seeking families with children. More than 42,000 asylum seekers have arrived in New York City since last spring and we continue to surpass our moral obligations as we provide asylum seekers with shelter, food, health care, education, and a host of other services. The facilities at Brooklyn Cruise Terminal will provide the same services as every other humanitarian relief center in the city, and the scheduled relocations to Brooklyn Cruise Terminal this weekend took place was planned. We remain in serious need of support from both our state and federal governments."
The city has had to absorb more than 42,000 migrants that have been bussed from Texas since the spring.