Migrants refuse to relocate from Hell's Kitchen motel
NEW YORK - Officials want to move single migrant men from the Watson Hotel in Hell's Kitchen to the Brooklyn Cruise Terminal as part of an effort to free up hotel rooms for families seeking asylum, but many of the men are refusing to go, criticizing the conditions at the terminal's shelter.
The men say they were comfortable at the hotel with its amenities, and its central location in Manhattan allowing them to be around other things. However, the Brooklyn Cruise Terminal is a 45-minute drive away, and some of the men who visited it have criticized it for a lack of privacy, heating, or enough bathrooms.
RELATED: Illegal U.S.-Mexico border crossings surge to highest levels since Biden took office
Video obtained by FOX 5 NY shows rows and rows of cots in the 1,000-bed shelter.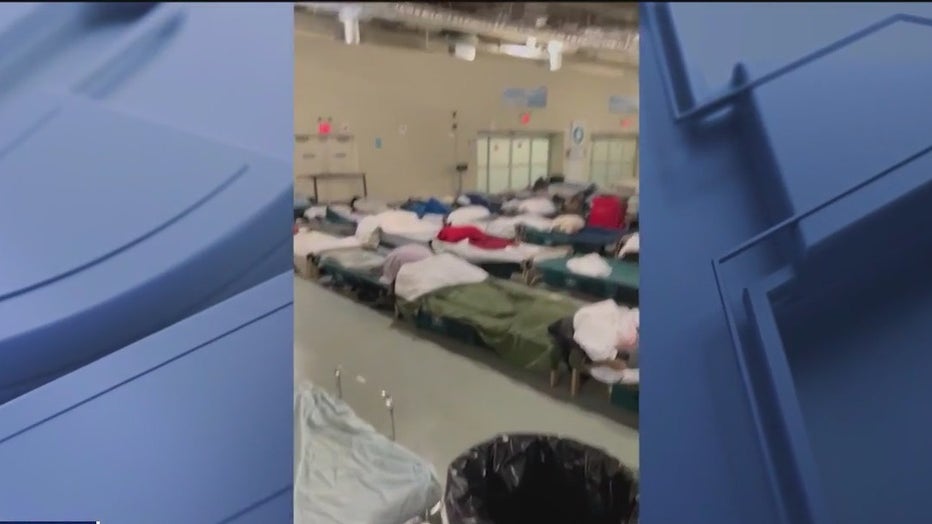 A screenshot from a video showing conditions for migrants at the Brooklyn Cruise Terminal. 
With the temperatures expected to drop into single digits in the next few days, the men are choosing to sleep on the sidewalk outside the Watson Hotel instead of going to the terminal.
"We understand family and children need the shelter, but we just want this move not to affect us, it's not fair," one migrant man told FOX 5 NY. 
Mayor Eric Adams tweeted out his own visit to the facility earlier this week, showing that there is fresh food, heat, and even ping pong.
On Tuesday, city officials and immigration advocates tried to persuade the men to board the bus to Brooklyn. Some did go, but returned three hours later, opting to camp out in the cold instead.