Kansas couple, both 96, ties the knot after meeting in senior living center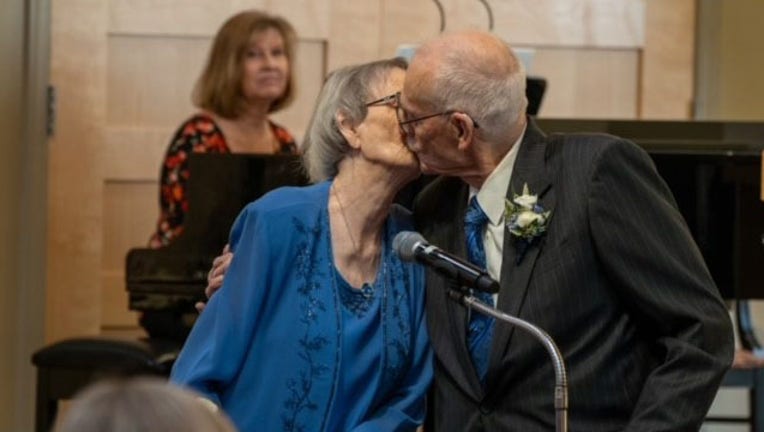 article
OLATHE, Kan. - Falling in love has no age limits. Just ask Carl and Doris Kruse.
At 96 years old each, the Kansas couple recently tied the knot. They were engaged for just a month. 
The wedding was held on October 15 at Cedar Lake Village in Olathe. Carl has been living at the senior living center for 10 years. Doris has been living at the center for a little more than two years.
Carl said he met and fell in love with his future wife shortly after she arrived at the center. 
RELATED: Couple welcomes rare 'spontaneous triplets,' a one-in-a-million blessing
"Well, I first met her playing pool," he told FOX Television Stations. "And I found she was very good pool player."
More photos from the couple's wedding day.  (Carl D. Kruse)
The couple then started to hang out more and more, saying their Christian faith kept them bonded. 
"She plays the piano. I play the violin, and we have a worship service here on Sunday," Carl added. 
Doris also started to notice Carl more and more. 
"And I soon asked him for help in my apartment, too, for different reasons," she said. "And he was always very patient, and he always never turned anybody away. And I thought, this is a nice man."
RELATED: Officer's heroic act leads to heartfelt gift: Newborn named in his honor
Employees at the center also started to take notice. 
"I was like, they have so much in common," Administrator Robert Million said. "I know they're both very strongly rooted in their faith, and I know they love music, and they play together."
Both Carl and Doris have had previous marriages and have a several children, grandchildren and great-grandchildren. 
They couple said they don't think they'll take a honeymoon. 
"Been there, done that," Carl laughed. 
However, the couple said it's their faith that was their guiding light. 
RELATED: 'She won't let go of him': Tennessee couple of 69 years hold hands in final moments
"Well, the most important thing to me was to have a good relationship with regard to Christ and really have Christian values," Carl continued. 
"I always ask the Lord for guidance, and He always answers.," Doris added. 
The newlyweds are also big proponents of people living in senior-living centers, believing they would've never crossed paths had they not stayed in one. 
"And I think that's important to keep one alive, doing things, being with other people." Carl added. "It's a great place to spend one's last years. And so I recommend it. "
This story was reported from Los Angeles.