Portions of NY, NJ face ice storm
NEW YORK. - Another winter storm brought freezing rain that turned to rain in New York City Tuesday and an icy mix of precipitation outside the area. Total ice accumulations could reach around one-tenth of an inch, according to the National Weather Service.
A Winter Weather Advisory remained in effect.
Parts of northern New Jersey and Orange County in New York are also under an Ice Storm Warning until 10 a.m. Tuesday. New Jersey could see total ice accumulations of three tenths to half of an inch, along with up to one inch of snow and sleet in some areas.
The storm will make travel conditions difficult and possibly hazardous.
The greatest ice accumulations are expected north & west of the city across Orange & western Passaic counties where an Ice Storm Warning remains in effect. (National Weather Service NY)
Weather forecasters are tracking another widespread precipitation event for Thursday and Friday that could bring even more snow, sleet, freezing rain and rain to the state.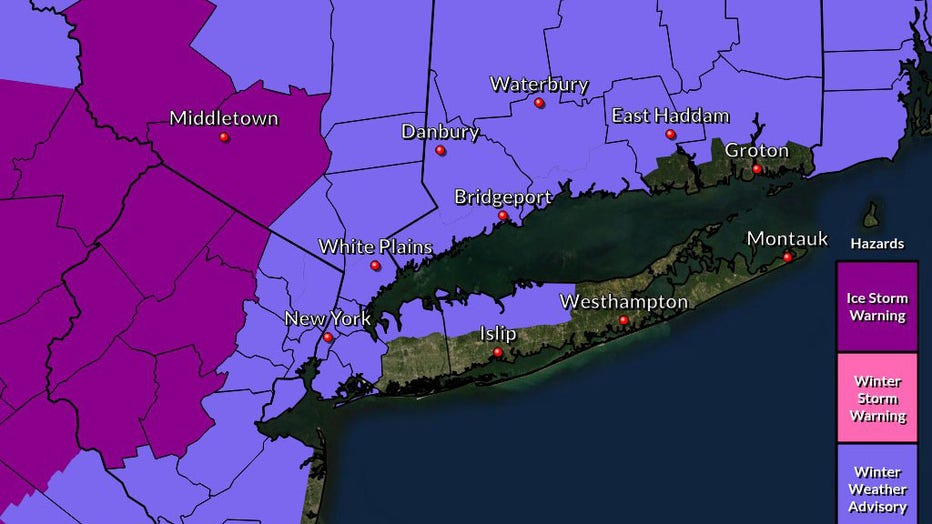 Winter Weather Advisories are in effect for parts of the NYC region. (National Weather Service NY)