Gilgo Beach murders: Rex Heuermann neighbors demand enhanced security
MASSAPEQUA PARK - About a week and a half since suspected serial killer Rex Heuermann was arrested, homeowners around the Massapequa Park home at the center of the investigation said their neighborhood has felt more like a movie set with cameras and crews flooding their streets for the last several days.
"I'm like on the corner of Michigan and first," Frankie Musto said. "Everybody all over my lawn all day. You have to see my lawn."
Musto, as well as dozens of her neighbors within the block of Heuermann's home, packed into the town hall, not holding back their concerns or questions.
"We've all grew up in this area, so we know how it was like with 'Amityville Horror' house, so you know people always congregating in that, and we didn't want it to turn into that," one neighbor told FOX 5 NY.
As law enforcement officers dig deeper into Heuermann's backyard, checking to see if anything is buried beneath the yard's surface, Nassau County Police Commissioner Patrick Ryder hopes to calm the fears at the top of mind for residents as the crime scene nears the all clear expected within the next 24 to 48 hours. 
"This is not going to turn into a show, a side show," he promised residents Monday evening. 
Nassau County officials shared their plan to place two cameras on the block of Huerrman's home, and the block behind it, saying any unwelcome visiting should expect consequences. 
"If you go down that street, I promise you if you do not live on that street, or you are not visiting someone on that street, and you're there to take pictures, and you break the law, you will be issued a summons," Ryder said.
During Monday night's meeting, residents asked questions such as: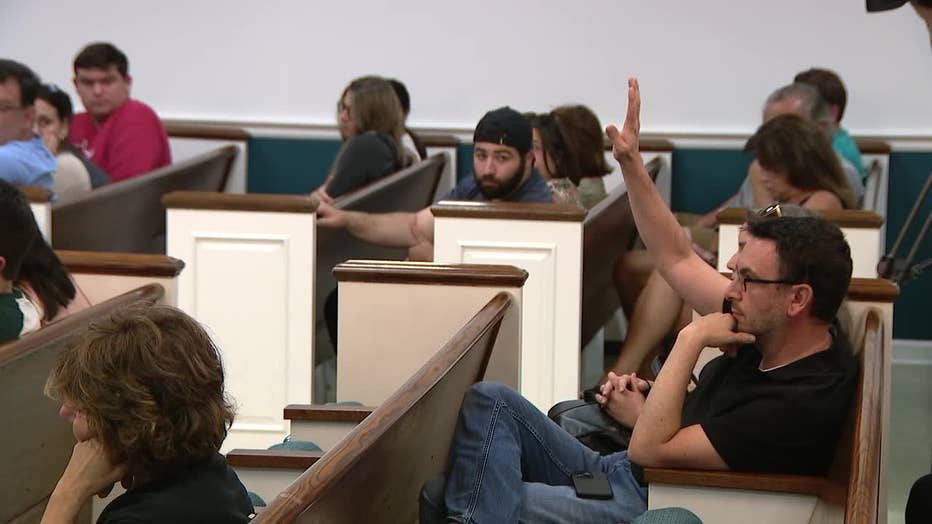 Will there be a police presence on the street?
What are the residents' rights on our property?
What's the timeframe for police coverage?
The answers in response are well-received, so far. 
"I definitely feel a lot better with some of the concerns that I've had, especially with the police presence just knowing they're not going to abandon us. That's just a good feeling," one neighbor expressed.
FOX 5 NY asked the commissioner about individuals' potential decision not to comply with the officer's newly unveiled demands. 
"They want their community, so if you go, and you break the law, you will be issued a summons," Ryder replied. "If you're going to stop, where will be no standing and stopping signs you will, issued a summons. So, if you want to take a chance on a $150 summons, take the chance." 
Officials, who said the investigation will wrap up this week, will allow members of the media one hour to capture videos and photos before they implement a strict zero-tolerance policy for standing and stopping near the home at the center of the investigation.
An aerial view of the area near Gilgo Beach and Ocean Parkway on Long Island where police have been conducting a prolonged search after finding ten sets of human remains on April 15, 2011 in Wantagh, New York. (Photo by Spencer Platt/Getty Images)