Gilgo Beach suspect's wife allegedly told cops: 'Ok, it is what it is'
SUFFOLK COUNTY - In a sit-down interview, Suffolk County Police Commissioner Rodney Harrison touted the work of the task force he formed to find the Gilgo Beach killer or killers but vowed not to rest until the story of every victim can be fully told. 
"When we brought the task force in, one of the state police had a database that allowed it to happen and that's when this case started getting legs and that's how we were able to move forward with the investigation," Harrison said.
That database helped investigators pin down the truck one of Rex Heuermann's alleged victims was last seen in. It's now at the crime lab in Hauppauge. 
The multi-agency investigation into the 59-year-old architect ended abruptly last week after he was arrested outside his office in Midtown. 
Asa Ellerup and her daughter Victoria Heuermann cross the road in Atlantic City, NJ, Monday, July 17, 2023. They are the wife and daughter of accused Giglo Beach serial killer, Rex Heuermann.
"The case was in the grand jury and could there be a possible leak. That, with a combination of him being a violent human being, and the sooner, the better we could get him off the streets, the safer we could make Suffolk County," Harrison said.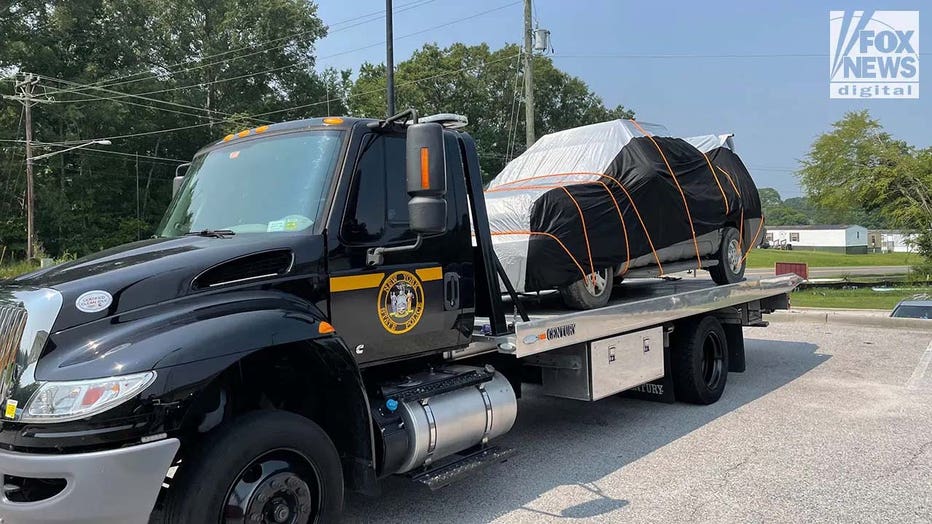 New York State Police tow a Chevy Avalanche in South Carolina in connection to Gilgo Beach murder suspect Rex Heuermann. (Audrey Conklin/Fox News Digital)
More than 200 guns have been recovered from Heuermann's home in Massapequa Park, which is part of the reason why he was arrested in Manhattan. 
"The strategy was to catch him by his workplace and take that long ride from 35th and 5th out to 30 Yaphank which could be a 1.5-hour ride and see if he could talk and give up anything about his role in this investigation," Harrison continued.
But Harrison said Heuermann didn't say much. 
"As soon as we informed him he'd be placed under arrest, we put him inside the vehicle, read him his Miranda rights. He asked for a lawyer and that was the end of the conversation," Harrison said. 
The commissioner said Heuermann's wife was surprised when she was told her husband had been arrested. 
Harrison says the department gets 10 to 15 tips a day but isn't commenting on any leads. 
"We're going to identify who is involved in this case, we're going to continue to keep the task force intact and make sure we hold the individuals accountable that committed the crimes with the bodies recovered on Ocean Parkway," Harrison pledged. 
Harrison expects investigators to be at the house at least until the weekend but says he wouldn't be surprised if it's longer based on all the items they're going through.
FOX 5 NY has confirmed that Heuermann's wife filed for divorce on Wednesday.