Gilgo Beach murders: Suspect charged with killing 3 victims
MASSAPEQUA PARK - Police say phone records and DNA from a discarded pizza crust led them to charge a Long Island architect with the murders of three of the 11 victims from a long-unsolved string of killings known as the Gilgo Beach murders.
Rex Heuermann, 59, has lived for decades across a bay from where the remains were found. He is charged with first- and second-degree murder in connection with the deaths of three victims – Melissa Barthelemy, Megan Waterman and Amber Costello. 
Authorities said he's also the "prime suspect" in another killing.
Heuermann was taken into custody in Massapequa late Thursday, near where investigators were seen searching his home Friday. 
Suffolk County prosecutors asked that Heuermann be held without bail, citing the "heinous nature of these serial murders," as well as recent searches he made for sadistic materials, including sexually exploitive images of children and photos of the victims and their relatives.
"Rex Heuermann is a demon that walks among us," Suffolk County Police Commissioner Rodney Harris said. "A predator that ruined families. If not for the members of this task force, he would still be on the streets today."
During a press conference Friday, Suffolk County District Attorney Ray Tierney wanted to thank the victims in this case. "You know, it's always inspiring as a prosecutor when you get to meet the victims and while sometimes our defendants could embody the very worst of humanity, it seems that invariably our victims embody the very best of what it means to be human. And in this case, it was no different," Tierney said.
"Woke up to chaos"
Law enforcement officers from several agencies converged on the house Thursday night after sunset, neighbors told FOX 5 NY's Jodi Goldberg, but it was not immediately clear why they were there.
"I saw a bus sitting over here, this road was closed, there were a few – I didn't know if they were police – standing at the corners, and it seemed like every corner had people standing on it. And I woke up this morning to this chaos," Joey Petroni recalled. "I had no idea it was this big, whatever it was, whatever the investigation was last night."
Officers and troopers remained at the home, near the corner of Michigan Avenue and First Avenue, into Friday morning. Just after 9 a.m. several crime scene technicians dressed in clean suits entered the home in a group and came out a half-hour later to comb through the yard.
Law enforcement on the scene of a home in Massapequa Park, connected to the Gilgo Beach murders investigation.
Arrest records show that detectives believe Heuermann used burner cell phones to contact his victims and, in one case, used one of the victim's cell phones to make "taunting" phone calls to her family in which he admitted killing and sexually assaulting her.
Records also show that, earlier this year, investigators were able to obtain DNA from a pizza crust that Heuermann threw out. That DNA was a close match for a hair found on one of the victim's naked bodies.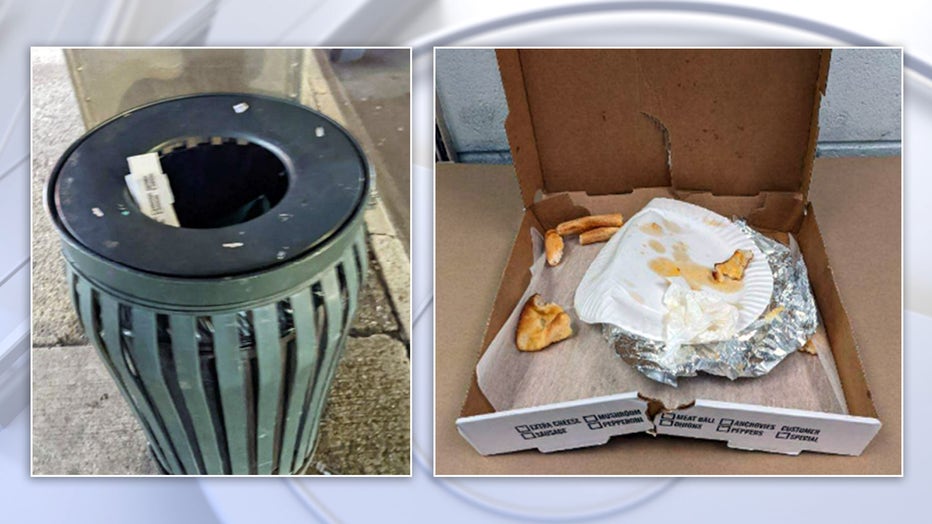 Police say they used DNA evidence from this thrown-out pizza to link Heuermann to the crimes.
Heuermann pleaded not guilty in court Friday. If convicted, he faces multiple life sentences.
"This is nuts. It's really, really crazy. You never know who your neighbors are, right? It's crazy," Petroni continued. "Thank god he's been caught, right? It's a relief. Everybody's always wondering who this guy was. And he lived a couple of houses away from me."
What are the Gilgo Beach murders?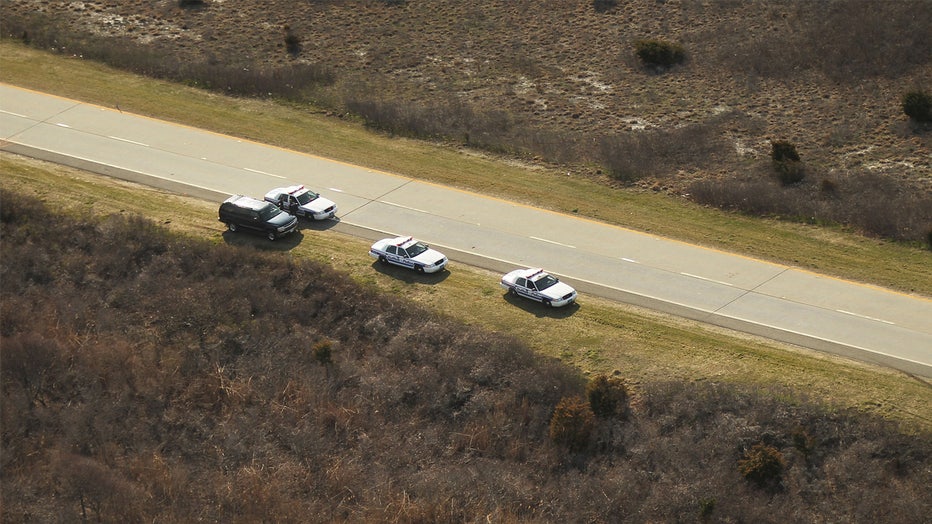 File: An aerial view of police cars near where a body was discovered in the area near Gilgo Beach and Ocean Parkway on Long Island on April 15, 2011 in Wantagh, New York. (Photo by Spencer Platt/Getty Images)
The deaths of 11 people, whose remains were found in 2010 and 2011, have long stumped investigators. 
Most of the victims were young women who had been sex workers. Several of the bodies were found near the town of Gilgo Beach.
Determining who killed them, and why, has vexed a slew of seasoned homicide detectives through several changes in police leadership. Last year, an interagency task force was formed with investigators from the FBI, as well as state and local police departments, aimed at solving the case.
Graphic via Suffolk County Police Dept.
The formation of the Gilgo Beach task force represents a renewed commitment to investigating the unsolved killings, Suffolk County Police Commissioner Rodney Harrison said.
"We're happy to see that they're finally active, the police, in accomplishing something. Let's wait and see what it all leads to," said John Ray, the attorney for the families of two victims, Shannan Gilbert and Jessica Taylor.
Months later, a police officer and his cadaver dog were looking for her body in the thicket along nearby Ocean Parkway when they happened upon the remains of a different woman. Within days, three other bodies were found, all within a short walk of one another.
By spring 2011, that number had climbed to 10 sets of human remains -- those of eight women, one man and one toddler. Some were later linked to dismembered body parts found elsewhere on Long Island, making for a puzzling crime scene that stretched from a park near the New York City limits to a resort community on Fire Island and out to far eastern Long Island.
Who was Shannan Gilbert?
Shannan Gilbert, a 24-year-old sex worker, vanished on May 1, 2010 after dialing 911 from the Oak Beach home of a client. 
She fled the house, banged on the door of a neighbor and was last seen by witnesses running down the street in the remote community.
Her disappearance prompted a search that turned up the other remains, leading to suspicion that a serial killer was involved.
Gilbert's remains were found in December 2011 in marsh about a half-mile from where she was last seen. 
Officials at the time said evidence suggested she got lost in the tall reeds and accidentally drowned.
The two men who were with Gilbert that night told largely the same story to investigators: Gilbert had arrived at the client's home, but then refused to leave. She appeared to be in the grip of a paranoid episode, hid behind a couch, and then bolted into the early morning darkness.
Her driver said he tried following her, but lost her in the darkness and eventually gave up and drove home. Both men have cooperated with investigators and police have said neither is a suspect.
Gilbert's family has been skeptical of the police account. An independent autopsy performed for Gilbert's family in 2016 concluded her death was "consistent with homicidal strangulation," family lawyer John Ray said.
'Not at all consistent with the facts'
"The narrative that the Suffolk County Police Department spun is the one they told from the beginning," Ray said. "It's fraudulent, false, and not at all consistent with the facts."
In talking about the bodies near Gilgo Beach, investigators have said several times over the years that it is unlikely one person killed all the victims.
The mystery attracted national headlines for many years and the unsolved killings were the subject of the 2020 Netflix film "Lost Girls."
AP wire services helped contribute to this report.