Trucking warehouse to replace iconic Fair Lawn Nabisco plant site
NEW JERSEY - Dozens packed into Fair Lawn's borough hall – passionate about what's next for the iconic Nabisco Plant's site. 
Late Monday night, the nine-member planning board unanimously approved Greek Development's site application to construct a trucking warehouse on the 40-acre property, despite open pushback expressed during public comment among residents. 
The plant's closure in 2021, after more than 60 years, left roughly 600 employees jobless.
Following scrapped plans for an April implosion, the Fair Lawn Planning Board addressed a new potential purpose for the plant.  
Owner Greek Development aims to turn the old Nabisco Plant into a trucking warehouse.
"We think it's a great project. It's going to put many of our union workers to work. All the trades are behind me, and it's good for area. We're looking to build the middle class," said Enzo Scordo, with Bergen County Building Trade –  a union-backed group of construction workers.
Greek Development's proposal for the site's future received push back with concerns, including noise and traffic issues from the trucks potentially moving in and out to that site nonstop.
Plans for redevelopment were coupled with environmental concerns from people who live in the area.
"It's multidimensional. This is a site that involves the EPA, the DEP, the DOL, the DOH, it's senators, it's governors planning boards, it's a lot," said Kaitlyn O'Rourke, who is against the development plan. 
Residents opposing the move are concerned with the current site's cleanup, the community impact, which includes traffic and pollution that trucks might bring.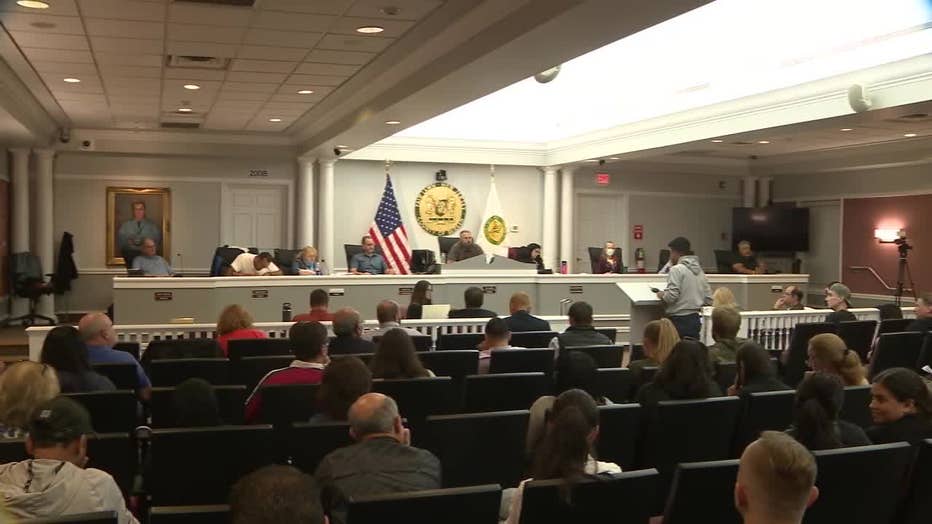 Workers, on the other hand, feel the boost it could give to families is worth it.
"I think it should pass. I mean the area is an industrial land, so it should go the right way," expressed Scordo.
The last meeting over the summer didn't allow for public comment, but the comments Monday night were full of passion
"The CDC was recently in Fair Lawn investigating Nabisco as a potential pathway for toxins to residents, so it's all sort of this perfect storm of let's treat the site right and take the time for redevelopment, investigate it," added O'Rourke.
Greek Developments application approval clears a path for getting the trucking warehouse set for construction, creating predicted to swell traffic up to 1,000 vehicles per day, creating an estimated 250 jobs, a study suggests.
Talks concerning the demolition of the Nabisco plant weren't publicly discussed Monday night, though it will be a crucial step moving forward.
FOX 5 NY reached out to the owner of Greek Development, and haven't heard back.