Drug-resistant stomach bug Shigella spreading nationwide
US health officials are warning about the spread of Shigella, a stomach bug that is hitting adults and children.
A shigella infection, called shigellosis, brings about diarrhea that lasts for several days, usually up to a week, and possibly also fever and stomach cramps. It is caused by bacteria that spreads easily, typically through person-to-person contact including sexual contact, and indirectly through contaminated food and water. 
The CDC estimates that shigella cause about 450,000 diarrheal illnesses, 5,400 hospitalizations, and 40 deaths each year in the United States. And now a strain that has become "extensively drug-resistant," as put by the CDC, is on the rise.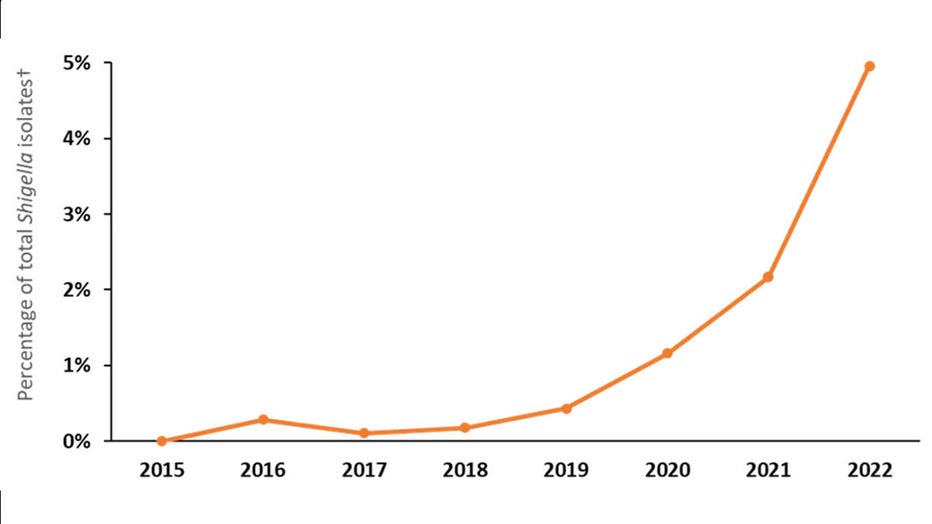 Figure: Percentage of Shigella isolates that showed an extensively drug resistant (XDR) phenotype or genotype in the United States, by year, 2015–2022. (CDC)
Currently, drug-resistant Shigella is being found among people experiencing homelessness, among men who have sex with men, and among people with HIV.
In 2022, about 5% of shigella infections reported to the CDC were caused by extensively drug-resistant (XDR) strains, compared with none in 2015. The XDR strains are resistant to all generally recommended antibiotics in the United States, the CDC said. 
The group most likely to get shigellosis is children younger than 5. Daycares and schools are the most common settings for shigellosis outbreaks, according to the CDC. 
"I don't think we need to raise the alarm bells just yet," said Dr. Stephanie Silveira, an epidemiologist at Montclair State University. "Most people with this type of illness simply need supportive care, fluid replacement. Make sure that your little ones in particular are staying very well hydrated. And with any type of diarrheal illness, the key is making sure that those individuals are not getting dehydrated."
Health experts say they want to remind people that the best way to fight the spread of the bacteria is by washing your hands.