Cow runs wild through Brooklyn streets after escaping slaughterhouse
NEW YORK - Surveillance video from a local pizzeria captured an escaped cow from a slaughterhouse running wild through the streets of Brooklyn.
According to witnesses, it happened Tuesday around 1:40 p.m.
The cow was eventually captured near Avenue M and E. 95th St. after being chased in Canarsie.
The 4-month-old calf will reportedly live its days out on a farm in Pennsylvania.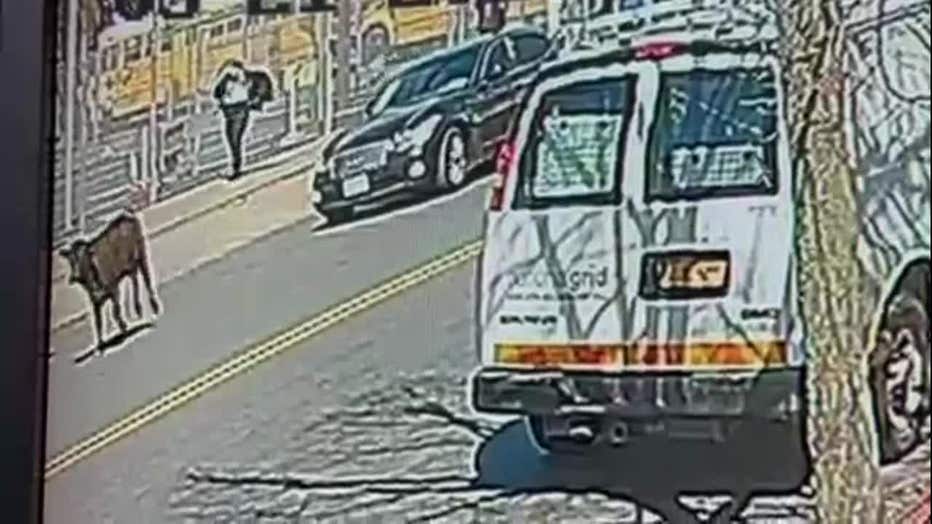 Surveillance video shows the escaped cow running through the streets of Brooklyn. (Original Pizza on Ave L.)
Back in 2021, a bull escaped from a slaughterhouse in Manorville and managed to evade authorities for two months before it was finally caught. 
Skylands Animal Sanctuary and Rescue captured the bovine — dubbed Barnie the bull — at a former duck farm on Barnes Road in Moriches, according to the Suffolk County SPCA. 
The 1,500-pound bull broke through a fence just before slaughter. He was then seen trotting through several Suffolk County communities, managing to elude capture. 
He apparently took up residence in the woods off Sunrise Highway in the Mastic-Shirley area.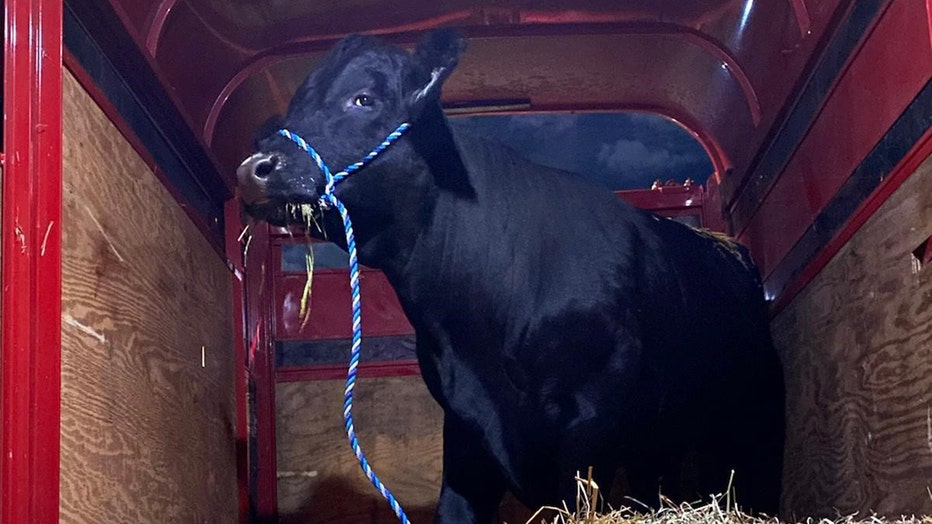 Barnie the bull was captured in Moriches. (Skylands Animal Sanctuary and Rescue)
"He had plenty to eat, plenty of cover, water to drink," said Chief Roy Gross, with the SPCA. "There was concern of him being shot by hunters or getting up on Sunrise Highway could've collided with a car."
Shooting him with tranquilizers wasn't an option because he could run into danger before collapsing.
So instead Mike Stura, the founder of Skylands, set up a feeder inside a corral. With the help of volunteers, he spent many nights monitoring Barnie's whereabouts.
Barnie deftly eluding cops on Montgomery Avenue in Mastic, N.Y., on July 20, 2021. (Photo courtesy of Suffolk County Police Department)
"The really good stuff we were offering him started to look even more and more irresistible," Stura said in a phone interview. "He would put his head in a little bit and eat little and then he'd leave."
Finally, Stura felt confident he could capture him.
"Look who we found cruising around Long Island. He is one handsome kid," Skylands posted on Facebook, along with photos of Barnie in custody. 
A vet then examined Barnie and did a full blood workup.