Runaway bull captured on Long Island; will live at New Jersey sanctuary
SUFFOLK COUNTY, N.Y. - A bull that escaped from a slaughterhouse in Manorville in July and managed to evade authorities for two months has finally been caught. 
Skylands Animal Sanctuary and Rescue captured the bovine — dubbed Barnie the bull — at a former duck farm on Barnes Road in Moriches late Wednesday night, according to the Suffolk County SPCA. 
The 1,500-pound bull broke through a fence just before slaughter back on July 20. He was then seen trotting through several Suffolk County communities, managing to elude capture. He apparently took up residence in the woods off Sunrise Highway in the Mastic-Shirley area.
"He had plenty to eat, plenty of cover, water to drink," Chief Roy Gross with the SPCA. "There was concern of him being shot by hunters or getting up on Sunrise Highway could've collided with a car."
Shooting him with tranquilizers wasn't an option because he could run into danger before collapsing.
So instead Mike Stura, the founder of Skylands, set up a feeder inside a corral. With the help of volunteers, he spent many nights monitoring Barnie's whereabouts.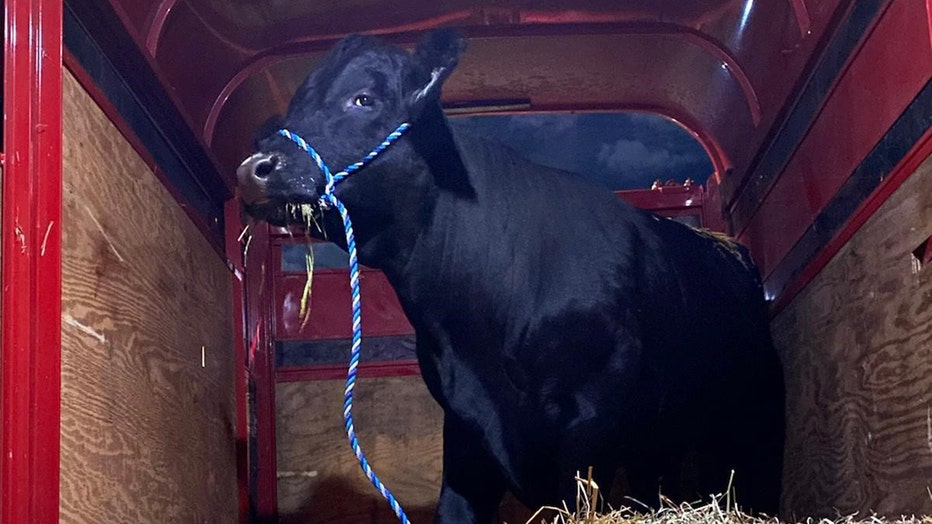 Barnie the bull was captured in Moriches, N.Y. (Photo courtesy of Skylands Animal Sanctuary and Rescue)
Get breaking news alerts in the free FOX5NY News app | Sign up for FOX 5 email newsletters | Get the Fox 5 Weather App
"The really good stuff we were offering him started to look even more and more irresistible," Stura said in a phone interview. "He would put his head in a little bit and eat little and then he'd leave."
Finally, Stura felt confident he could capture him.
"Look who we found cruising around Long Island. He is one handsome kid," Skylands posted on Facebook along with photos of Barnie in custody. 
A vet examined Barnie and did a full blood workup. We're told he looks healthy, all things considered.
In a news release, Gross thanked Stura as well as the Suffolk County Police Department.
"They made all department resources available, including helicopters, drones and digital signs on Sunrise Highway warning drivers to use caution," Gross said in the news release. "We would like to thank everyone for their support and concern as well as rescue groups who also assisted during this ordeal."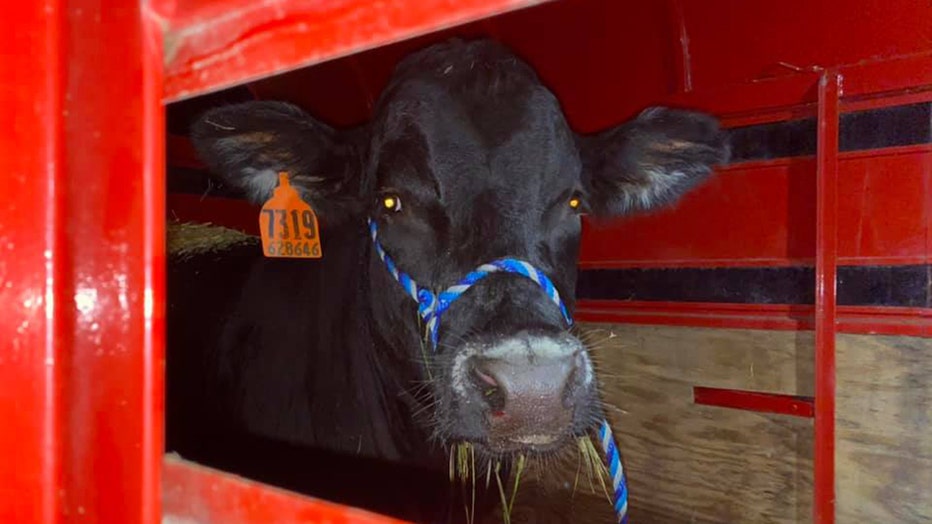 Barnie the bull will now live at Skylands Animal Sanctuary and Rescue in Wantage, N.J. (Photo courtesy of Skylands Animal Sanctuary and Rescue)
As soon as he gets the all-clear, Barnie will live out his life at Skylands, which has a 232-acre farm in Wantage, New Jersey, for rescued and abused animals.
"No matter where they are from or from what dire circumstances they escape, they are provided with proper veterinary care, the best foods, water, a safe place to live, eat and sleep as well as lots of love around the clock," Skylands states on its website. "Every animal requires room to run and live unencumbered by the threat of harm and each one gets exactly what they need here at the Skylands Sanctuary."
"This bull was next in line to be slaughtered and it broke loose," Gross said. "That is what it's all about." 
Barnie deftly eluding cops on Montgomery Avenue in Mastic, N.Y., on July 20, 2021. (Photo courtesy of Suffolk County Police Department)