'Bear-y' lucky: Nevada firefighters rescue bear stuck in tree
RENO, Nevada - A curious bear in Reno, Nevada found itself in a sticky situation Wednesday after climbing up a tree and getting stuck.
According to the Reno Fire Department, the crew sent engine trucks to a "bear-y interesting call" on April 26 and had to use a fire truck ladder and salvage cover to help get the bear down from the tree on April 26. 
Video footage, filmed by local resident Keith Bohn, shows a group of neighbors gathering to watch the scene unfold, cheering as the bear fell safely from the tree into a tarp held by firefighters.
Bohn told video licensing agency Storyful that the bear wandered into his neighborhood Double Diamond early on Wednesday morning.
"Wildlife personnel were on scene for a while to monitor the bear and tranquilize it if it came down on its own. It did not," Bohn explained.
Bohn said after about 20 minutes, the bear fell from the tree and was caught safely.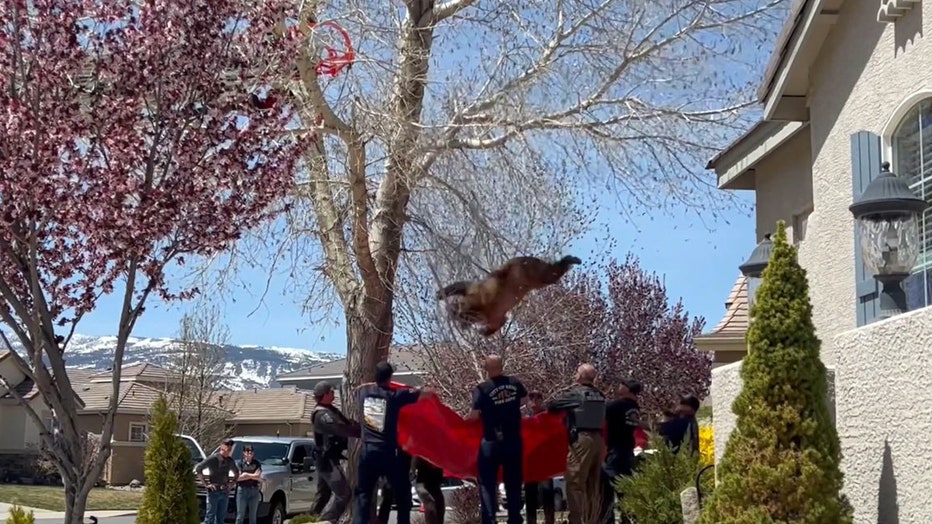 The bear plummeted from a tree on to the fire crew's tarp. (Credit: Keith Bohn via Storyful)
The bear was then examined on-site, tagged and released safely in the Mount Rose area near Reno.
But this isn't the first time that bears were caught on camera doing unusual things in the wild. 
Earlier this week, a Connecticut resident witnessed a group of bears enjoying a backyard trampoline at her residence earlier this month. 
Also, last month, a bear was filmed scratching its back outside a home in Asheville, North Carolina.
RELATED: That's the spot: North Carolina bear enjoys scratching its back on tree in viral video
The video quickly went viral on social media, garnering millions of views on TikTok.
This story was reported from Los Angeles. Storyful contributed.