Battery Park City is putting dog poop to good use
NEW YORK - This is a story about dog poop that does not stink.
The story that is.
It begins in the year 2019, when the Battery Park City Authority set up dog poop composting bins at its three dog runs.
RELATED: Proposed bill would ban dogs from sticking heads outside car windows
"So the process is really twofold, right? So first off, we need people to participate." Ryan Torres, VP of park operations, explained to Fox 5, "And what we ask is that instead of picking up your dog waste with your typical plastic bag, that you use a piece of newspaper and/or a scooper that we supply with each receptacle."
The second part of the process is daily pick-ups of the dog waste, which is brought to a composting area on site. 
Science then does its thing before the compost is tested. If it passes, it is used in the 32 acres of open green space in Battery Park City. Torres says the materials are not used in places like playgrounds.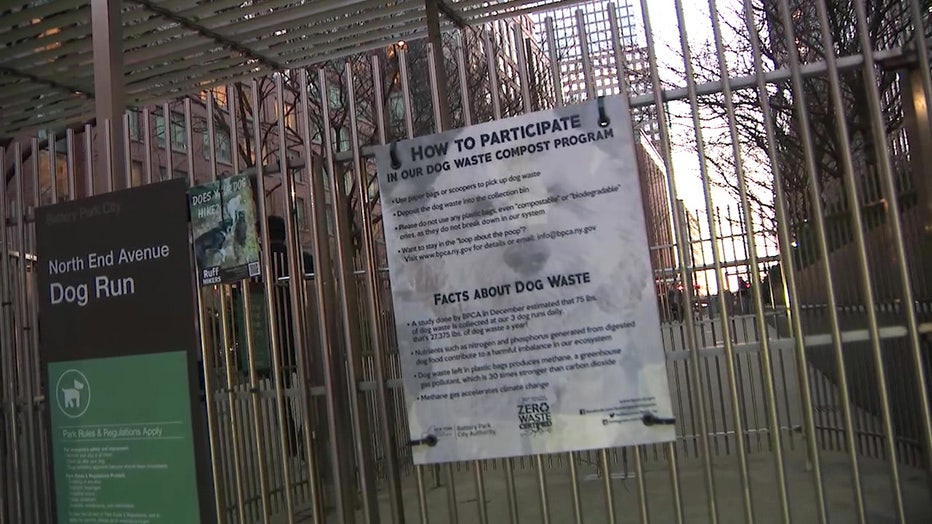 RELATED: 'Fire-breathing demon' dog starting to behave with training, shelter says
Dog owners who spoke with FOX 5 NY unleashed a round of "a-paws" about the practice.
With roughly 5,700 pounds of dog poop collected thus far and put to use, the experiment is considered such a success that some are hounding the city to adopt the practice citywide.
The project has a wide range of benefits, from diverting tons of waste from landfills to using that waste to grow things. And there is no lack of material to work with – by one estimate, New York City dogs put out more than 70 tons of poop a day.