As NYC opens new migrant shelters, costs continue to soar
NEW YORK - New York City is opening two new emergency migrant shelters as the number of asylum seekers entering the city since last spring tops 51,000.
One site will be located in Times Square's vacant Candler Tower office building, which was once home to the country's busiest 24-hour McDonald's before it closed during the pandemic.
The second shelter will open in a six-story commercial building on 455 Jefferson Street in Brooklyn.
RELATED: New York City to launch 24/7 arrival center for asylum seekers
But immigration advocates say the city should focus more on finding permanent housing.
"What we need to really invest in is not creating more emergency shelters, or HERCCS, but actually getting people from temporary shelter into permanent housing," Murad Awawdeh, Executive Director of the New York Immigration Coalition explained.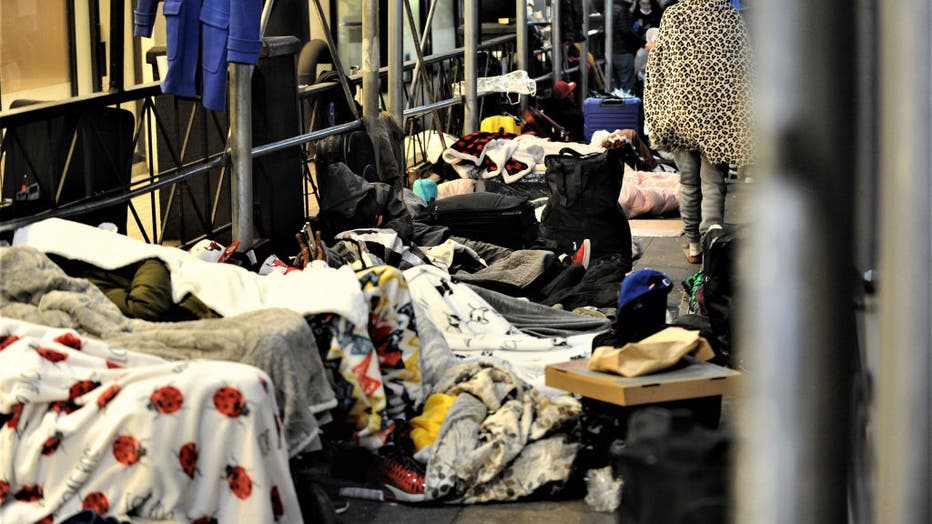 Evicted migrants from the Watson Hotel sleep on the sidewalk bordering the hotel in New York City. (Sam Costanza/New York Daily News/Tribune News Service via Getty Images)
The city's homeless shelter population has grown by about 60 percent since last year when migrants started arriving in the city. As a result, the city has had to open 96 emergency homeless shelters and now 8 separate emergency centers specifically for migrants.
RELATED: Migrants rush US border as asylum app frustration grows in Mexico
The cost of these shelters varies, however, the city estimates it will spend $4.2 billion dollars on the migrant crisis by the middle of next year.
"Having already spent more than $650 million dollars on the asylum seeker crisis, our goal is to get every penny back we can from the federal government," a spokesperson for the Mayor said. "We value our partnership with FEMA and the U.S. Department of Homeland Security, and with the benefit of newly posted guidelines, we are working on the complex and lengthy application process, compiling the strongest and most comprehensive application possible. We hope to secure the highest possible reimbursement to offset the $4.2 billion cost of caring for asylum seekers that we expect to incur over this fiscal year and the next."
RELATED: Migrants fleeing NYC to head to Canada
During a hearing, Council Speaker Adrienne Adams expressed frustration at how shelters are placed in the city, especially in her district in Queens.
"We understand that now there is an extreme crisis," Speaker Adams said. "But we were here before we got here. We continue to be the ones that are bearing the large majority of this tremendous responsibility for our most vulnerable."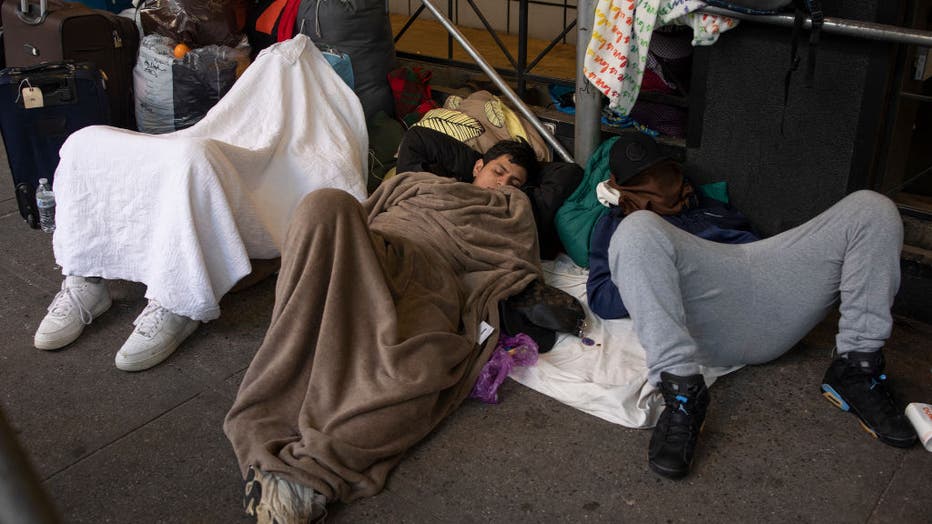 Venezuelan migrants who had been bused to New York from the Texas border refuse to leave for a city run migrant shelter in Brooklyn after being kicked out of their rooms at the Watson Hotel, January 30, 2023 in midtown New York City, New York. Not al
Southeast Queens and Long Island City have the highest concentration of city run homeless shelters and migrant centers, according to a recent report from the city comptroller.
Speaker Adams also said that communities are receiving little to no notice when a shelter is permanently placed in their district.
RELATED: Mayor Adams spends night with migrants at Brooklyn Cruise Terminal
"(We try) to let them know a minimum of 30 days in advance of the conversion," Molly Park, first deputy commissioner of the Department of Homeless said.
"30 days would be fantastic," Adams retorted. "We're not getting any days. It is ready or not, here we come."
The temporary emergency shelter at the Brooklyn cruise terminal will be closing as intended ahead of the cruise season and the men living there will be moved to one of these two new emergency sites opening. These sites should accommodate around 1200 single men and will open at the end of March or early April 2023.