Arrest made in brutal attack of teen with autism on NYC subway platform
NEW YORK - A 14-year-old is facing several charges, including assault and aggravated harassment, in connection to the brutal attack of another teenager with autism on a New York City subway platform, authorities said. 
The incident, reported on March 10 inside the W. 181 St. and Washington Avenue subway station in Washington Heights, was captured on graphic video. 
A teenage male, 14, was arrested in connection to the attack and charged with aggravated harassment, assault, harassment and menacing, police said on Wednesday.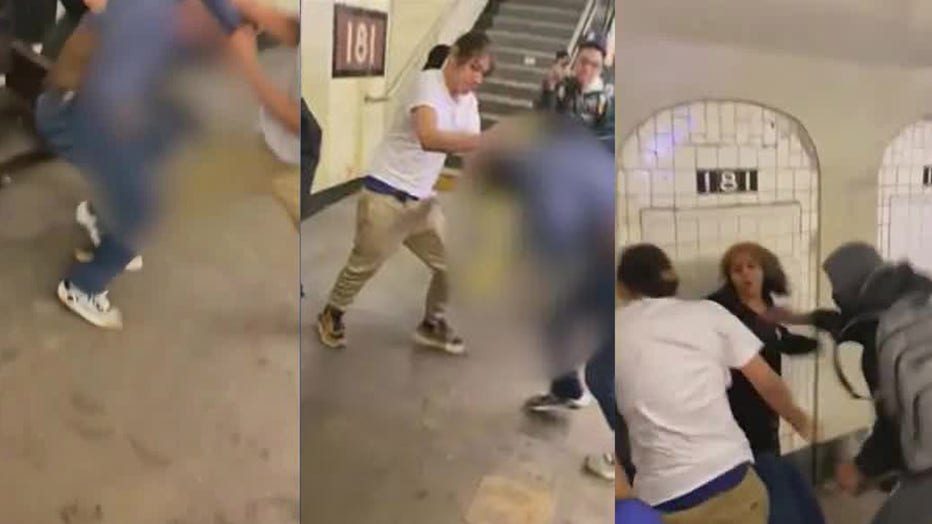 Screengrabs from a video show the attack, reported on March 10, 2023, inside the West 181 Street and Washington Avenue subway station in Washington Heights, New York. (Credit: @NWR15)
Authorities did not provide further details about the arrest. 
According to investigators, the male victim was approached by the three individuals, pulled from a northbound A train onto the platform, and called anti-Black slurs.
RELATED: 3 shootings near NYC schools possibly connected, gang-related: NYPD
The disturbing video shows the group taking turns punching and kicking the teen repeatedly, while onlookers recorded the attack on their phones. No one is seen intervening in the video.
The boy, who has not been identified, was left with a cut to his lip and bruises on his body. He was taken to the hospital in stable condition, according to police. 
After the video of the attack was shared online, community members gathered on Tuesday outside the subway station for a rally against bullying and racism. Rosemary Severino, a community activist in the area, called the attack "unacceptable" and noted how it has "caused a lot of pain" while speaking to the crowd.
RELATED: 13-year-old sprayed, robbed and attacked on Staten Island
Attendees of the rally said the victim is autistic and part of a group of kids known as the "Transit Kids" – or young people with developmental disabilities who love to ride the trains.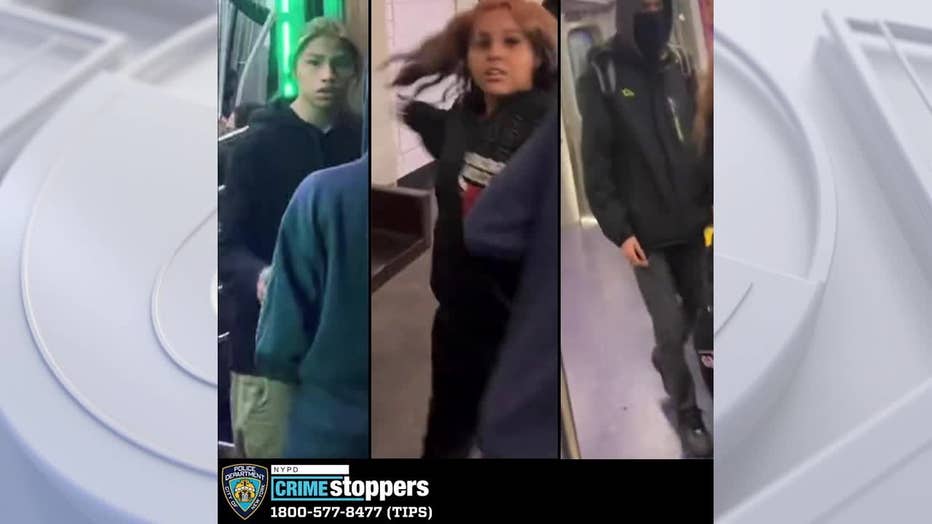 Police were searching for three people they said brutally attacked the teenager on a subway platform. (NYPD)
It remained unclear what led to the attack, but Eduardo Medellin – who calls himself a "Transit Kid" – previously told FOX 5 New York this was not the first time an incident like this has occurred. 
"We've been fighting for years and years, and it's getting out of hand now," Medellin said at the rally. "We feel like we need your help. We need someone to help us."
Anyone with information was urged to call 1-800-577-TIPS (8477).
Michael Stallone and Jessica Formoso contributed to this report.