Certain NYC schools on high alert following series of shootings nearby
NEW YORK - A handful of Upper Manhattan schools are on high alert after three separate shootings Tuesday nearby, all within five hours, that the NYPD said could be connected and gang-related.
Police activated a level two mobilization at several schools that remained in effect for many through the start of school Wednesday morning.
The first shooting reportedly started as a dispute between four or five teen males Wednesday just before 10 a.m. on the corner of West 68th and Amsterdam Avenue on the Upper West Side.
According to police, a 17-year-old was shot multiple times. The suspect then took off.
"I just heard five gunshots, and people screaming and running," a man who heard the gunshots said.
Authorities said the teen ran about two blocks into Martin Luther King Jr. High School, where he was apparently a student. The school was placed on lockdown and 911 was called.
Police responded quickly to both scenes.
The teen was taken to a hospital with multiple gunshot wounds.
With the help of witnesses, police arrested the 19-year-old alleged gunman. He was apprehended in a yellow taxi about one block away from the scene. A firearm was also recovered, police said.
According to police, the suspect has three prior arrests – two for narcotic sales this year, and one indictment for a 2021 robbery with a firearm. He is out on bail.
A few hours later, a shooting took place near 128th and Madison Avenue in East Harlem. A 16-year-old was shot in the leg. An innocent bystander was also caught in the crossfire, police said. Both are expected to survive. Police believe the teen was the intended target.
Shortly after that incident, shots were fired near 105th St. and Park Avenue. Police found four shell casings in the area.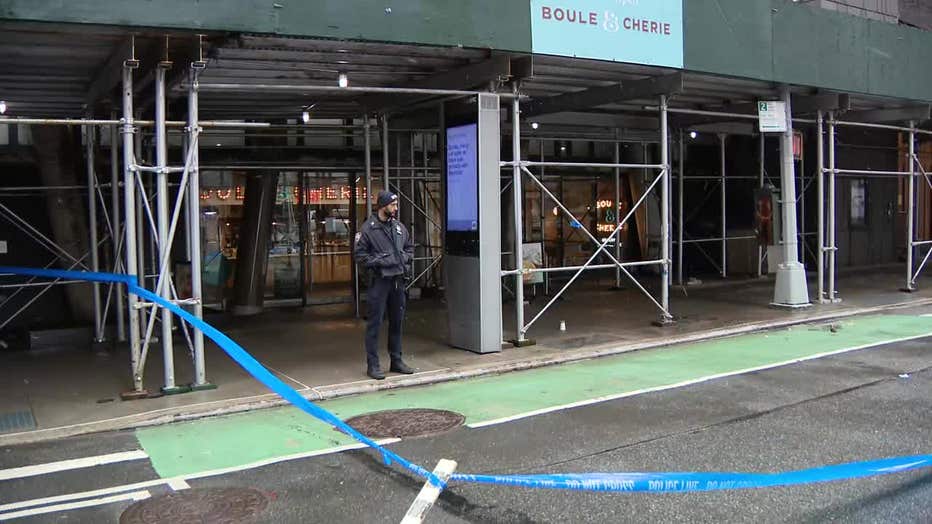 Scene of the Upper West Side shooting.
"Right now, we are proceeding like they're all connected," Chief John Chell said regarding the shootings.
Investigators also believe the shootings are all gang-related.