NYC in code red 'unhealthy' air quality as Canadian wildfire smoke pours into Northeast
NEW YORK - Thick, acrid wildfire smoke from multiple blazes burning in Canada has invaded the skies across the Northeast, prompting air quality alerts for New York City and much of the northeastern U.S.
Officials are imploring those sensitive to smoke to stay indoors as air quality reaches unhealthy levels in the Big Apple on Tuesday.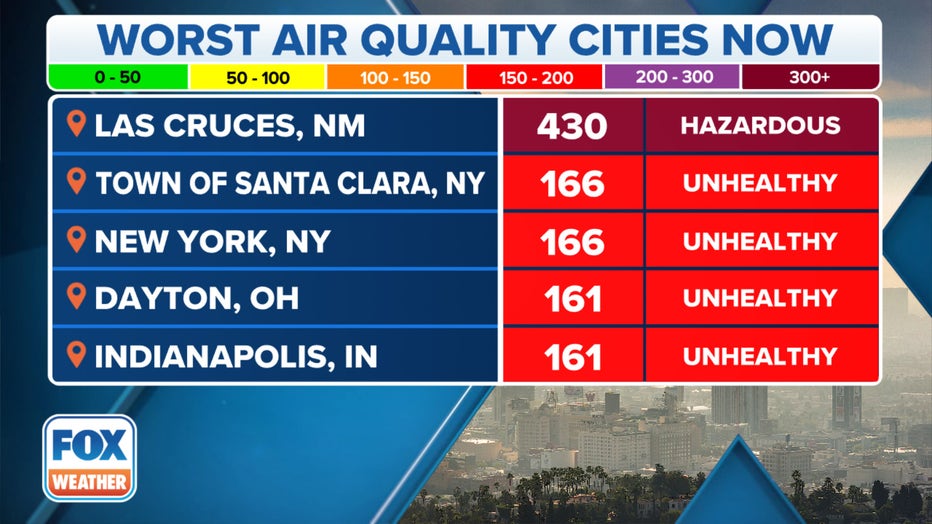 Here's a look at the worst air quality cities right now. (FOX Weather)
At these levels, even healthy people may experience health effects from the smoke, while sensitive groups may experience even more serious effects, the FOX Forecast Center said.
"Air quality this morning is not great," FOX Weather meteorologist Britta Merwin said. "What you're trying to identify is areas marked in red that are unhealthy for everyone. Upstate New York, a little spot outside of Pittsburgh, (and) going over to Columbus, Ohio. We also have a spot very close to New York."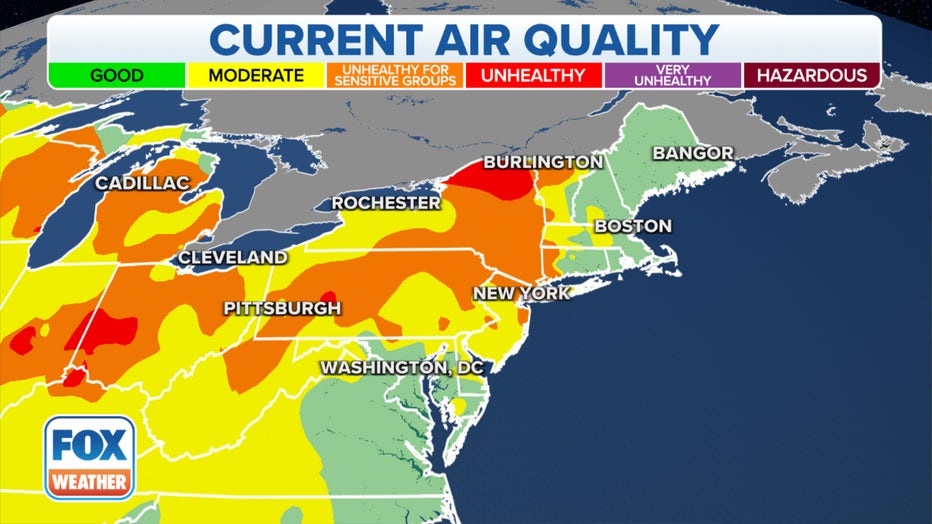 A look at current air quality levels in the Northeast. (FOX Weather)
The smoke drifting its way over the Interstate 95 corridor started sneaking into eastern New York and western New England early Monday evening,
"We got a lot of sunset photos that were very vibrant with that glow of the sun," Merwin said. "But to see this haziness over the sky, it's enough smoke particulate in the air that this could be a concern for air quality, not only for sensitive groups but for just about everybody that lives in the Northeast."
The sun is shrouded in smoke above a hazy New York City skyline Tuesday morning. (Mike Rawlins / FOX Weather)
FOX Weather computer models show a lot of smoke for the Northeast all the way through Friday. Merwin said that out toward the Great Lakes, some improvements are noticeable by Wednesday and Thursday.
8 MILLION IN NORTHEAST UNDER 'CRITICAL' WILDFIRE THREAT AS DRY THUNDERSTORM PATTERN LOOMS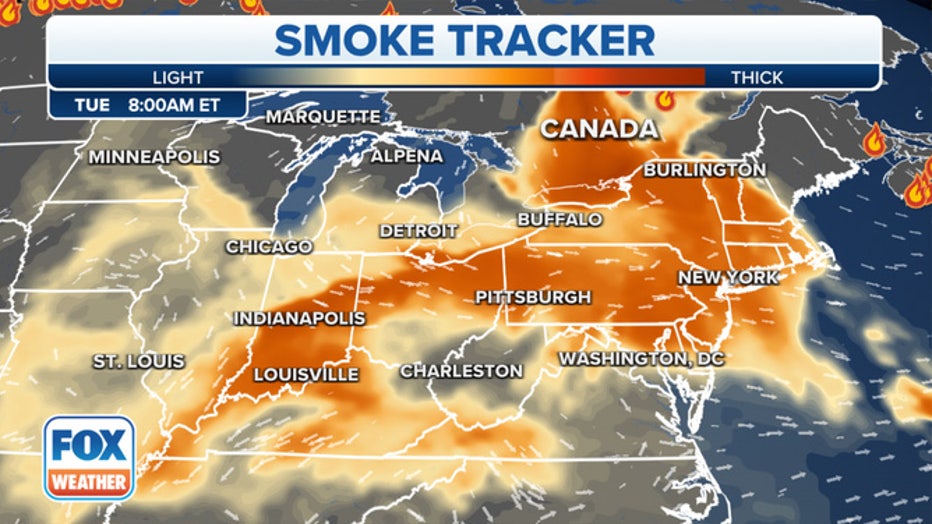 As expected, the FOX Forecast Center is seeing bad air quality all across much of the northern tier Tuesday morning. It's a widespread problem impacting millions of Americans, and it will continue to do so much of today. (FOX Weather)
"It is looking better across the Lake Michigan, Lake Huron, Lake Superior. But unfortunately, the conveyor belt continues to move it across parts of the Northeast," she added.
The wildfire smoke from Canada will continue through most of the day in New York City before a cold front helps to clear things out somewhat on Wednesday. Even then, expect bad air quality to remain a concern through the next few days.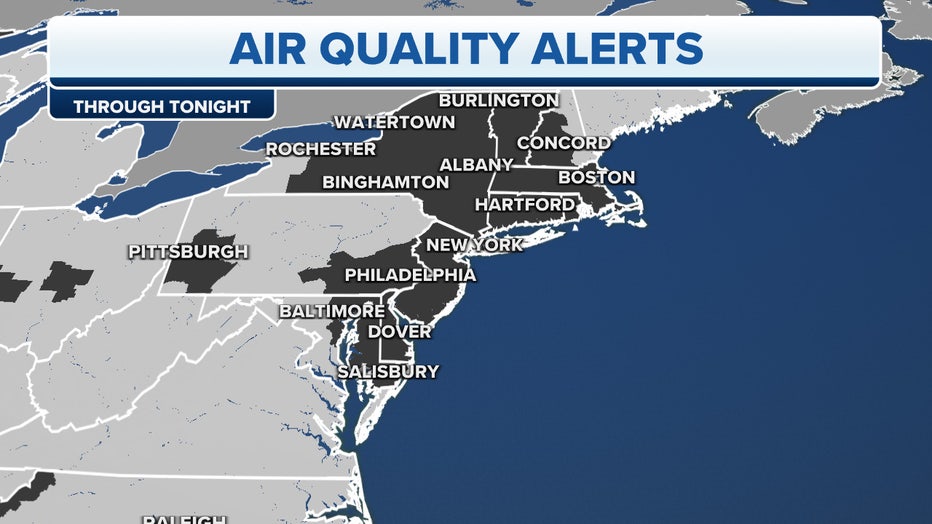 Air quality alerts have been issued for cities in the Northeast. (FOX Weather)
Canada is ablaze from coast to coast with 425 active fires, more than half are out of control, according to the Canadian Interagency Forest Fire Centre (CIFFC). So far, fires have charred 9.39 million acres, 17 times the 20-year average. That is larger than the area of Connecticut.
The fires have also forced over 100,000 people to evacuate. Wildfire season in Canada typically runs through September.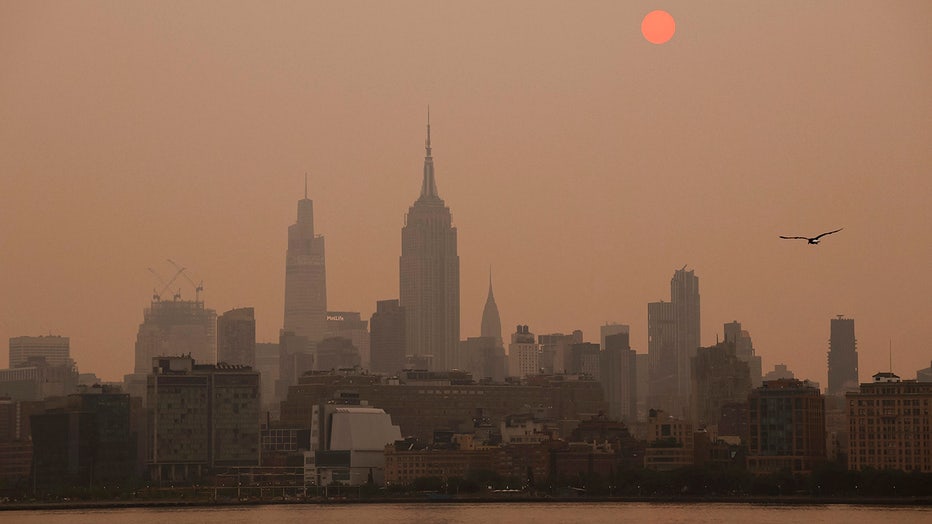 The sun is shrouded as it rises in a hazy, smoky sky behind the Empire State Building on June 6, 2023, as seen from Jersey City, New Jersey. (Photo by Gary Hershorn/Getty Images)
'UNPRECEDENTED FIRE WEATHER SEASON' ALREADY CHARRED 9.39 MILLION ACRES ACROSS CANADA
The threat of wildfires closer to home has also reached dangerous levels as an unusual weather pattern has set up a rare critical fire risk for the Philadelphia and New Jersey areas.