Katie Ledecky ties Michael Phelps record at Worlds with gold medal finish in 1,500-meter freestyle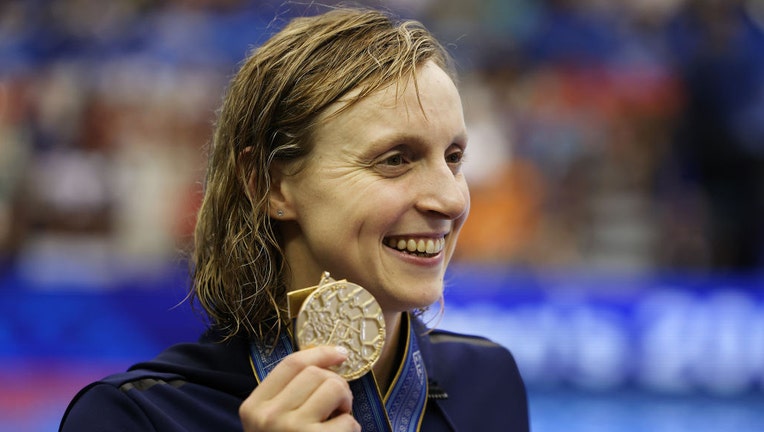 article
Seven-time Olympic gold medalist Katie Ledecky continues to stake her claim as one of the sport's best when on Tuesday she tied Michael Phelps record for individual titles at the world championships. 
Ledecky, 26, took home gold in the women's 1,500-meter freestyle at the World Aquatics Championships in Fukuoka, Japan on Tuesday with a time of 15 minutes, 26.27 seconds
MICHAEL PHELPS WATCHES FINAL INDIVIDUAL SWIMMING RECORD SHATTERED BY FRENCH PHENOM: 'THAT WAS INSANE'
It was the third-quickest time of her career in that event. She also beat the second-place finisher by 17 seconds. 
Ledecky became the first person to win five world titles in two different events with Tuesday's victory. She also tied Phelps, the most decorated Olympian of all time, for the most individual world titles. 
CLICK HERE FOR MORE SPORTS COVERAGE ON FOXNEWS.COM
She is now the most decorated female swimmer at the worlds with 20 gold medals overall, 15 of which have come in individual events.
"I never dreamed of winning one Olympic gold," Ledecky said after the race. "So after I did it, it was like, 'OK, the rest is icing on the cake, a cherry on top,' whatever you call it. I'm just trying to build a really big cake, I guess."
CLICK HERE TO GET THE FOX NEWS APP
She has a chance to make even more history this weekend with the 800m on Saturday. If she takes home gold, she will become the first to win six titles at the worlds in the same event.
The Associated Press contributed to this report.  Read more of this story from FOX News.