Winter Storm NY: Cold weather after ice storm
NEW YORK - A winter storm brought a mix of snow, sleet, and freezing rain to the New York City area on Friday, creating treacherous travel conditions and encasing some parts of the area in ice.
The National Weather Service had issued a Winter Weather Advisory for New York, Long Island, northeastern New Jersey, and southern Connecticut. As temperatures continued to drop overnight Friday, the deep freeze will continue, creating icy conditions on roads and sidewalks.
"Be on the lookout for icy spots from any residual moisture on untreated surfaces tonight into Saturday morning," the National Weather Service said in a tweet. 
The New York City Emergency Management Department issued a travel advisory for Friday, Feb. 4, into Saturday, Feb. 5.
"A low-pressure system and its associated cold front will bring freezing rain and sleet to the area beginning early Friday morning, before tapering off in the evening. In addition, periods of moderate rain are likely this afternoon and overnight, producing 1.5 to 2.0 inches of total rainfall through the end of the event," NYC Emergency Management said in a bulletin. "Any areas with standing water will also re-freeze tomorrow afternoon and evening. This, combined with the freezing rain, will create icy conditions on the road into Saturday."
Meanwhile, in New Jersey over 300 flights were canceled at Newark Liberty Airport, while a commercial vehicle travel restriction goes into effect at midnight.
Temperatures across the region are expected to remain below freezing for much of Saturday, which could cause further travel troubles on the road.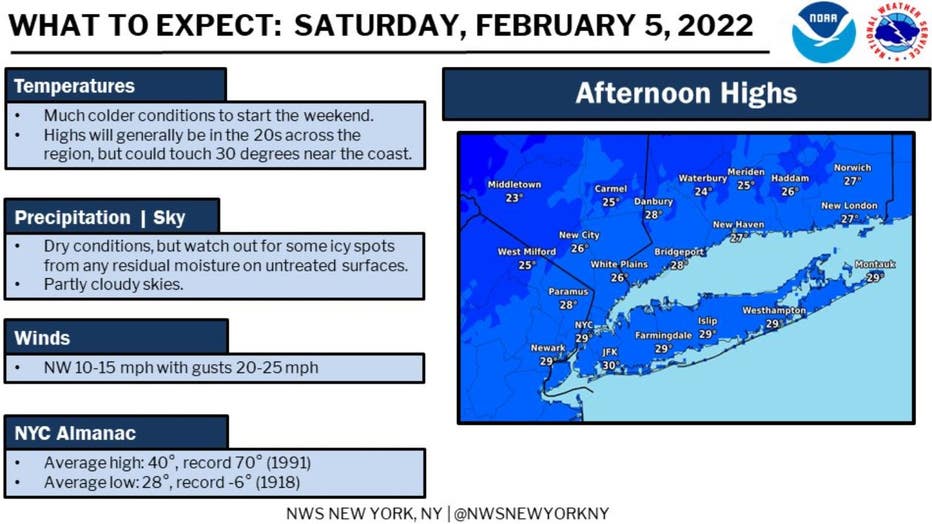 RELATED: NYC temperature drops 20 degrees in less than an hour
New York Gov. Kathy Hochul warned that power outages and tree damage are possible due to ice and possibly snow accumulation. She urged residents to stay home and off the roads if possible.
"Right now we do believe that the concentration of the weather activity will abate by this evening, which is good. But until then, it is going to be literally a day full of freezing rain coming down," Hochul said. "So the best place to be, at home, protect yourselves, and hopefully everybody is prepared at home with flashlights. Those chargers for your cell phones that do not have to be plugged in that you've already prepared anticipation, plenty of food and water, same thing with outfitting your vehicles."
North of New York City, a state of emergency was declared in Ulster County as the icy conditions caused downed wires and trees, leaving thousands of people without power.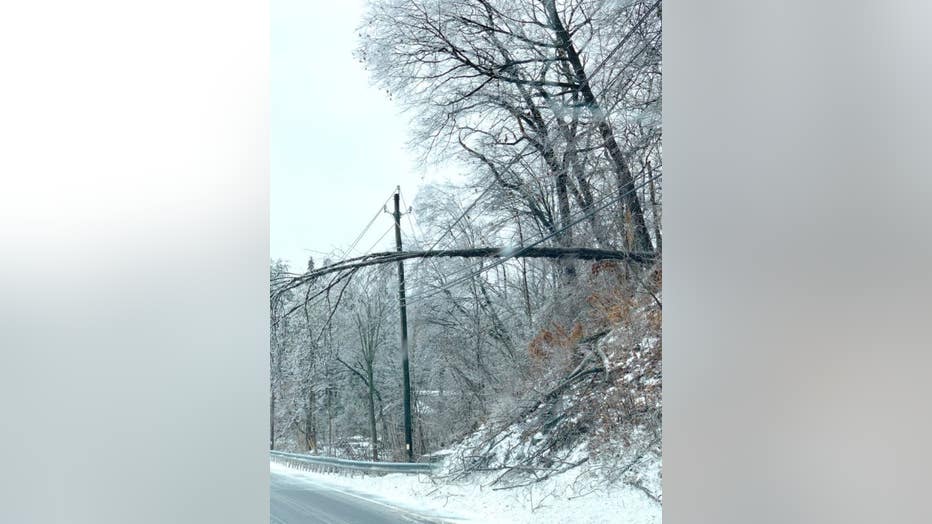 Credit: @CentralHudson via Twitter
Weather Resources
Follow the FOX 5 Weather Team on Twitter