Winter heating bills set to skyrocket as inflation hits home
NEW YORK - Get ready to pay sharply higher bills for heating this winter, along with seemingly everything else.
With prices surging worldwide for heating oil, natural gas, and other fuels, the U.S. government said Wednesday it expects households to see their heating bills jump as much as 54% compared to last winter.
Nearly half the homes in the U.S. use natural gas for heat, and they could pay an average $746 this winter, 30% more than a year ago. This could be the most expensive winter for natural-gas-heated homes since 2008-2009.
The second-most used heating source for homes is electricity, making up 41% of the country, and those households could see a more modest 6% increase to $1,268. 
Homes using heating oil, which make up 4% of the country, could see a 43% increase — more than $500 — to $1,734. 
The sharpest increases are likely for homes that use propane, which account for 5% of U.S. households.
And on Long Island, officials predict gas and heating bills could rise 21% to 26%.
"Inventory has been lower because of demand and the other thing also, the hurricane down south in Louisiana took production offline," New York State Energy Coalition CEO Rocco Lacertosa said. "If the winter doesn't materialize I don't think the spikes will continue."
But this winter is forecast to be slightly colder across the country than last year. That means people will likely be burning more fuel to keep warm, on top of paying more for each bit of it. If the winter ends up being even colder than forecast, heating bills could be higher than estimated, and vice-versa.
The anticipated increase has some officials already trying to compound the crisis by working to release federal funds that help seniors and others in need pay for heat.
Get breaking news alerts in the free FOX5NY News app!  |  Sign up for FOX 5 email newsletters
"The pandemic is still wreaking havoc on supply chains across the globe and unfortunately these supply chain bottlenecks are not keeping pace with the reduction in COVID," U.S. Sen. Charles Schumer, D-New York, said.
Here are some tips to make your home more efficient: properly seal windows, insulate your home, and make sure your equipment is maintained.
"Depending on the boiler system in your house, whether it's HVAC, cast iron or the new more efficient boilers, you should have filters cleaned and heat exchangers flushed every so often," C&L Plumbing Supply's Brendon Perini said.
To make ends meet, families are cutting deeply. Nearly 22% of Americans had to reduce or forego expenses for basic necessities, such as medicine or food, to pay an energy bill in at least one of the last 12 months, according to a September survey by the U.S. Census Bureau.
"This is going to create significant hardship for people in the bottom third of the country," said Mark Wolfe, executive director of the National Energy Assistance Directors' Association. "You can tell them to cut back and try to turn down the heat at night, but many low-income families already do that. Energy was already unaffordable to them."
Many of those families are just now getting through a hot summer where they faced high air-conditioning bills.
With The Associated Press.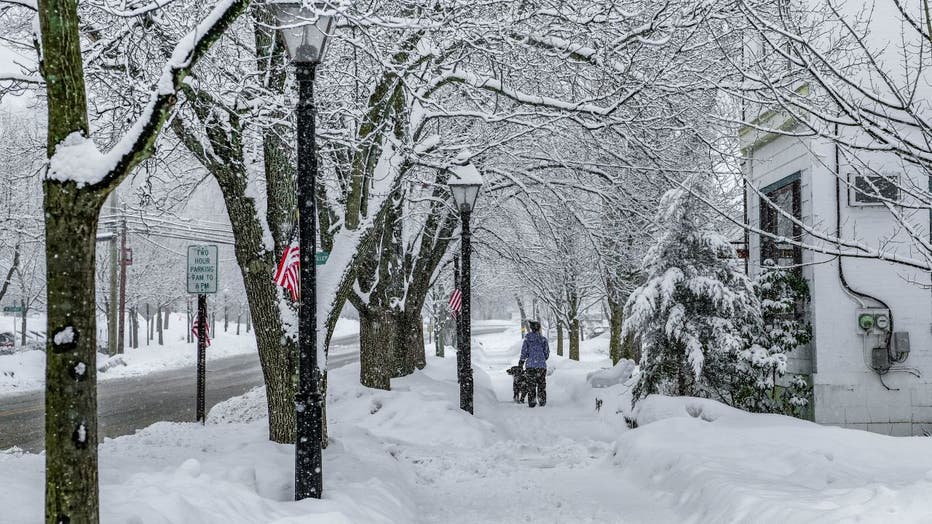 A woman walks her dog on a snow-covered sidewalk in Milford, Pennsylvania. (Photo by Preston Ehrler/SOPA Images/LightRocket via Getty Images)