Watch: 'Wild ice' skaters find breathtaking 'ice window' in Alaska
Breathtaking video from an Alaska couple shows the "wild ice" skaters gliding over a rare "ice window" – a frozen alpine lake so clear, you can see straight to the bottom.
Luc Mehl, an outdoor educator, said he planned a trip to Rabbit Lake in Dena'ina lands, Chugach State Park, in October after seeing other friends were skating at alpine lakes outside of Anchorage.
When he got there, he found the "unbelievably good," crystal clear ice window.
WATCH: NASA rocket launches into Alaskan northern lights
"The ice was clear because we had an especially dry and cold transition to winter ... no snow," Mehl told FOX TV Stations. "These alpine lakes also have fewer bubbles than other lakes because there are fewer plants on the lake bottom. Instead, the lake bottom is rocky. I suspect that this is part of why the water is so clear as well."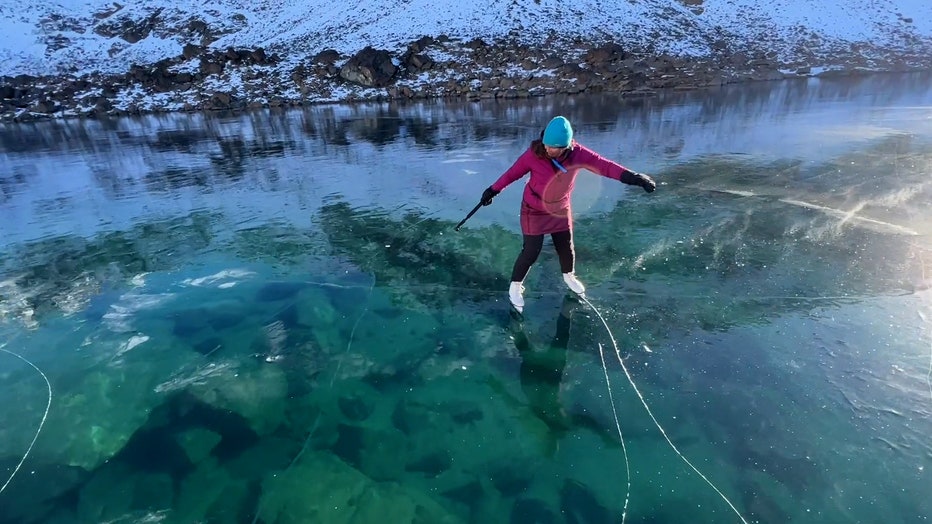 Wild ice skaters Sarah Histand and Luc Mehl captured video of a breathtaking, crystal clear, frozen alpine lake (Luc Mehl and Sarah Histand)
Two days later, Mehl returned with his wife Sarah and their friend Hannah. Both had just returned to Anchorage from an out-of-state trip, but Mehl insisted they go even though they'd only had a few hours of sleep.
"I was like, 'the time to go is now!" he recalled.
The ice was four inches thick, Mehl said, which is considered a "good thickness" to support skaters.
RELATED: Cool sight: First 'frost flowers' of fall spotted in southwestern Missouri
"We test the ice's strength throughout the lake and our time out there," Mehl said. "We wear ice picks around our necks to provide traction if someone falls through the ice. We also carry ropes in case someone isn't able to self-rescue. These are skills that I teach and practice every season."
When Mehl's not "wild ice" skating with his wife and the wild ice community, he teaches ice rescue, swift water rescue, wilderness safety, risk management and more.
"And I spend a lot of time in the mountains for fun too!" he said. "I've traveled over 10,000 miles of Alaska under my own power — including some long ice skating trips."