2020 election: Joe Biden projected to win key battleground state Pennsylvania, presidency
Four days after the election, Joe Biden has been projected as the winner of the 2020 presidential race after claiming two key states in a tight and contentious race. 
Biden won the battleground state of Pennsylvania by a thin margin, according to projections by FOX News and the Associated Press, flipping another key state that voted for Trump in the 2016 election. 
The win netted the former vice president 20 more electoral votes, pushing his total to 284, 14 more than the 270 needed to win the presidency.
FOX News also projected Biden as the winner of Nevada with six electoral votes.
The delay in producing a verdict was attributed to high turnout, a massive number of mail-in ballots and slim margins between the candidates. But the prolonged wait added to the anxiety of a nation facing historic challenges, including the surging COVID-19 pandemic and deep political polarization.
Ballots in Georgia (16), Alaska (3) and North Carolina (15) were still being counted Saturday. Georgia Secretary of State Brad Raffensperger confirmed Friday that there will be a vote recount in the state amid a razor-thin margin.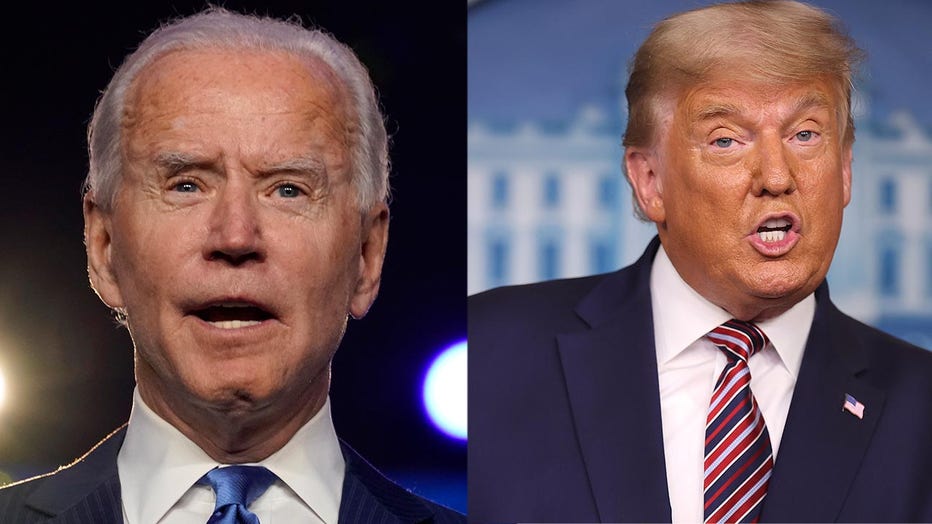 Democratic presidential nominee Joe Biden addresses the nation at the Chase Center Nov. 6, 2020 in Wilmington, Delaware, alongside President Donald Trump speaking in the briefing room at the White House on Nov. 5, 2020 in Washington, D.C. (Photos by
Much of Trump's initial lead on Nov. 3 diminished by the morning after Election Day, largely due to the remaining mail-in ballots being counted — which favored Biden after Trump spent months claiming without proof that voting by mail would lead to widespread voter fraud. 
Mail ballots also take more time to process, and requests for them surged as a result of the coronavirus pandemic. Another reason for delayed results is that election officials in some states were not allowed process mail-in ballots until Election Day under state law. 
The Trump campaign said it filed lawsuits in Nevada, Pennsylvania, Michigan and Georgia, and also asked for a recount in Wisconsin. The filings demand better access for campaign observers to locations where ballots are being processed and counted, and raise absentee ballot concerns, the campaign said.
Judges dismissed claims filed in Michigan, Georgia and Pennsylvania on Thursday, undercutting the campaign's legal strategy to attack the integrity of the voting process in key states in the race for the White House.
Some notable Republican lawmakers, including 2012 presidential nominee Mitt Romney and Sen. Pat Toomey of Pennsylvania, on Friday criticized Trump's unsubstantiated claims that Democrats are trying to "steal" the election. 
Romney, now a senator from Utah, said Trump was within his rights to request recounts and call for investigations where evidence of irregularities exists. But added that Trump "is wrong to say the election was rigged, corrupt and stolen."
Trump's claim "damages the cause of freedom here and around the world... and recklessly inflames destructive and dangerous passions,″ Romney said on Twitter.
RELATED: Toomey: No evidence to support Trump vote-fraud claims
Senate Majority Leader Mitch McConnell struck a more neutral tone, and other top Republicans more defiantly urged Trump to fight to defeat Biden.
"Every legal vote should be counted," McConnell tweeted early Friday. "All sides must get to observe the process."
Sen. Josh Hawley, R-Mo., tweeted support for Trump's claims, writing, "If last 24 hours have made anything clear, it's that we need new election integrity laws NOW."
The Trump campaign countered with its own statement, calling the election "far from over."
"We all know why Joe Biden is rushing to falsely pose as the winner, and why his media allies are trying so hard to help him: they don't want the truth to be exposed. The simple fact is this election is far from over. Joe Biden has not been certified as the winner of any states, let alone any of the highly contested states headed for mandatory recounts, or states where our campaign has valid and legitimate legal challenges that could determine the ultimate victor. In Pennsylvania, for example, our legal observers were not permitted meaningful access to watch the counting process. Legal votes decide who is president, not the news media.
"Beginning Monday, our campaign will start prosecuting our case in court to ensure election laws are fully upheld and the rightful winner is seated. The American People are entitled to an honest election: that means counting all legal ballots, and not counting any illegal ballots. This is the only way to ensure the public has full confidence in our election. It remains shocking that the Biden campaign refuses to agree with this basic principle and wants ballots counted even if they are fraudulent, manufactured, or cast by ineligible or deceased voters. Only a party engaged in wrongdoing would unlawfully keep observers out of the count room – and then fight in court to block their access.
"So what is Biden hiding? I will not rest until the American People have the honest vote count they deserve and that Democracy demands."
State election officials have repeatedly said that there is no evidence to support claims of widespread voter fraud.
The president-elect was expected to address the nation Saturday at 8 p.m. ET. Biden also shared a statement shortly after the news.
"I am honored and humbled by the trust the American people have placed in me and in Vice President-elect Harris," the statement said. "In the face of unprecedented obstacles, a record number of Americans voted. Proving once again, that democracy beats deep in the heart of America. With the campaign over, it's time to put the anger and the harsh rhetoric behind us and come together as a nation. It's time for America to unite. And to heal. We are the United States of America. And there's nothing we can't do, if we do it together."
This story was reported from Cincinnati. The Associated Press contributed.