Watch: Family dog scares off black bear from New York home
CHATHAM, N.Y. - A courageous dog helped scare off a black bear from a home in upstate New York, as captured on the family's security camera. 
The black bear wandered into Stephanie Behrens' home on May 22 in Columbia County through a partially opened door, according to Storyful. Video shows the animal poking its head through the open door, before it turns away and walks elsewhere outside.
RELATED: Connecticut bakery workers left terrified after hungry black bear barges in, steals 60 cupcakes
Then, apparently deciding that the kitchen may be a better option, the bear returns and slowly makes its way into the house.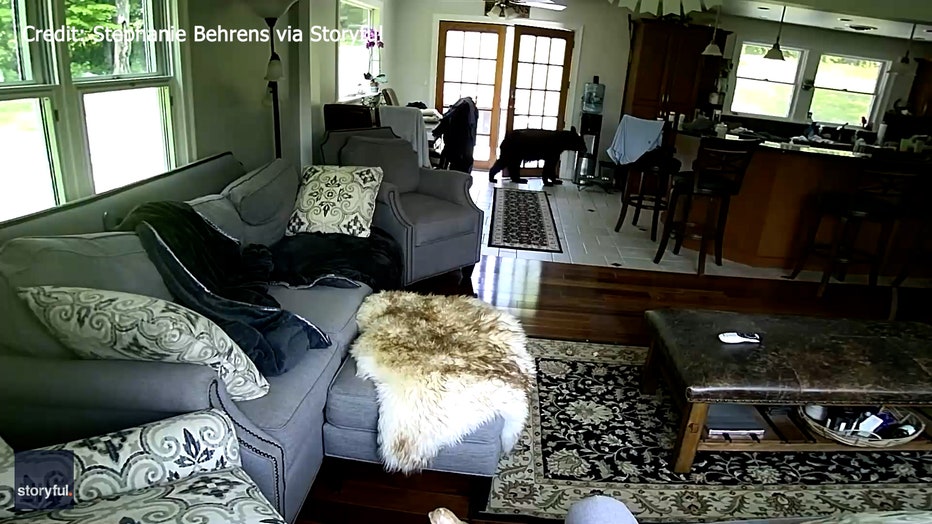 The black bear is seen in the home on May 22, 2023, in Chatham, New York. (Credit: Stephanie Behrens via Storyful)
Video shows the animal sniffing and poking around near the kitchen before the family dog runs toward it – prompting the bear to scurry out of the Chatham house. 
Behrens then follows and quickly closes the door.
But the black bear wasn't scared off entirely, as the video then captures the animal peering through the windows of the door. 
The dog can be heard barking loudly at the animal, along with someone yelling, "Hey! Go away!"
Harper the dog is seen rushing into the room, as the black bear scurries outside. (Credit: Stephanie Behrens via Storyful)
There are an estimated 6,000 to 8,000 black bears throughout the state, according to New York's Department of Environmental Conservation.  Anywhere from 30% to 35% of those inhabit the Catskill region, which is just west of Columbia County. 
Bears are more likely to seek out human food sources in the spring and the summer, the department says. It adds that bears are "opportunistic feeders and will remember where they find easy food, then return to that location frequently."
The department advises everyone to remove bird feeders by April 1, keep garbage in a tightly sealed can inside a sturdy garage or shed, don't operate refrigerators or freezers outside, keep grills clean, and don't feed pets outside. 
Watch: Orangutan at Kentucky zoo asks to see 3-month-old baby: 'Cutest thing ever'
This story was reported from Cincinnati.