US Navy sailor launches rescue of puppy saved during overseas deployment: 'Can't leave a comrade behind'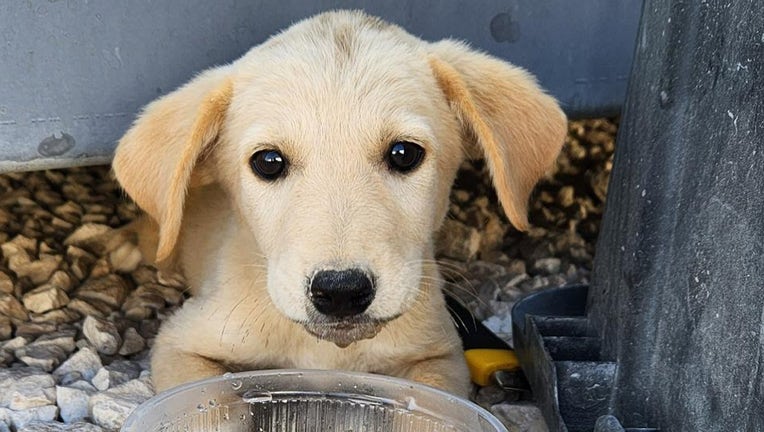 article
An American soldier is hoping to be a hero for a puppy in danger.
U.S. Navy sailor Joy (last name withheld) found a helpless pup while on her fourth overseas deployment in the Middle East, the New York-based nonprofit organization Paws of War told Fox News Digital.
Now a veteran, Joy found two puppies hiding near her base. 
Considering the harsh conditions in the area, she knew the animals' lives were at risk.
US ARMY SOLDIERS DEPLOYED TO MIDDLE EAST SAVE MAMA DOG AND 8 NEWBORN PUPS
Paws of War said that life for homeless animals in the Middle East is a "constant fight to stay alive," as they're "surrounded by dangers" including brutal weather conditions and abuse, plus a lack of food and water.
After Joy began feeding and caring for the puppies, one was found dead with injuries. 
This led to an urgent push to rescue the remaining pup, which she named Koda.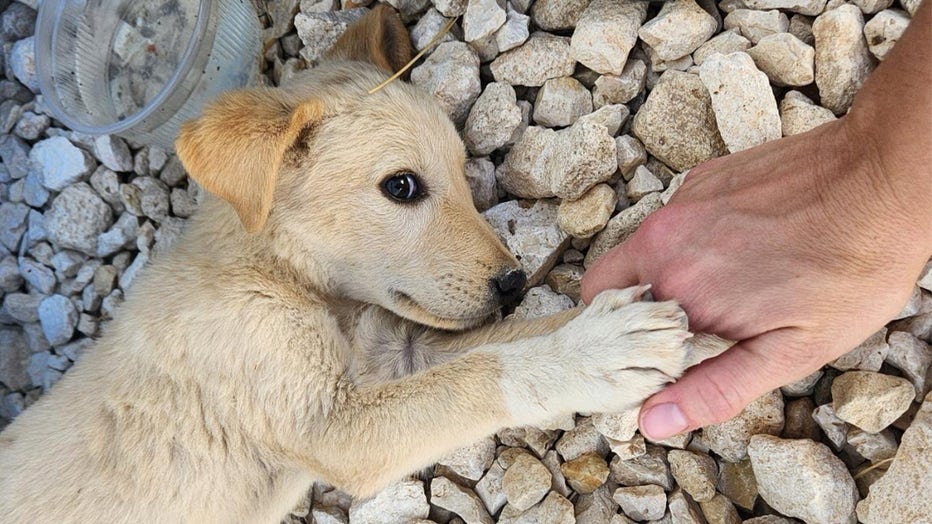 Sailor Joy said she and Koda (pictured) bonded immediately. (Paws of War)
US ARMY SPECIALIST HOPES TO RESCUE HELPLESS PUPPY FOUND OVERSEAS: 'STRUGGLING TO SURVIVE'
Joy wrote in a statement that she and Koda bonded "immediately" after she brought the tiny pup to safety at base.
"She was just trying to survive, and my heart broke at how tiny and scared she was," she said. 
"She needed someone to care about her and I did everything I could to let her know she could trust me."
Even though Koda brought comfort to Joy on base, the sailor knew she had to work to get the puppy to the U.S. 
A DOG AND HIS SOLDIER: LIEUTENANT'S PRAYERS ANSWERED AFTER BELOVED PUP HE BONDED WITH OVERSEAS IS RESCUED
"Just like a military member, Koda has been in a war-torn area, and it takes a toll on your body and mind," she said.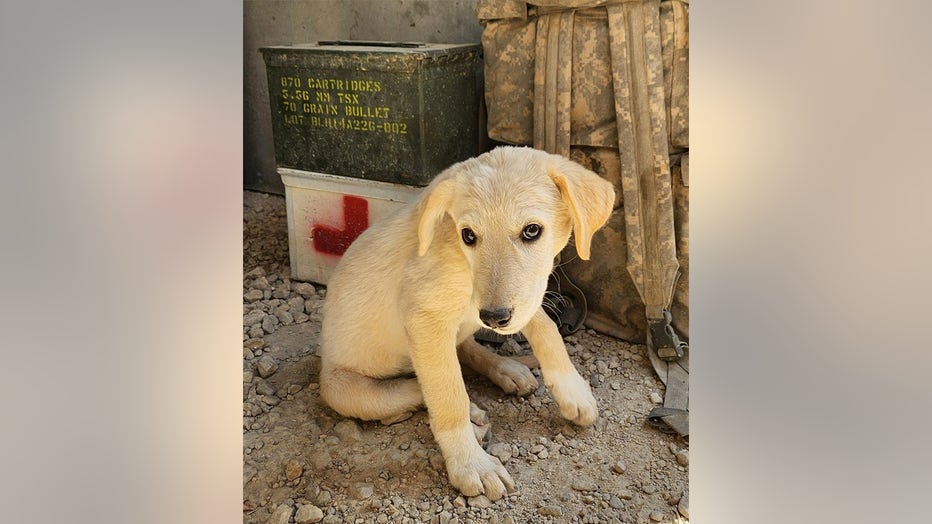 Conditions for animals in the Middle East are harsh and unpromising, according to Paws of War. (Paws of War)
"But the most important way to heal from that is to surround yourself with people you can trust who love and care about you and to keep yourself on a schedule."
"While I've been doing that for Koda, she has also been doing that for me," the sailor said. "We are in the middle of nowhere here and there is nothing for the animals. No food, no veterinary care, no one to protect her."
She added, "I can't even imagine leaving her alone — she is my little comrade and you can't leave a comrade behind."
Joy reached out to Paws of War to help bring Koda home. The organization is currently working on fulfilling Joy's wishes.
DOG IN DANGER REUNITED WITH US SOLDIER FOR FIRST TIME SINCE THEY BONDED OVERSEAS: 'MAGICAL MOMENT'
Paws of War co-founder Robert Misseri said in a statement that Koda's story is a recurring situation for many active military members who rescue and "fall in love with animals overseas."
"Then being forced to leave those animals who become family behind is devastating," he said.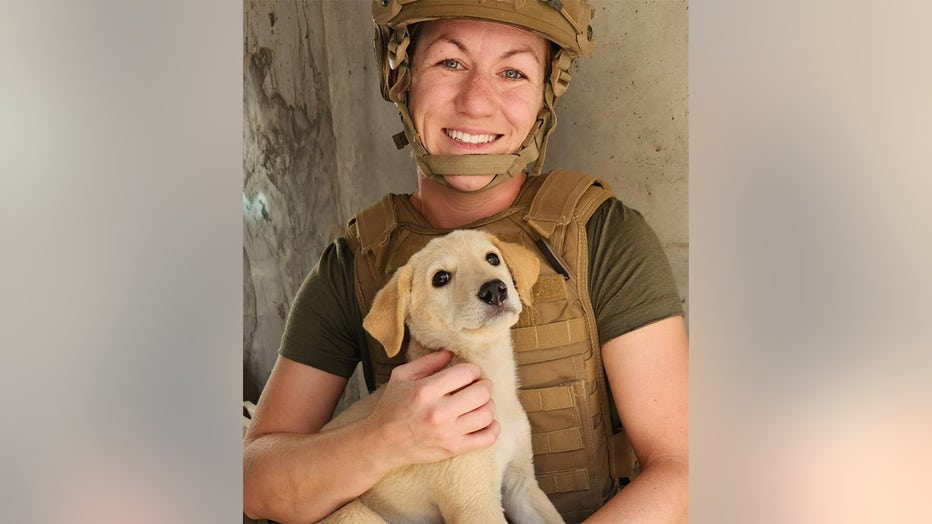 U.S. Navy sailor Joy and Koda are pictured on base. "I can't even imagine leaving her alone — she is my little comrade and you can't leave a comrade behind," Joy said. (Paws of War)
"That's why our War-Torn Pups and Cats program exists, and we will do everything we can to reunite as many as our heroes with the dogs and cats who rely on them, safely in America."
CLICK HERE TO SIGN UP FOR OUR LIFESTYLE NEWSLETTER
"Our heroes know firsthand the suffering they endure overseas," he continued. 
"We work to make sure the animals stay alive, and prevent the heartbreak that losing them would cause for those who have already sacrificed so much for us."
CLICK HERE TO GET THE FOX NEWS APP
For more information on Koda's rescue, visit pawsofwar.org.