Tyre Nichols: Protesters fill Times Square after video release
NEW YORK - Protesters gathered in Times Square and Union Square in Manhattan Friday night to express their outrage over the police killing of Tyre Nichols.
RELATED: Tyre Nichols bodycam video shows police beating Memphis father for several minutes
Protesters brought traffic to a standstill and could be heard chanting, "Say his name! Tyre Nichols!" 
The NYPD is preparing for a possible weekend of protest across the city following the release of video of the brutal assault.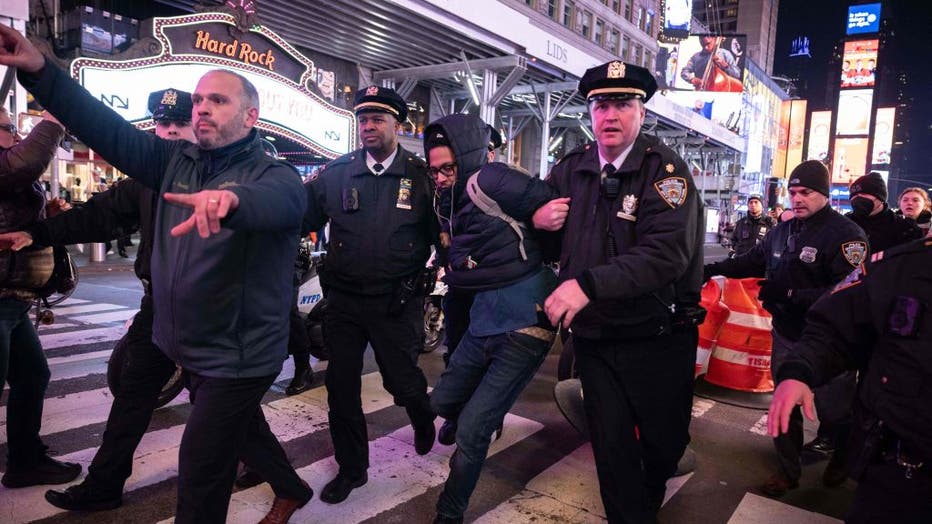 Protesters are detained by officers after damaging a police vehicle during rally against the fatal police assault of Tyre Nichols, in New York, on January 27, 2023. (Photo by YUKI IWAMURA/AFP via Getty Images)
"The brutality we witnessed in the video out of Memphis is an abomination. It undermines the very system of laws we believe in," New York City Mayor Eric Adams said in a tweet. "This violence must be met with justice for #TyreNichols."
Earlier in the day Friday, Adams had reiterated that while New Yorkers had a right to protest the decision, they needed to do so peacefully.
"I believe that New Yorkers should have the right to peacefully voice their concern if the video is what we anticipate it to be," Adams, a former member of the NYPD, said at a press conference. 
"It is a personal and professional painful moment for me, as a victim of police abuse a child, I know the impact of it, and I know that the years I've spent recruiting and encouraging different groups to be part of the noble profession of policing," Adams continued. "What it appears is that these officers tarnished much of the work that many of us attempted to accomplish."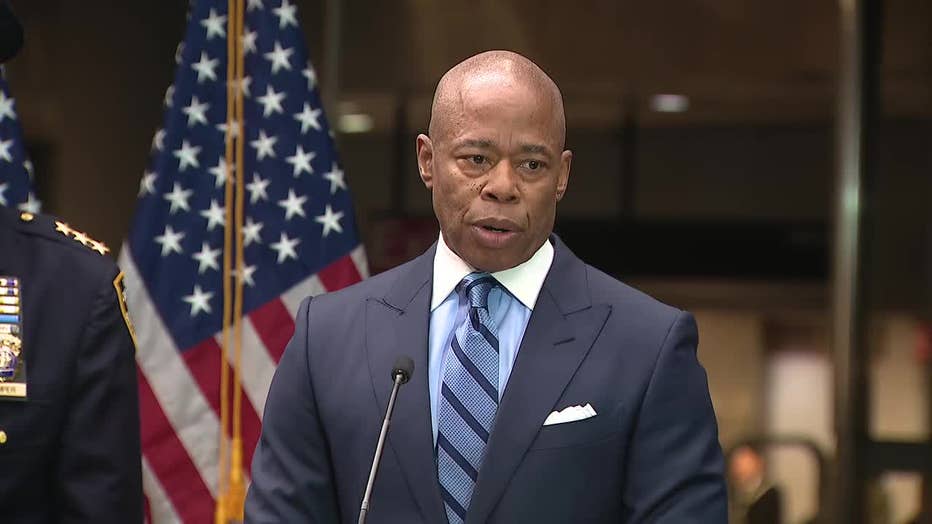 New York City Mayor Eric Adams addresses the possibility of protests this weekend over the police killing of Tyre Nichols in Tennessee. 
Protests were already taking place in Times Square and in Union Square when the video was released just after 7 p.m. on Friday.
Nichols died three days after a Jan. 7 confrontation with five police officers in Memphis, Tennessee. 
Nichols' family members and their lawyers said footage of the incident shows officers savagely beating the 29-year-old FedEx worker for three minutes in an assault that the legal team likened to the infamous 1991 police beating of Los Angeles motorist Rodney King.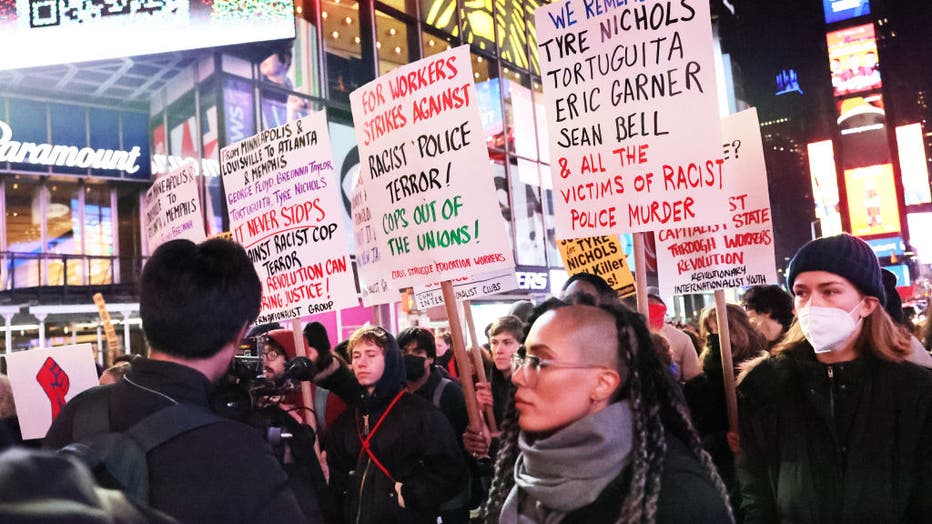 People march while protesting the death of Tyre Nichols on January 27, 2023 in New York City. (Photo by Michael M. Santiago/Getty Images)
The officers, all of whom are Black, were charged Thursday with murder and other crimes.
Memphis Police Director Cerelyn Davis described the officers' actions as "heinous, reckless and inhumane," and said Friday that her department has been unable to substantiate the reckless driving allegation that prompted the stop.
"As far as I know today, I do believe that the stop itself was very questionable," she told ABC's "Good Morning America."
As a precaution, Memphis-area schools canceled all after-class activities and postponed an event scheduled for Saturday morning. Other early closures included the city power company's community offices and the University of Memphis.
Nichols' mother, RowVaughn Wells, warned supporters of the "horrific" nature of the video but pleaded for peaceful protests.
"I don't want us burning up our city, tearing up the streets, because that's not what my son stood for," she said Thursday. "If you guys are here for me and Tyre, then you will protest peacefully."
Davis also urged calm after the video's release.
"None of this is a calling card for inciting violence or destruction on our community or against our citizens," she said.
With the Associated Press.