The latest developments on the coronavirus pandemic for April 13, 2020
NEW YORK - FOX 5 NY is updating this blog with the latest developments on the coronavirus outbreak so you can get the information in one spot.
10:05 PM: 50 employees of the New York City Education Department have died of coronavirus-related causes.
8:48 PM: Jacqueline Cruz-Towns, The mother of Minnesota Timberwolves center Karl-Anthony Towns, has died due to complications from COVID-19.
8:32 PM: Johns Hopkins University says the number of confirmed coronavirus cases surpasses 2 million worldwide.
8:05 PM: Michigan Gov. Gretchen Whitmer says the number of coronavirus cases appears to be flattening.
7:47 PM: Officials in some of Pennsylvania's most populous counties are asking  Gov. Tom Wolf to let them conduct the June 2 primary election entirely by mail due to health conerns.
7:46 PM: Treasury Secretary Steven Mnuchin says more than 80 million Americans should receive tax rebates directly deposited into their bank accounts by Wednesday.
7:30 PM: French President Emmanuel Macron extends France's strict lockdown until May 11.
6:20 PM: Tennessee Gov. Bill Lee extends the state's "safer-at-home" order until the end of the month; his goal is to reopen the economy by May 1.
6:09 PM: Indiana's death toll from COVID-related causes reaches at least 350 people.
5:35 PM: The XFL has filed for bankruptcy, citing the "harsh economic impacts and uncertainties caused by the COVID-19 crisis."
5:27 PM: Officials in Washington state will release nearly 1,000 inmates serving time for nonviolent offenses to make more space in its prisons; a coronavirus outbreak spread in one of its largest facilities.
5:25 PM: Ridership on two of the largest transit agencies in Ontario, Canada, is down between 80% and 90% since the start of the pandemic.
5:18 PM: Hundreds of voters in Chicago who went to the polls in the March primary are being notified of possible exposure to COVID-19.
4:15 PM: Commissioner Persichilli: We asked owners of nursing homes to visit their properties over the weekend after many employees complained that they weren't visible; owners are purchasing PPE; some owners have increased hourly pay to encourage employees to keep coming to work; we are prohibiting new admissions/readmissions to nursing homes that cannot cohort residents properly to slow spread of virus.
4:13 PM: Gov. Murphy expects an annoucement about schools no later than Friday, probably sooner.
4:05 PM: Dr. Edward Lifshitz, medical director, NJ Health Department: "The virus is going to set the agenda, not us"; we've never done this before; we don't know how the summer heat will affect the virus; but we should be prepared to see a second wave because epidemics typically come in waves.ees 
3:55 PM: Col. Callahan: Most police departments in the state are reporting: 645 law enforcement officers have tested positive for COVID-19 and 2,310 officers are observing home isolation.
3:44 PM: Col. Patrick Callahan, NJSP superintendent: A man who went into a Wawa in Toms River refused to wear a face mask and became belligerent; he was arrested and released; he then went to another Wawa without wearing a mask and got into an altercation with a patron; he was arrested again and ended up in the Ocean County jail.
3:43 PM: NJ Health Department says the 5 hardest hit counties are [live data updates here]:
3:38 PM: Commissioner Persichilli: We must continue to stay home and stay away from people; it is possible that by staying home and continuing to follow social distancing guidelines, you are saving lives.
3:35 PM: Commissioner Persichilli: The testing positivity rate is 46.22%; this is an increase in 2 percentage points.
3:31 PM: Commissioner Judith Persichilli: Several hospitals in northern NJ are at critical care capacity; Meadowlands field hospital expects to have 62 patients by this evening; Edison field hospital, which had a "soft opening," has 4 patients; Atlantic City field hospital should open this week.
3:29 PM: New Jersey Health Commissioner Judith Persichilli: 7,781 hospitalizations of confirmed COVID-19 patients and persons under investigation; daily growth rate is 1%; we are slowly making progress discharging more people and holding critical care patients somewhat even.
3:27 PM: Gov. Murphy thanks the government of Taiwan for sending 100,000 medical masks; another 200,000 are on the way.
3:24 PM: Gov. Murphy says the state has received another 200 ventilators from the Strategic National Stockpile; thanks the White house.
3:21 PM: Gov. Murphy will sign an executive order prohibiting the shutoff of internet and phone services for nonpayment until 30 days after the end of the public health emergency; "This is no time for anyone to have their connection to the world severed."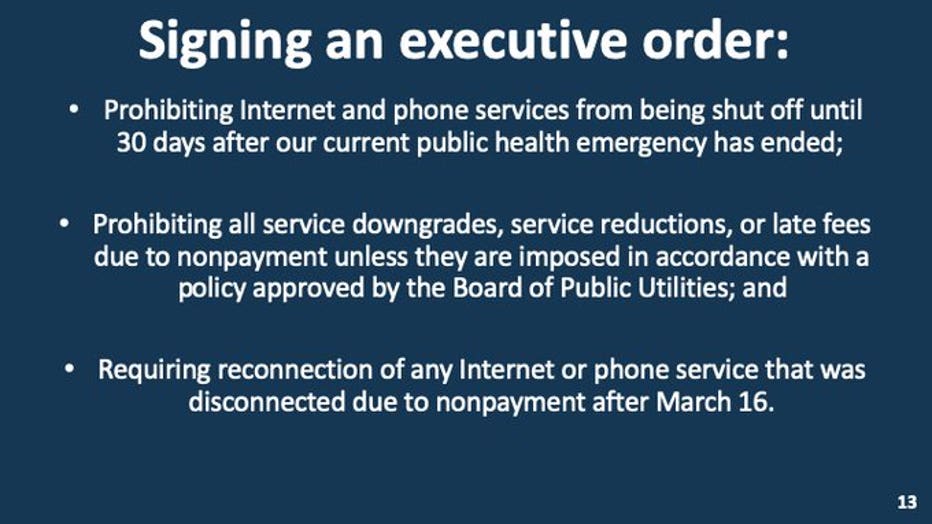 3:20 PM: Gov. Murphy: PNC Bank Arts Center testing site was closed today due to weather; the high wind made things too dangerous.
3:17 PM: Gov. Murphy: I participated on a conference call with the governors of other states in the region; we are forming a group to plan a regional plan to reopen; we will "harmonize" our plans to reopen our economies; we want to think through the pieces of the puzzle as a region.
3:14 PM: Gov. Murphy: We need you to stay home; "We are right in the thick of it, folks, we cannot afford to take our foot off the gas"; we know that if we stop doing what we're doing, COVID-19 can "boomerang"; stay home, stay away from each other.
3:08 PM: Gov. Murphy: Paterson Police Offier Francesco Scorpo, 34, died Saturday; "He will be remembered as a loving son, husband, and father, but also as an exemplary police officer who served his community with great pride. Our prayers are with his family."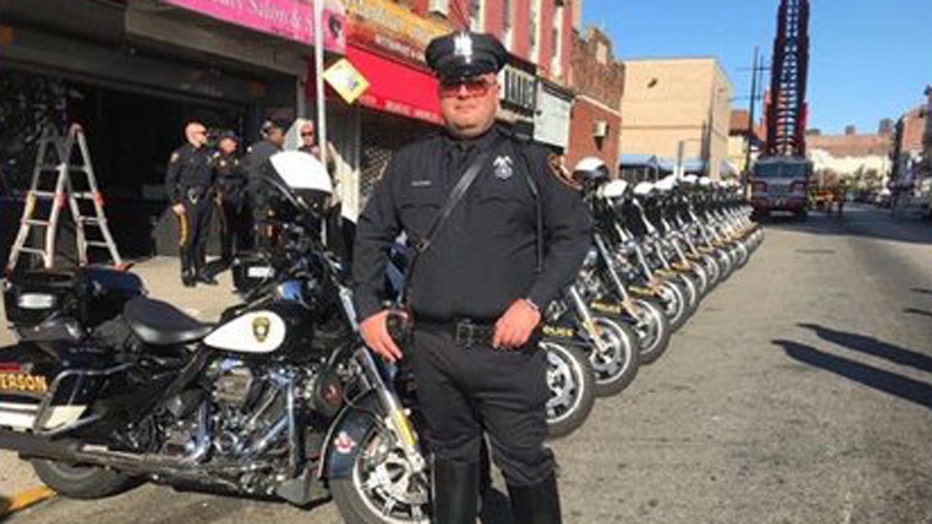 Police Officer Francesco Scorpo of the Paterson Police Department
3:06 PM: Gov. Murphy: 3,219 new cases, pushing total to 64,584; 94 newly reported deaths, pushing death toll to 2,443; "Every day, no matter what, this number hits us in the gut. These aren't abstract numbers. They are real people."
3:04 PM: New Jersey Gov. Phil Murphy holds an update on the state's response to the coronavirus crisis | WATCH LIVE: https://fox5ny.com/live
3:02 PM: Gov. Cuomo: Schools across the state are closed and will remain closed until we say they are open.
2:50 PM: Gov. Cuomo: I'm not disrepecting the cities and counties regarding their decisions, including regarding schools, because we are one state; yes, normally, local authorities make decsions about their schools but not in an emergency.
2:45 PM: Gov. Cuomo: If it is the state's authority to "close" the economy, why is it the president's authority to "open" the economy? What does that mean? There should be clarity in the roles. There may be legal issues. The rules of government matter.
2:41 PM: Responding to a question about President Trump's comments about his powers, Gov. Cuomo says there are laws that cover governance; he says he is open to changes but those things have to be clearly defined; says if Trump wants to put forth a new model of federal vs. state control, he should do so.
2:21 PM: Gov. Raimondo: We have a team looking into the "new normal"; working on a regional level makes sense; the reality is this virus doesn't care about state borders and we shouldn't either.
2:18 PM: Gov. Carney: Delaware residents should stay home and avoid going out in public; please don't visit Delaware unless you need to see a doctor or care for a family member—you'll only increase everyone's risk; at the same time, we need to look forward.
2:16 PM: Gov. Cuomo: You can't quantify the emotional toll it has taken on people. [Editor's note: New Yorkers can call the COVID-19 Emotional Support Hotline at 844-863-9314 for mental health counseling.]
2:14 PM: Gov. Wolf: We can do anything better if we do it together; we can do this responsibly; but we also have to restore a sense of hope that has been taken away from so many of us.
2:12 PM: Gov. Lamont: We closed down the economy to mitigate the contagion; our outbreak is mostly along that I-95/Metro-North corridor; it is the "commuter corridor" but it is also the "COVID corridor"; this is why reopening will require working together, especially regarding transportation.
2:10 PM: Gov. Murphy: Economic recovery needs to onthe back of public health recovery. 
2:07 PM: Gov. Cuomo: Each governor will contribute to a regional working group with a public health official and an economic development official to study the science, the data from other counties and places and formulate plans.
2:05 PM: New York Gov. Andrew Cuomo holds a conference call with New Jersey Gov. Phil Murphy, Connecticut Gov. Ned Lamont, Pennsylvania Gov. Tom Wolf, Delaware Gov. John Carney and Rhode Island Gov. Gina Raimondo to discuss a regional plan to reopen the states.
12:44 PM: Curran: Positive as of yesterday, 23,553. 846 Nassau residents have died. Hospitalizations 2,464, an increase of 10 from the day before. Discharged yesterday was 145. COVID patients on ventilators is 481 down from eight the day before.
12:43 PM: Curran asked about rapid response test to first responders. All hands are on deck. The smartest minds are working on this.
12:39 Curran asked about antibody testing status: We don't have validation yet for any of our labs. We're all hearing the dialog about the antibodies test. Everybody is waiting. 
12:38 PM: Curran: I have to emphasize that we have to reopen in a methodical way. We have to do it with our partners. I would steer business owners to CDC.gov for answers to questions about cleaning protocols.
12:35 PM: Nassau County coronavirus briefing at this LINK: https://fox5ny.com/live
12:18 PM: Cuomo ends briefing. Announces he will be back at 2 p.m. for joint briefing with regional governors on reopening plan.
12:16 PM: Cuomo asked about unemployment claims website crashing: We had 1,000 people handling the calls on the website for unemployment claims. 1,000 people could not handle it. 
Melissa DeRosa: The new and improved site is up and running. It's down to 20 questions. 200,000 calls were made between Friday morning and last night. Not everyone answers the phone. If the call returns to you as private, answer it. 
12:14 PM: Cuomo asked about lack of information on nursing home deaths: There is question of legal privacy but it's no secret.
12:10 PM: Cuomo asked about the deaths in NY and why he's confident: The numbers suggest a plateauing. It's what the numbers say. Whatever the numbers say is the direct result of what we do. If we do something stupid, you will see those numbers go right back up.
12:04 PM: Cuomo asked when he says the worst is over, isn't he trying to get the reaction he doesn't want? No, that's why I've said the opposite 57 times. But facts are facts. I work for you. I give you all the information. Here's my policy based on the numbers and I hope you accept it.
12:01 PM: Cuomo asked about schools reopening and coordination: They all inter-mesh. You can't tell me to go back to work in NYC if you don't have the transit working. Who's going to watch my children if the schools are closed. In NYC, for many children, the education system watches their children during the day. Many of these things have to be coordinated in a statewide area.
11:58 AM: Cuomo asked about reports of low ppe supplies at hospitals If they need it we will send it to them. Health official: I spoke with the hospitals today. 200 test kits went out. We monitor their supply and send them what they need.
11:58 AM: Cuomo takes questions from reporters.
11:50 AM: Cuomo: We're not going to end this with flipping a switch. There is not going to be a morning with a headline, hallelujah, it's over. What will happen is there will be points of resolution. That we accomplished something. It will be incremental. If we continue to be smart going forward, you can say the worst is over. Once there is a proven vaccine, it's over. When is that? In 12 months to 18 months. Let's calibrate our expectations. We have accomplished a lot through heroic efforts of healthcare workers, police officers, transportation workers. People are doing extraordinary things every day. Putting their lives at risk for the greater good.
11:48 AM: Cuomo: I will be joined by other governors this afternoon to discuss a reopening plan. I want to make sure that I can say to the people of this state that we did the best we could to the best of my ability. The optimum way is a coordinated regional plan.
11:45 AM: Cuomo: We start a reopening plan guided by public health experts and economic experts. It has to be developed. We need a coordinated design. Testing is going to be key. That is a new frontier for us. We test more than any other state. We test more than other countries. 
11:42 AM: Cuomo: On reopening, we're easing isolation, increasing economic activity. That will happen with a calibration on our essential workers. You will turn that valve very slowly. More essential workers, do it carefully. More testing and more precautions while you're opening that valve. The meter is the infection rate. The meter is those hospitalization rates. So, yes, open the valve, slowly, and keep you eye on the meter. And watch that infection rate. If you see that infection rate ticking up, then you know you've opened the valve too fast. That has never been done before. 
11:40 AM: Cuomo: About reporting. We want it to happen now. But it is a delicate balance. I want to make sure we know what works and what didn't work. We can look at Wuhan and South Korea and see what worked and what didn't work. 
11:38 AM Cuomo: We have one of the first hotspots. New Rochelle. Why New Rochelle? Becasue in New Rochelle, one person or two people were in dense gatherings with 100s of people and it spread like wildfire. It's not just a dense city, it's any person in a dense environment. 
11:36 AM: Cuomo: 671 deaths. Terrible news, but basically flat. That's the number that passed away on Easter Sunday. I'm Catholic. It's one of the high holy days. It's especially tragic, 10,056 total killed.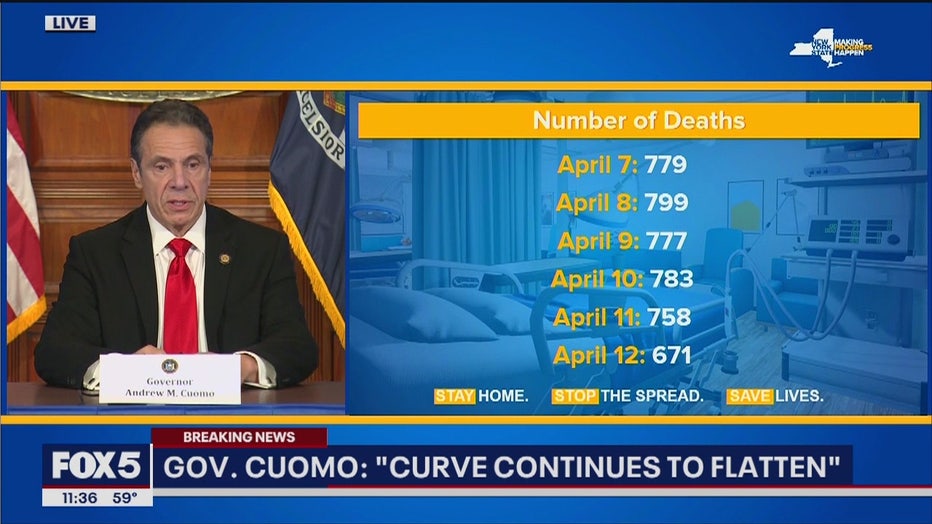 11:35 AM: Cuomo: About 2,000 people per day are being diagnosed at hospitals with COVID. On the other side, people are being discharged. That is the net. 
11:33 AM: Cuomo: It appears we have a plateau and it is flattening. The total number of hospitalizations is down. The net change in ICU admissions is down. Intubations are down. Most people who are intubated wind up on a ventilator. That is down. That's good news.
11:32 AM: Gov. Andrew Cuomo updates the public on the coronavirus response in New York State. Watch at this LINK: https://fox5ny.com/live
10:47 AM: De Blasio concludes briefing highlighting new plan to keep New Yorkers informed and said that a team effort will be needed to fight back the virus.
10:40 AM: De Blasio asked about neighborhoods disproportionately impacted and that people had no idea how not to get the virus. Some of the information still needs to be amplified. 
Dr. Katz: We've answered more than 50,000 questions through 311. That's a real doctor, 24 hours a day. All of our clinics are open. 
10:29 AM: De Blasio asked if there was a contingency at the state level that could require schools to open: The health reality is clear. The only way to make sure we get out of this is to keep our schools closed. When I talked to health experts, educators, they all say keep the schools closed. I literally do not hear anyone say open these schools
10:28 AM: De Blasio asked about deaths in the Dept. of Education:  Today the DOE is going to give that update.
10:26 AM: De Blasio asked about supplies needed at hospitals outside hotspots: All hospitals are being supplied.
10:23 AM: De Blasio asked about what went wrong with communication with Cuomo on contrasting school closures: The vast majority have been on the same page. We've all been talking constantly. It is not shocking that there are differences in perspective. What I have to do to protect New Yorkers might be different than the governor. Schools need to stay closed. There is not going to be a context to reopen schools because of what we have to deal with on the health front. 
10:21 AM: De Blasio asked why targeting wasn't done sooner: I said the first major campaign was mid-March. It did happen right as the crisis happened. The new one is targeting even further based on what we've learned. The last few weeks have been day-to-day and hour-to-hour. That's where a huge amount of energy went. 
10:19 AM: De Blasio says we are going to see if there is more we can do in the city in terms of getting more supplies.
10:16 AM: De Blasio asked if businesses don't open soon, does that keep you up at night: That worries me but what worries me, even more, is the dangers posed to people. There is evidence that governments took their eye off the ball and there was a resurgence. We got to get that right. It's incumbent on our federal government to support small businesses. There is more that needs to be done in the next federal stimulus.
10:09 AM: De Blasio asked about amplified testing and how that will impact schools in September: September is a viable thing but no one is guaranteeing that. This month we are going to be in widespread transmission, next month, widespread transmission. June, we hope we start to move out. What will it look like? We keep demanding a real timeline from the federal government. To really guarantee a constant supply the federal government will have to do something very different. That's not happening in the next few weeks. We just don't have clean answers. If the President or anyone wants a recovery you can't do it without widespread testing. If you don't get down to low level you're not going to get a recovery.
Dr. Oxiris Barbot, NYC Health Commissioner: We won't be able to get over the finish line if we don't get the supply we need from the federal government. When we identify additional individuals, we need to put the control measures in place.
10:04 AM: De Blasio asked about the shortage of swabs for coronavirus tests: In the hospitals, the question has been the struggle for PPE. This is a crisis standard with the PPE.  Jimmy O'Neill has been working to ensure that at the hospitals. The testing has been a scarcity from day one. The amounts we've had has caused us to be limited to the patients who are in a life and death situation. And the same for our first responders. We are now trying as we see a little progress that we have testing in strategic places but even that testing - they come with lots of components, the swabs and everything else. We hope to free up more personnel and more PPE. I've spoken to FEMA and Washington, and we haven't gotten any information on when we are getting a much more ample supply of testing. 
10:04 AM: De Blasio speaking in Spanish: All New Yorkers can now see the critical data that shows we're winning this battle. We all need to say home and work together to save lives.
10:01 AM: De Blasio: I'll conclude with a lot of us feel the absence of sports. We are all a part of a team. This is the most important team you'll be apart of in your life. You are actually in the middle of such an extraordinary fight. You get to be the player on the field who does the extraordinary. All 8.6 million of us on one team. 
9:59 AM: De Blasio: The best way to make sure people are observing social distancing, if you see something, say something. This is about saving lives. You can call 311 at any moment. We will send out the NYPD or you can go on NYC.gov/coronavirus and register information. In the next few days we're going to roll out an option where you just need to submit a photo. 
9:57 AM: De Blasio: I'm happy to say that our neighborhoods remain clean and therefore we are announcing alternate side parking for another two weeks. That takes us through Tuesday, April 28. 
9:54 AM: De Blasio: We're launching a tenant hotline through 311. A lot of tenants don't know what their rights are. We want to protect everyone. If someone needs a lawyer right away we can assign a lawyer to protect your rights. I'm urging the state to extend the moratorium on evictions is extended to 60 days after this crisis ends. We need a period of time to protect people. Also, the state of New York could let tenants defer their rent if they've lost their job and repay over the next 12 months in a payment plan.
9:51 AM: De Blasio: This is the worst economic crisis since the Great Depression. The number of people unemployed in the last few weeks is staggering. We need to move aggressively. There's a lot that the state needs to do and that the federal government needs to do. There has been a moratorium on evictions and that continues. I have called on the rent guidelines board to give a rent freeze. I want to see that happen quickly. I've urged the state of New York to change the laws to allow renters to use their security deposits to pay rents. 
9:45 AM: De Blasio: I'm going to talk about two parts of the four-part plan to help people impacted by the disparity in this illness. The first part is a media campaign. This was an $8 million campaign was put out there to get information out there. The new campaign is a $10 million campaign targeting 88 zip codes where we see the most disproportionate impact of the coronavirus. TV, radio, digital, direct mail in 15 languages. We need to go to the grassroots to communities that need more help, particularly immigrant communities. We are going to work with community-based health clinics, too.
9:41 AM: De Blasio: Number one is the daily number of people admitted to hospitals for COVID-19 symptoms. For April 11, 383 people admitted. The day before that was 463 people. That's improvement. The second number, daily number of people in ICU in our public hospitals for suspected COVID-19. There were 857 on April 10 and  835 on April 11, also moving in the right direction. The third indicator, positive cases, now 58.1 percent on April 10 it was 59.3 percent.
9:40 AM: De Blasio: The three new indicators. You can find them at nyc.gov/coronavirus. We got to see them all move down in unison for a prolonged period of time so we can start on the path to a normal life.
9:39 AM: De Blasio: Let's go to this new information and what it means. We talked last Thursday about the phase were are in now about the widespread transmision phase. We have to keep earning our way out of this.
9:38 AM: De Blasio: We are one big team. We all together need to fight this. There will never be a moment more important to act as a team. New Yorkers are proving that. You are saving lives. 
9:37 AM: Mayor Bill de Blasio updates the public on the coronavirus response in NYC at this LINK: https://fox5ny.com/live
8:45 AM:  New York City health officials warn that they could run out of coronavirus test strips.  MORE DETAILS.
7:45 AM: Mississippi and Louisiana—two states dealing with an increase of coronavirus cases—were hit Sunday with a deadly storm system that produced tornadoes that ripped through hundreds of homes and buildings, resulting in at least 17 deaths in the region.
The National Weather Service's Storm Prediction Center (SPC) said severe thunderstorms will barrel towards the East Coast, with the threat stretching from southeast Georgia through the Carolinas into Virginia through Monday afternoon.
7:25 AM: Hart Island Project Director Melinda Hunt spoke with Good Day New York about the public resting place for millions of New Yorkers. Before the coronavirus pandemic, about 25 bodies a week were interred on the island, mostly for people whose families can't afford a funeral, or who go unclaimed by relatives. Burial operations have increased from one day a week to five days a week, with around 24 burials each day, due to the coronavirus pandemic.
The medical examiner's office will keep bodies in storage for just 14 days before they're buried in the city's potter's field on Hart Island.
Hunt says the city keeps track of every body buried there. The one-mile island is located off the Bronx.
7:00 AM: Watch Good Day New York at this LINK: https://fox5ny.com/live
6:30 AM: Virginia-based Smithfield Foods announced Sunday that it is closing its pork processing plant in Sioux Falls until further notice after hundreds of employees tested positive for the coronavirus -- a step the head of the company warned could hurt the nation's meat supply. 
5:30 AM: Anthony Causi, a highly skilled and exceedingly popular sports photographer for The New York Post who covered the city's teams for 25 years, died Sunday from the new coronavirus. He was 48. The newspaper reported Causi's death on its website Sunday night.
FOX 5 News Sports Director Tina Cervasio reported on Causi's condition in late March. He had been on a ventilator for about a week at that point.