The latest developments on the coronavirus pandemic for April 12, 2020
NEW YORK - FOX 5 NY is updating this blog with the latest developments on the coronavirus outbreak so you can get the information in one spot.
7:53 PM: The overall death toll in France from the coronavirus has risen to nearly 14,400, but for the fourth day in a row, slightly fewer people were admitted into intensive care — 35 fewer — giving health officials a reason to grasp for good news.
7:40 PM: Italy recorded the lowest number of new coronavirus deaths in three weeks, saying 431 people died in the past day to bring its total to 19,899.
It was the lowest day-to-day toll since March 19.
6:54 PM: From when he first addressed the coronavirus pandemic in January to now, questions are being raised as to whether President Trump missed a series of warning signs and rebuffed advice from experts on how to prepare the nation for the coming crisis.
6:07 PM: Dr. Anthony Fauci, the top infectious disease expert in the U.S., says the economy in parts of the country could be allowed to reopen as early as next month.
5:25 PM: Researchers are predicting that 15,000 stores in the U.S. will permanently close this year as retailers struggle to stay afloat due to the coronavirus. 
4:38 PM: Governor Ned Lamont has announced that since Saturday, there are 525 new positive coronavirus cases in Connecticut. 
Statewide, 1,654 people have been hospitalized due to coronavirus and 554 have died. 
4:05 PM: "Saturday Night Live" tried its first "quarantine version" of the comedy show, with coronavirus pioneer Tom Hanks, Coldplay singer Chris Martin and the comedy show's entire cast phoning in with jokes from home.
3:20 PM: Governor Murphy says that the coronavirus testing site at the PNC Arts Center in Holmdel will be closed Monday due to inclement weather. 
2:47 PM: More than 2,600 deaths nationwide have been linked to coronavirus outbreaks in nursing homes and long-term care facilities, an alarming rise in just the past two weeks.
2:10 PM: New Jersey Governor Phil Murphy has announced that since Saturday, there have been 3,733 new positive coronavirus cases and another 168 people have died. 
Statewide, 61,850 people have tested positive for coronavirus and 2,350 have died.
1:16 PM: NYPD Commissioner Dermot Shea has announced the death of another member of the NYPD, Traffic Enforcement Agent William Hayes. Hayes, a U.S. Army veteran, had been with the department for nearly 31 years. 
12:40 PM: Desperate small business owners who hoped for a quick government lifeline to help them survive the coronavirus crisis are still without funds, instead battling red tape, wary banks and swamped computer systems.
12:07 PM: Cuomo says that Mayor De Blasio does not have to worry about other states in the NY-metro area, but he does.  
11:57 AM: Cuomo says all the schools in New York are closed and will remain closed until it is safe from a public health point of view. 
Cuomo: "If you say the schools are closed through June, you're effectively saying businesses are closed through June."
11:54 AM: Cuomo again says there must be a coordinated, regional approach on reopening schools, businesses, transportation and more. 
11:50 AM: Cuomo says that among the sadness of lives lost, there have also been moments of profound inspiration.
11:46 AM: Cuomo says he is signing an Executive Order directing employers to provide essential workers cloth or surgical face masks for employees to wear when interacting with the public. He also is signing an Executive Order to expand who can conduct antibody tests to help ensure as many New Yorkers as possible have access to testing. 
11:45 AM: Cuomo again calls for the repeal of the SALT tax to help New York recover from the coronavirus. 
11:42 AM: Cuomo says the federal CARES Act "ignored" state government, and he and Maryland Governor Larry Hogan are calling for $500B from the government in aid to states facing revenue shortfalls. 
11:40 AM: Cuomo says that reopening will take a coordinated approach with other states in the region. 
Cuomo: "We need a public health strategy that is safe that is consistent with an economic strategy."
11:37 AM: Cuomo says 758 people died of coronavirus on April 11. This marks the sixth straight day that over 700 people have died of coronavirus in New York.  The state's death toll now stands at 9,385.
"It has been flattening, but it has been flattening at a terribly high level," Cuomo says.
11:34 AM: New York Governor Andrew Cuomo is holding an update on the coronavirus pandemic in New York. https://www.fox5ny.com/live
11:28 AM: British Prime Minister Boris Johnson has been discharged from a London hospital where he was treated in intensive care for coronavirus.
10:40 AM: De Blasio: Renewal is coming. This will end. The renewal has to be true to the word. Something different. Something more fare, more just, something that addresses the problems that were before the coronavirus. God bless you all. New Yorkers, you should be so proud. Keep the faith.
10:34 AM: De Blasio asked what are the rules and laws about who has the authority to close schools? The right thing to do is to keep the schools closed. That's what this comes down to. I am responsible for the health and well being of all of our kids. I absolutely respect the fact that the governor has a role to play in this crisis. My responsibility is to this city. That's my singular focus. This is a moral question.
10:29 AM: De Blasio asked is there any way to tell that students are engaged? How do you quality control this kind of education experience? We need to take another big jump working with parents to make sure kids are engaged. Getting the system up and running was the first priority. Now we need to get students and parents engaged with their teachers.
Carranza: We started a new way of taking attendance and we will announce that this week. There is still grading and testing. Not everyone has a device yet. The number one concern expressed to me by parents is around trauma-informed support for students. Their kids are going through a lot and whatever we can do to help students navigate they would appreciate it. I have seen many examples of teachers going above and beyond. I can assure you that there is great learning happening it's just not the same,
10:26 AM: De Blasio asked about city workers staying home: If they are in a position that it's not safe to be at work we will get them working from home.
Health Cmsr. Oxiris Barbot: We have been providing face covers and encouraging six feet of separation. We are working with those agencies. 
De Blasio: Job one is to protect lives. I don't want anyone to be in danger. We have a huge workforce. 
10:22 AM: De Blasio asked about the undocumented in NYC who are staying home and have no place to go for help. There are hundreds of thousands of people. There are a half million New Yorkers who are undocumented. We in this city have for these six plus years to respect them and to support them. Right now in this crisis, people need to be protected in terms of public safety and health. No New Yorker can be evicted at this point. Call 311. Anyone who is hungry, we will get food to you, it does not matter what your documentation status is. All three meals provided for all family members every day at those sites. Food delivery can be made through 311.
10:20 AM: De Blasio asked about number of devices that have been distributed and if he's spoke with Gov. Cuomo about school closing decision after he announced it:  This is something the chancellor and I had to do. The NYC public schools have to remain closed until the remainder of the school year. Yes, I communicated with the governor and our staffs communicated. 
Carranza: The 175,000 devices have been distributed. We have shipped more than 70,000 iPads that are WiFi enabled as well.
10:14 AM: De Blasio asked about when the governor was notified about school closings and why on a holiday weekend: People have been asking for days and days. I was a public school parent. The decision was made on the safety and well being of our students, parents, and educators. 
10:11 AM: De Blasio asked if 175,000 is the number of devices that need to get out to students: The pace has been picking up. Here is the reality with Apple, they have been prioritizing that with our kids. We are going to be turning them around constantly and getting them out to family. We had to get the supply. 300,000 kids is bigger than any school system other than our own. We set that deadline because kids need to get them.
Schools Chancellor Carranza: We have distributed over 175,000 devices. As soon as we get them we are shipping them out. Schools.NYC.GOV for the survey or call 311, if your student needs a device.
10:09 AM: De Blasio asked about Cuomo weighing in on the mayor's decisions: We'ave had a lot of agreement. When it comes to a decision like this, our job is to protect the children of New York City, to protect our educators, to beat back our coronavirus once and for all.
10:08 AM: De Blasio asked about the timetable about school closings and governor's office only being made aware five minutes before it was announced: We've had those conversations through Friday evening. As soon as we were convinced it had to be done we felt we had to tell our parents right away so they could plan according.
10:05 AM: De Blasio and James O'Neill asked about expanded testing: We want to be up at the end of this week. It might not be the same start at each location.
10:04 AM: De Blasio takes questions from reporters.
9:58 AM: De Blasio: About our schools. We made a decision to close the schools. One of the reasons we are confident in the decision we have made is that we've had amazing partners to create an online learning system that New York City has never had before. Apple has been an outstanding partner. At first, we needed 300,000 iPads. Thank you. I spoke with Tim Cook. We need another 50,000. He said no matter what it takes he said Apple will get those iPads in time. T-Mobile, IBM, thank you. I want to thank all the delivery workers. The FedEx guy, the UPS, you should thank them. To NTT and Delux, thank you for delivering these devices to our students. To all the libraries making sure the apps are on these devices.
9:58 AM: De Blasio: Call 311 if you are being evicted. We will stop it.
9:56 AM: De Blasio: We are hiring New Yorkers to do work in our health system staring at Health and Hospitals along with the voluntary and independent hospitals. To all New Yorkers looking for work, join a team of heroes. 500 non-clinical staff. Who can help transport patients, clerical team, maintenance. These are temporary jobs starting with a 90-day assignment. Anyone who wants to help us out at NYC.gov/coronavirus. You can apply right away.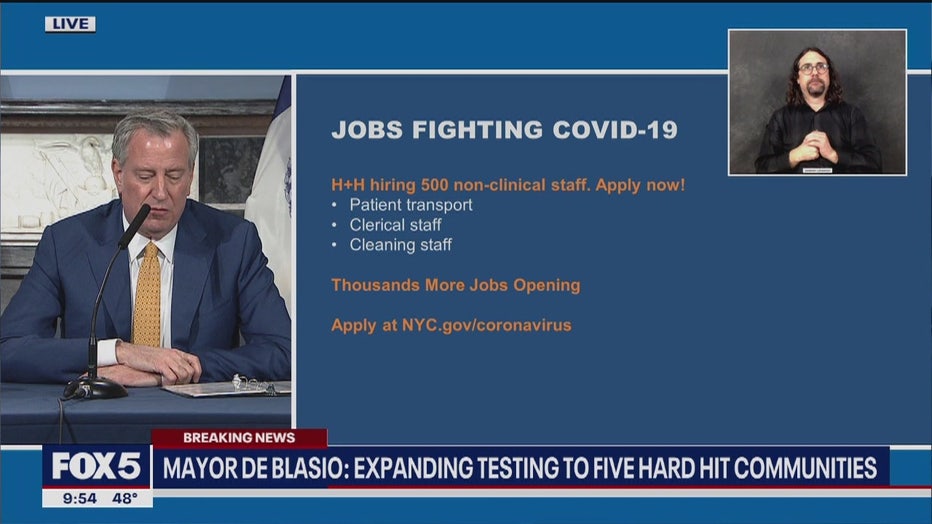 9:55 AM: De Blasio: Starting tomorrow, all city workers who come in contact with the public, to wear face coverings. We've already provided 1.4 million face coverings to our workers. This will be a requirement.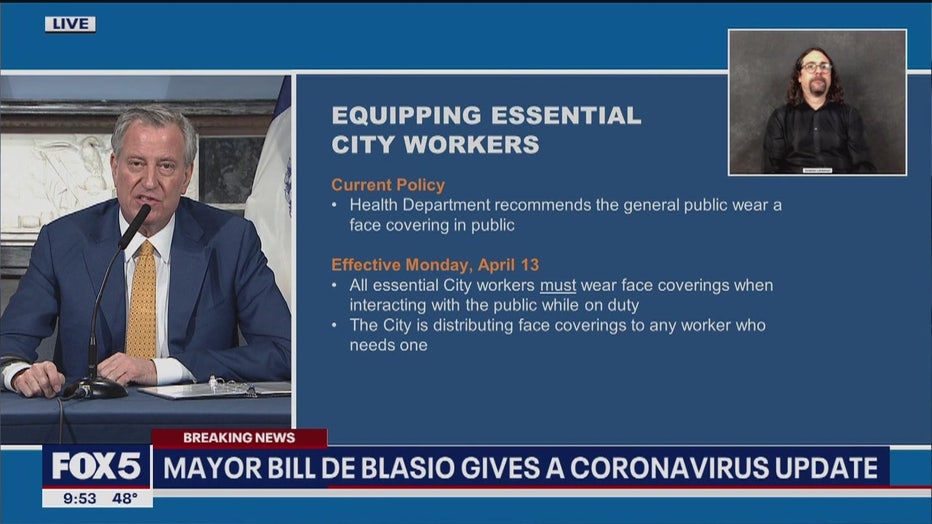 9:53 AM: De Blasio: We have not gotten the help we've needed on testing. Asking for 110,000 individualized tests to get started on this community effort. 25,000 of those tests focused on Health and Hospitals and the new sites. We need those test kits in this week. Then we can continue building out our site. This is the beginning. We are going to need much more testing to get to the next phase.
9:50 AM:  De Blasio: Here's why phase two is so important. We see clear disparity in the impact. Low income communities, immigrant communities, we have to attack it. By the end of next week we will create community testing sites. In the following locations. They're all Health and Hospitals locations: East New York, Morisania, Harlem, Manhattan, Jamaica, Vanderbilt Clinic on Staten Island.
9:47 AM: De Blasio: Let me talk to you about testing. We must have the testing to get on to the next phase.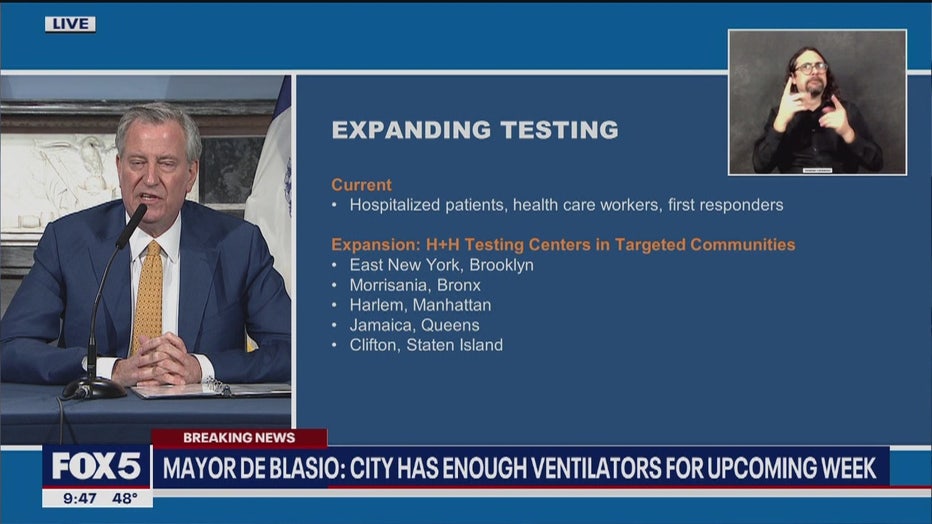 9:45 AM: De Blasio: On personal protective equipment, for the coming week, we're going to talk about the crisis standard. We will have the N95 mask, the surgical masks and gloves, we'll have for this week. The surgical gowns we'll have but barely. Next week we'll have real challenges.
9:44 AM: De Blasio: 70 more people per day on average, getting on intubators. It's still 70 new per day. For the week ahead, we will have enough ventilators. We're always looking for more supplies. This is weeks and months ahead.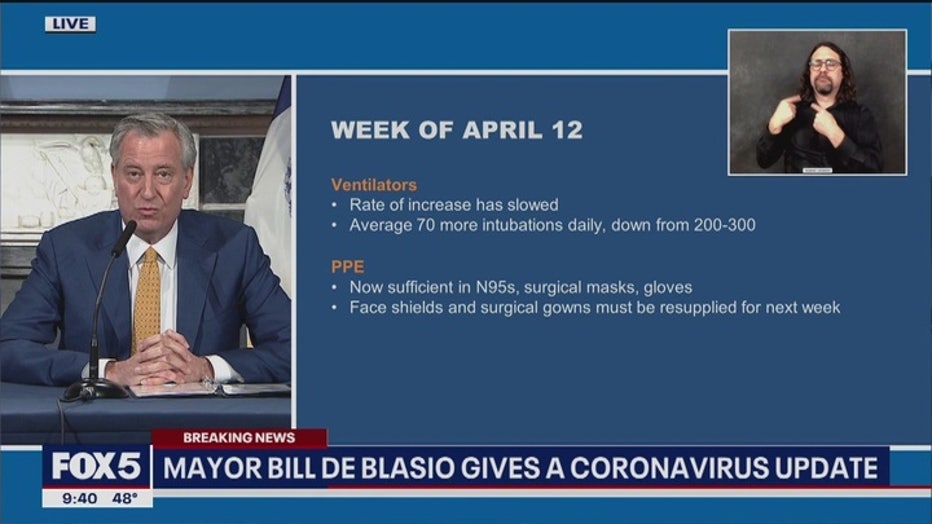 9:41 AM: De Blasio: This past week, just when we thought it was going to be worse, we saw a sign of improvement.
9:40 AM: Mayor Bill de Blasio update on coronavirus at this LINK: https://www.facebook.com/FOX5NY/videos/218612922807306/
8:52 AM: Pope Francis is calling for solidarity the world over to confront the "epochal challenge" posed by the coronavirus pandemic. Francis issued the appeal from a nearly-empty St. Peter's Basilica as Christians celebrated a solitary Easter blending the joyful feast day with sorrow over the virus' toll.